For many civil rights advocates, the violent protests in Charlottesville were a prominent example of a disturbing trend: rising violence from hate groups. Beverly Tillery, executive director of the New York City Anti-Violence Project (NCAVP), is among the people concerned, and she says LGBTQ people of color are among the most vulnerable.
"Right now, where we're at in August, we've already surpassed the number of homicides that were hate-violence-related for all of last year, excluding Pulse," she told NBC News. "I think we can go back to the presidential election cycle, where people have become emboldened about expressing racist, homophobic and anti-Semitic views."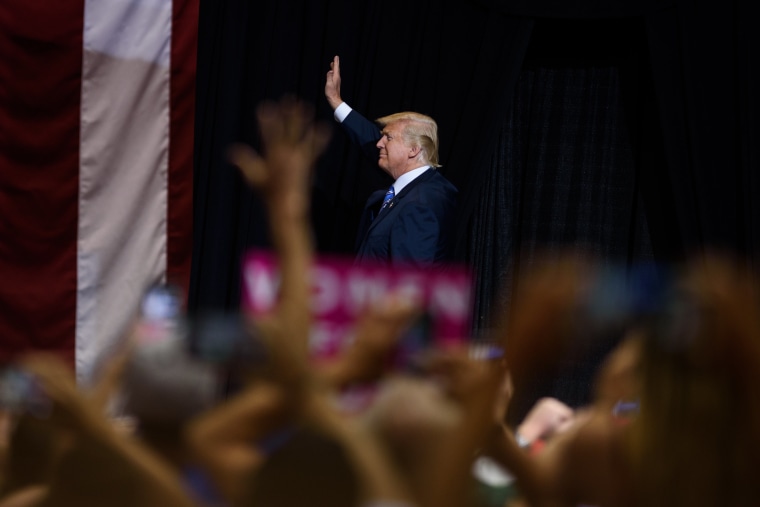 The NCAVP tracks the number of homicides and hate crimes committed against LGBTQ people in the United States every year. Last year, there were 28 hate-violence-related homicides of LGBTQ people, excluding the 49 who died at Pulse, or roughly one death every 13 days. So far, in 2017, the number is at 33, a rate of about one every six days.
Tillery pointed to Charlottesville as evidence that hate groups feel like they no longer need to hide.
"As we look at some of the footage from Charlottesville, at the interviews with people, they're saying themselves, 'We've been behind the scenes, and now we feel like it's okay to be out in the streets,'" Tillery said. "They're saying it themselves. So we should pay attention."
(Warning: The Twitter video embedded below includes language some may find offensive.)
David Dinielli, deputy legal director of the Southern Poverty Law Center, also said a rise in hate group activity following the 2016 presidential election has led to an increase in anti-LGBTQ violence.
"We began tracking hate incidents following the election and saw tremendous numbers, especially hate incidents against the LGBTQ community," Dinielli said.
"From our standpoint, it's not a surprise what happens when the administration launches essentially an assault on the community," he added, mentioning Trump's proposed transgender military ban, his administration's reversal of Obama-era guidance on trans bathroom policies in public schools and Attorney General Jeff Sessions' promise of new guidance on "religious liberty" protections. "Others feel energized, and others feel empowered and others feel they've been given permission from the top."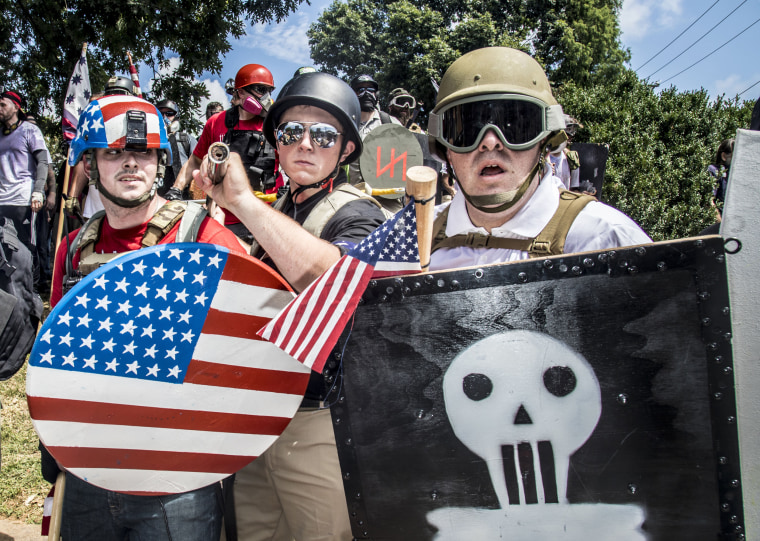 Disagreeing with that sentiment is Peter Boykin, president of gay conservative group Gays For Trump, who placed the blame for violence in Charlottesville on "Antifa," short for anti-fascist, a group that mobilized to resist white nationalist groups in the Virginia city and which President Trump referred to as the "alt-left" in a press conference earlier this week.
"The same people always blame Trump for everything. But he has tried to protect the LGBT and keep us away from violence," Boykin told NBC News. "I went to a Trump rally holding hands with my husband, and nobody batted an eye. But I went to an Antifa rally, and it's hate and horrible stuff happening there."
Boykin also noted the alleged increase in hate-violence-related crime against LGBTQ people could simply be due to more people reporting this type of violence, something Tillery also referenced as a potential factor in the uptick her organization has observed.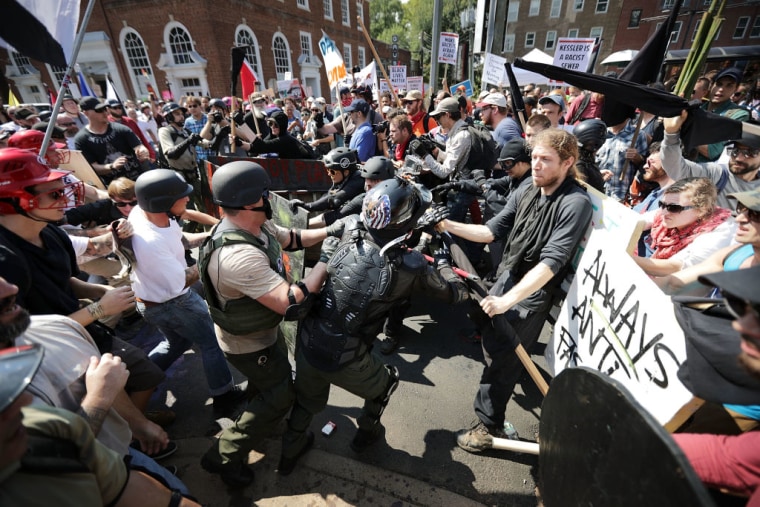 For transgender women, however, the statistics point to a deadly year. Gwendolyn Ann Smith, the founder of Remember Our Dead, which organizes the International Transgender Day of Remembrance, said violence against transgender women has been rising for years.
"Trump might not be the cause, but he's a symptom," she told NBC News. "We take a look at the transgender military ban, so-called 'bathroom bills' and laws to remove us from public accommodations across the country. We're seeing a number of government agencies attempt to roll back protections for trans people in housing. We're facing an overall attempt to erase our very existence."
Related: Banning Trans Troops Could Cost US $960 Million, Report Says
According to the Human Rights Campaign (HRC), 2017 has already seen at least 16 transgender people "fatally shot or killed by other violent means." For comparison, HRC tracked 22 deaths of transgender people in the U.S. due to fatal violence in all of 2016, which was the most they ever recorded. The majority of the victims were women of color.
"Some of these cases involve clear anti-transgender bias," the HRC report states. "In others, the victim's transgender status may have put them at risk in other ways."
Tillery believes the blatant violence in Charlottesville might have woken some people up to the deadly everyday violence that marginalized communities face in America.
"People now need to be willing to take action to address not only the violence in Charlottesville, but also the systemic violent attacks against marginalized communities that this administration and others are trying to put forward in policy," she said. "We need people who are looking at this and saying 'I'm not a part of this' to take a stand and stop what is happening and stand up against it."