Over the last decade, lesbian bars across the U.S. have closed. In some cities, they've vanished entirely, creating a void in LGBTQ nightlife.
But this summer, two bars for lesbian, queer, and bisexual women opened in Washington, D.C., bringing back hope — and some hangovers — for LGBTQ women in the nation's capitol.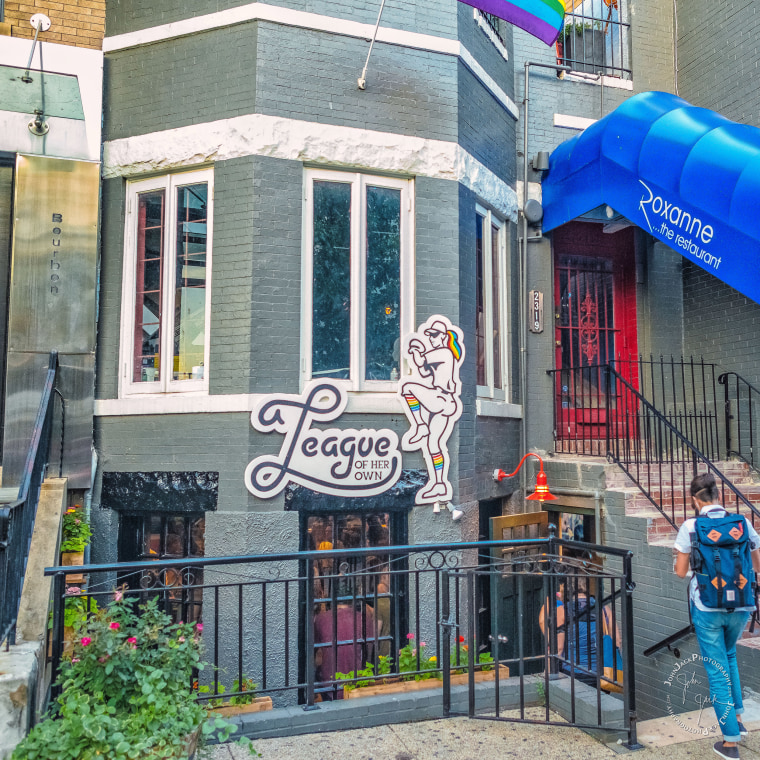 The owners of the two bars, A League of Her Own and XX+, say they've been hustling since they opened.
Jo McDaniel, 37, manager of A League of Her Own, said the place was "absolutely packed" when it opened Aug. 9. "It was pretty crazy," she said.
A League of Her Own is the lower-level bar of Pitchers, a new LGBTQ sports bar in D.C.'s Adams Morgan neighborhood. There's a separate bar for men, according to owner David Perruzza.
Perruzza, 43, said he is frustrated by what he sees as separatism within the LGBTQ community and a lack of spaces for women. He said he wants Pitchers to be a fun space for everyone.
"I'm going back to the way things used to be," he said, reminiscing about mid-20th-century gay bars, which he said were often mixed spaces.
"Lesbians, the gay people, the transgender people — whatever you identify — were forced to go to this one bar," he said. "And guess what? They were forced to talk to each other, and they were forced to get the same ideals."
After World War II, as people migrated to big cities, gay and lesbian bars proliferated across the U.S., according to Lillian Faderman, author of "Gay L.A." She said the bars, frequently the targets of police raids, served as vital community hubs for LGBTQ people in an era when same-sex attraction was taboo. But the 1990s spawned a new era where the community could easily meet online, said Faderman. Women, who always had fewer bars than men, flocked to online dating sites, she said.
Today's bars don't have the kind of importance that they had in the past, Faderman said. "There are gay centers, there's online dating, there are chatrooms — there are just so many possibilities for lesbians to meet each other now that didn't used to exist," she said.
What was said to be the last lesbian bar in New Orleans, Rubyfruit Jungle, closed in 2012; Philadelphia's Sisters closed a year later; and San Francisco lost the Lexington in 2015.
There is no data behind why so many lesbian bars have vanished, but Faderman speculated that one reason is, in part, financial: Women tend to have less disposable income than men, making it harder for these bars to open and operate. Women, she said, are also less likely to engage in "hookup culture."
"Just to give it a wild generalization," Faderman said, "I think it's true that lesbians very often are anxious to meet someone that they can have a relationship with rather than a very brief hookup, and those dating sites provide that, and they're out of circulation for at least as long as these relationships last."
Many also believe gentrification has made it difficult for lesbian bars — traditionally in poor and working-class neighborhoods — to survive.
McDaniel has been a bartender in D.C. for 13 years, including at Phase 1, which closed in 2016 over skyrocketing rents.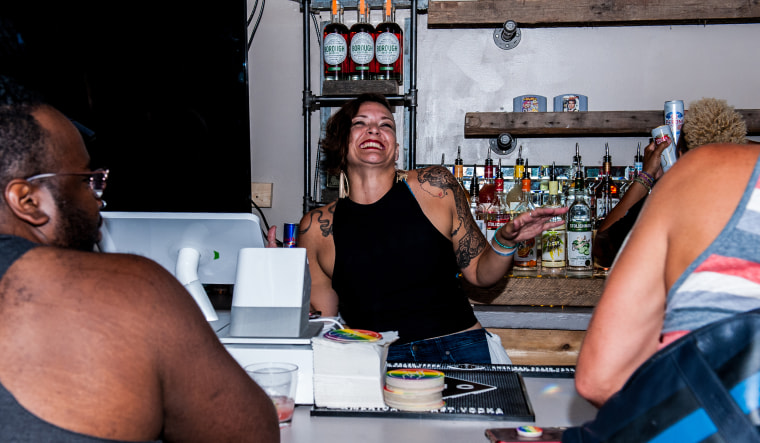 "We weren't getting enough business in that neighborhood to make enough money to be able to afford it," she said.
But in some cities, lesbian bars continue to thrive. Cubbyhole, Henrietta Hudson, Bum-Bum Bar and Ginger's — all in New York — remain popular. Only a handful of women-only bars outside New York, however, like My Sister's Room in Atlanta and the Gossip Grill in San Diego, have sustained a pulse.
The decline has left a void that event promoters have filled with women-only dance parties. These roving events, sometimes held in non-LGBTQ venues in cities throughout the country, rotate weekly or monthly, and tend to appeal to different groups of women, according to McDaniel.
"Even though I think all of our promoters work really hard to be inclusive," she said, "I think there's still this natural segregation that happened over the past couple of years."
A League of Our Own strives to be a space where everyone, no matter how they identify, feels welcome, McDaniel said, noting that it promotes itself as a bar for lesbian and queer women. Once considered a slur, "queer" is now widely considered an umbrella term for "LGBTQ."
"Part of the reason to use the term 'queer' instead of the term 'lesbian' is to be inclusive of the nonbinary and the trans communities," she said.
Lina Nicolai, 33, co-owner of XX+, said her bar, which opened in July, also strives to welcome LGBTQ women from diverse backgrounds.
"I think it's just important for everyone to have their own space," Nicolai said.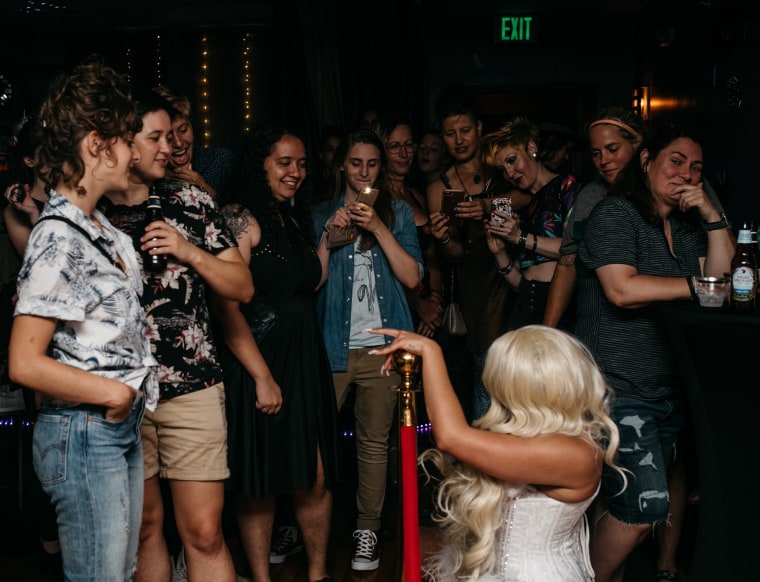 Nicolai said her mother and business partner, Juliana Nicolai, encouraged her to open XX+ on the second level of their family-owned Italian restaurant Al Crostino, in D.C.'s Shaw neighborhood. An intimate space with black-tufted carpets, XX+ is part lounge and part pool hall, according to Nicolai. It serves elegant cocktails and finger foods.
Nicolai said the name XX+ honors the bar as a woman-run business, and that the "+" represents all women across the LGBTQIA spectrum. On Nicolai's management team is social director Tasha and Chef K.B. — both women of color in their 20s. She said the trio is working to ensure everyone feels included.
"I want to make sure that I create a space where queer women — female-identified women — feel like they can come to and relax and have a place to go to," said Nicolai.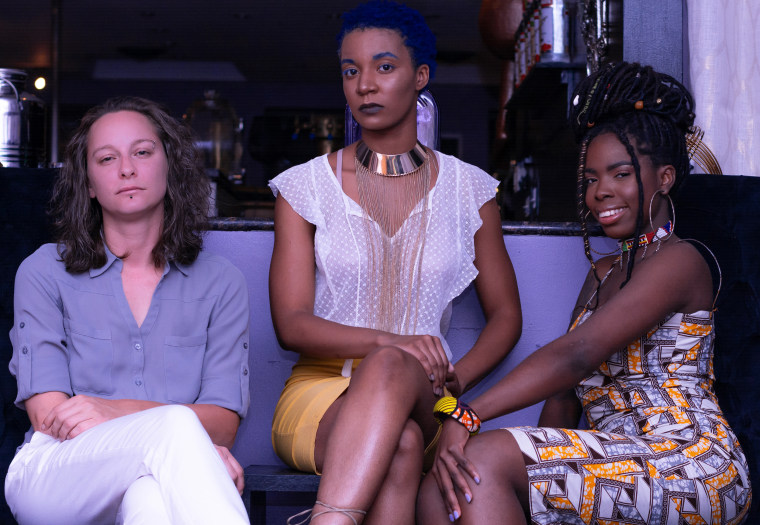 The entrepreneur said XX+ was so crowded the night it opened that she had to stop letting people in. She said the women were excited to have their own bar after having only once-in-a-while parties to attend.
"I don't think we deserve one day on the calendar here and one day on the calendar there," Nicolai said.
While the internet has created greater opportunities for women to meet, McDaniel stressed that women-only bars are still needed. Sometimes, she said, lesbian, queer and bisexual women just want a place to go for a drink and relax without getting approached by men.
"There's something incredibly safe about walking into a space that you know is filled with your people," McDaniel said.