Rep. Denver Riggleman, a Republican representing Virginia's 5th District, on Monday received a vote of no confidence from the Cumberland County Republican Committee because he officiated a same-sex wedding for two campaign volunteers whom he described as "friends."
Diana Shores, a GOP activist who led Monday's effort to reprimand Riggleman in Cumberland County, was also involved in an unsuccessful attempt to censure him by the Fifth District Republican Committee over the weekend, according to The Roanoke Times.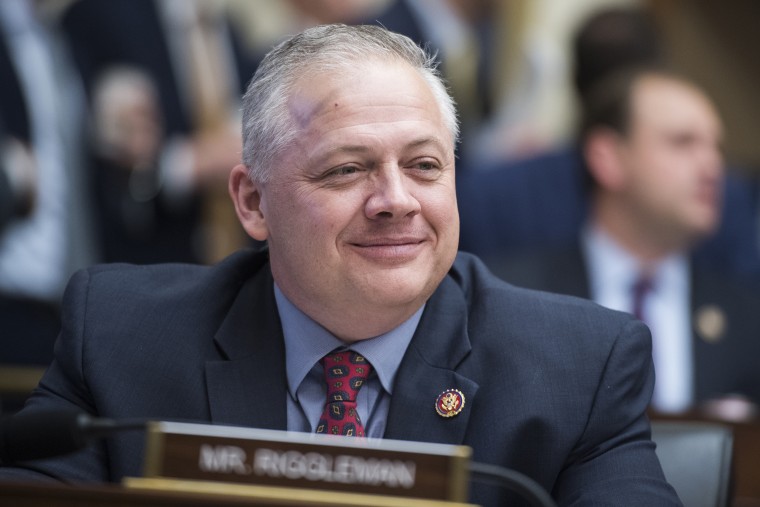 In a statement shared with NBC News, Shores said she supported Riggleman as the Republican nominee during last year's midterm elections, but by officiating a same-sex wedding, he "contradicted his promises to represent the district."
"Mr. Riggleman, who claims to want government out of marriage, acted as an elected official to perform a marriage," Shores stated. "Then, he made it clear in the communications that followed to the leadership of the district that he didn't care what we thought about the actions."
"Each district committee can decide if they have further confidence in Congressman Riggleman representing their values," Shores continued. "As for me, he doesn't represent mine."
Following Saturday's failed censure attempt, Melvin Adams, the chairman of the 5th District Republican Committee, noted in a statement on the group's website that the committee is "absolutely committed to inclusiveness" and does "not discriminate against anyone." However, the statement then went on to affirm that the committee is "absolutely committed" to the national Republican Party Platform and quoted two of the platform's anti-LGBTQ measures, including opposition to same-sex marriage, which has been legal in the U.S. since the Supreme Court's 2015 landmark Obergefell v. Hodges decision.
"[W]e do not accept the Supreme Court's redefinition of marriage and we urge its reversal, whether through judicial reconsideration or a constitutional amendment returning control over marriage to the states," Adams' statement said, quoting the Republican Party platform.
Riggleman officiated the same-sex marriage on July 14. In a statement on Monday, Joe Chelak, a spokesman for Riggleman, said the congressman "was happy to officiate their wedding, and he is proud of these two young people who found their life partner."
In a series of emails sent to NBC News after Monday's report on the failed censure vote, John March, a spokesman for the Republican Party of Virginia, stressed that the 5th District's attempt to reprimand Riggleman "was not authorized by our leadership in any way shape or form."
John Findlay, executive director of the Republican Party of Virginia, added that the "governing board of the state GOP has not taken any action whatsoever on this matter."
"Given that the attempt had so little support, I doubt the Party will say anything on the 'issue,'" Findlay said of the 5th District's failed censure attempt. Findlay also said he doubted that the Cumberland committee "even had a proper quorum to take" a no confidence vote.
Neither March nor Findlay would comment on the Republican Party of Virginia's stance on Riggleman's officiating a same-sex wedding or the local GOP attempts to reprimand him.
"We won't be commenting until we are actually certain the resolution was properly passed," Findlay said of Monday's motion of no confidence.