Sharon and Mary Bishop-Baldwin fought a 10-year battle for the right to marry in their home state of Oklahoma.
Though the unassuming couple achieved that win in October 2014, they are continuing to fight for the rights of LGBTQ people across the state.
"I think there are a lot of questions," Sharon Bishop-Baldwin told NBC Out in a phone interview. "What is this world we are living in, and how do we navigate this new landscape? What are our actual threats we are going to have to face, and what's rhetoric? And certainly, we know we're going to face some challenges as a community. "
She said that in her gut, she doesn't believe marriage equality will be overturned.
"I just don't see that happening," she added.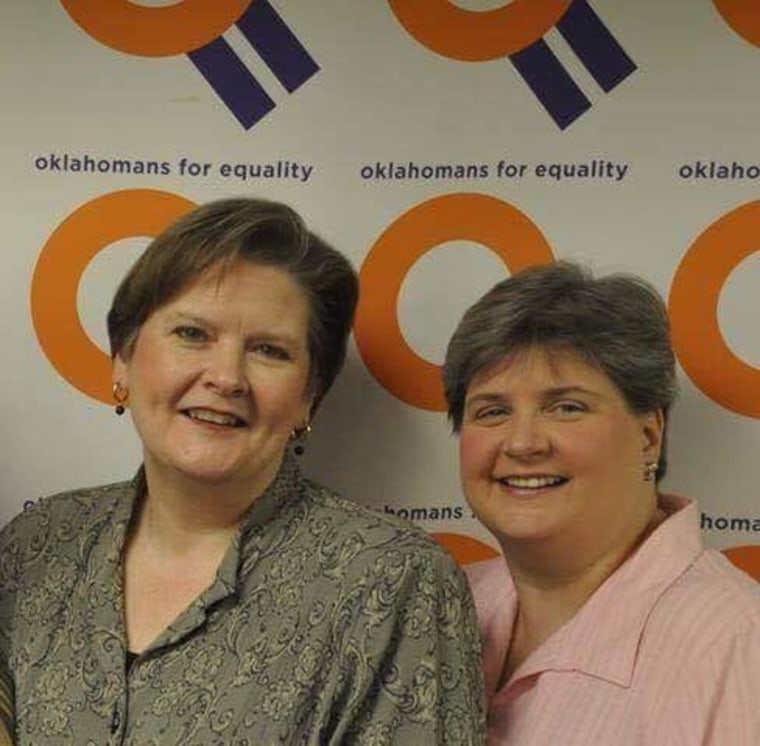 However, she noted those opposed to marriage equality and greater rights for the LGBTQ community can make their lives miserable. She cited the drive-by shooting that happened in early March at the Tulsa headquarters of Oklahomans for Equality, a local LGBTQ-rights group. Sharon Bishop-Baldwin sits on the Board of Directors for the organization, and she spoke at a rally following the incident.
"What I said was, 'We told you that marriage was not the final word. We told you on the day we got married that this is the beginning of a fight, not the end of a fight, so we have known, and we have said all along, there's more to come."
She noted that in Oklahoma, people can still be fired from a job, evicted or denied a mortgage just for being gay. Someone can "beat the bloody pulp out of you" and use homophobic slurs to you, and it's still not a hate crime in Oklahoma, she added.
"So, obviously, we still have fights to fight," she said. "Now, whether those fights are coming from society or our government, I'm not sure it matters a whole lot. It might change the way we respond. We just have to stay strong."
Earlier this year, Bishop-Baldwin released a memoir along with her wife, Mary, about their 10-year battle for marriage equality in Oklahoma. "Becoming Brave: Winning Marriage Equality in Oklahoma and Finding Our Voice" shares their tale of making waves and changing the lives of many.
"We wanted other people to take inspiration from the fact that you really don't have to be a genius or wealthy or even know a whole lot of the right people to make a change in the world. You really can just be somebody and do something," Sharon Bishop-Baldwin told NBC Out.
"We wanted other people to take inspiration from the fact that you really don't have to be a genius or wealthy or even know a whole lot of the right people to make a change in the world. You really can just be somebody and do something."
The couple was thrust into the spotlight several years ago, when a federal judge in Oklahoma ruled in favor of their marriage equality lawsuit, which had first been filed in 2004 but languished in the court system for years. That ruling was appealed to the 10th Circuit Court of Appeals, which also ruled in their favor. It was one of a handful of cases with the potential to go up before the Supreme Court.
It was in the spring of 2014 that the couple started thinking their case might be the one heard before the U.S. Supreme Court. Sharon, who had been an editor at the Tulsa World alongside Mary, quit her job to focus on writing the book, the plan being that the Supreme Court would possibly take up the case in the summer of 2015. The book would be all but written save for the details on the actual wedding, she said.
All that changed, however, when the Supreme Court declined to hear the case in October 2014, leaving the earlier rulings in place and paving the way for the two to get married in Oklahoma. They became the first same-sex couple to be issued a marriage license in the state. In June 2015, a divided Supreme Court ruled that the U.S. Constitution guarantees a right to same-sex marriage, making it legal nationwide.
As a result of marriage equality, the Oklahoma Legislature, however, started introducing new anti-LGBTQ legislation in 2015 and 2016, Sharon Bishop-Baldwin said. So she began devoting much of her time to trying to curtail the legislation, which took away from writing the book.
"It was just kind of one of those things that we needed all hands on deck fighting the legislation," she said, adding that because of her background in news, she was aware of how the Oklahoma Legislature worked and how to halt some of the bills.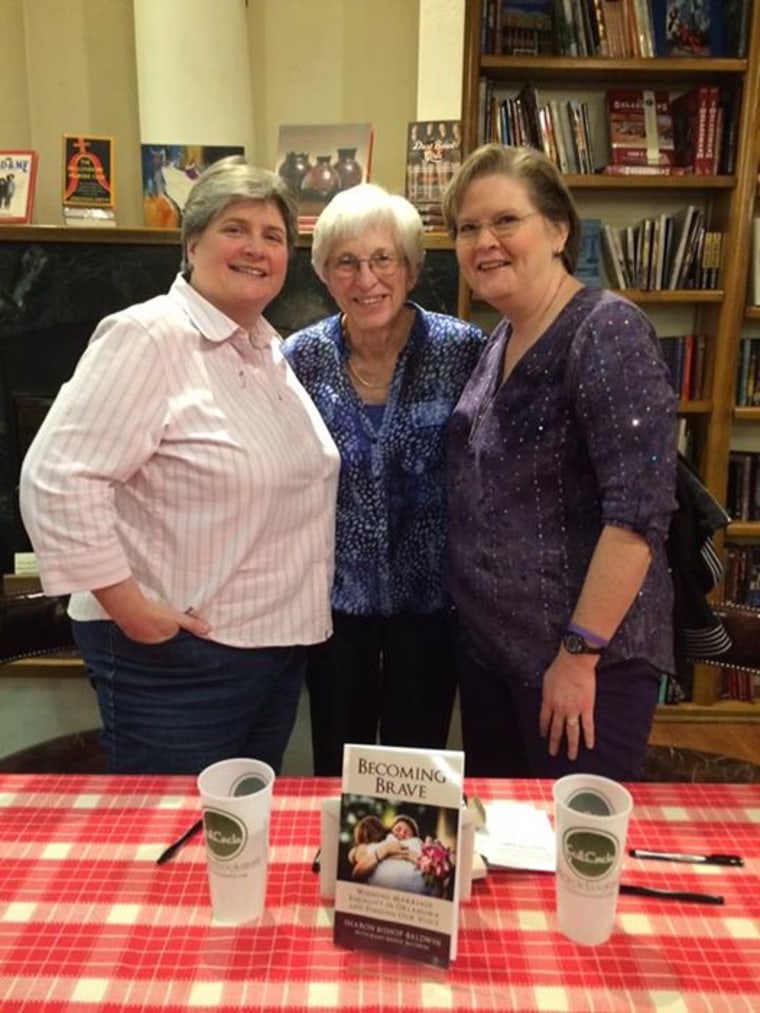 However, she also believes that the slower process benefited the story, because she was able to reflect back on events. "Thinking on it sort of helps you frame it in a way that you'll see it historically, so I think that process of being away from it for a while …. really sort of helped me look at that battle in a long-term way as opposed to a real short-term way."
One chapter is about Mary and Sharon's commitment ceremony in Florida in 2000, which Sharon Bishop-Baldwin found to be especially emotional for her. The florist in Florida, she noted, was just as devoted to making their flowers beautiful as she was to any other couple.
"Realizing what a different time that was, and even though it was a different time, how good people were. That kind of goes back to one of the tenets we believe: When people know gay people, they realize we're not some evil 'other,'" she told NBC Out. "We're just people like they are, and we think coming out in that way and getting to know people in that way is what's going to change hearts and minds."
So far, the couple has held a handful of book-signings throughout Oklahoma, with several more planned. One moment that has stood out to Bishop-Baldwin was meeting a woman who explained that she had been married to her wife for two years. But before that, they'd been together for 46 years.
"It was like a gut-punch in a good way," Sharon Bishop-Baldwin said as she recalled meeting the woman. "Forty-eight years. I'm 48 years old. They got together when I was born."
Such interactions really helped the couple understand their lasting impact and what they accomplished. "We knew sort of, theoretically, that we'd changed the world for a lot of people, but it's really neat to hear that story."