A rural Oklahoma school system was closed for two days last week after adults posted violent threats on Facebook against a 12-year-old transgender girl. After several tumultuous days, the trans student's mother told NBC News she and her family are hoping to move out of town — and have received help to do so from donors around the country.
"LET MADDIE BE MADDIE"
Brandy Rose said her daughter, Maddie, who was assigned male at birth, began articulating that she felt like a girl when she was about 4.
"As far back as I can remember, her expression has always been feminine and female," Rose told NBC News. "Even back before she could express that she was a girl, she always wanted girls' things: Barbies, princesses, the pink blankets when we would get the bed sets and stuff."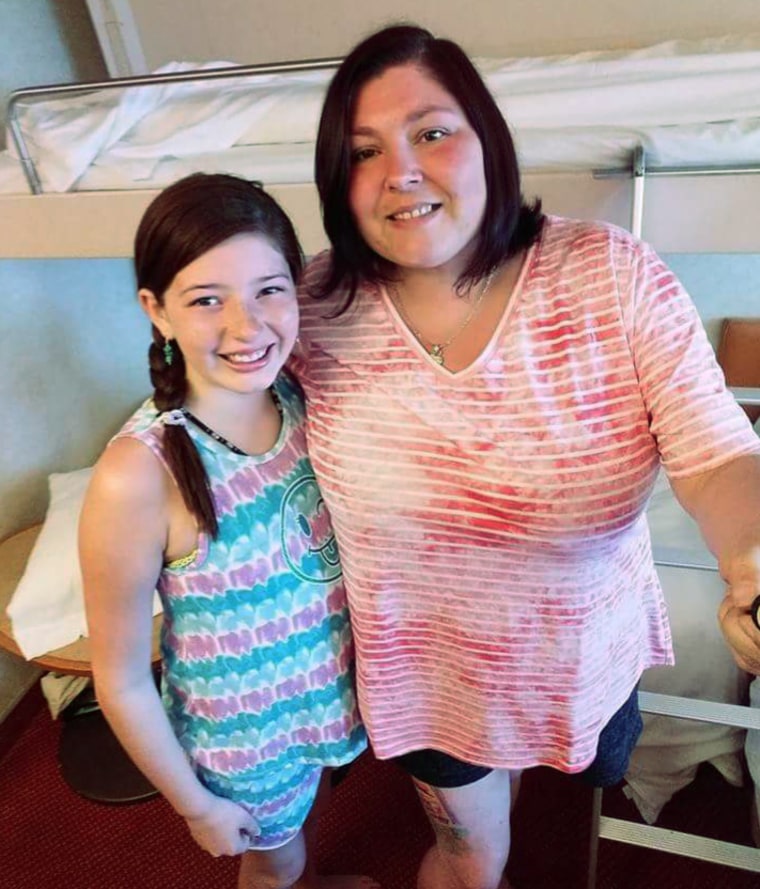 Rose said she was "very ignorant" about gender-identity issues" and "had no idea what transgender was."
"I thought she was a very, very feminine boy who might grow up to be gay, and we actually got her into a therapist that specializes in gender things with children, and they're the ones that informed me, 'Hey, your kid is transgender,' and explained to me what that meant," Rose explained.
"They told me that the best treatment for Maddie was to let Maddie be Maddie," she added.
"THE BULLYING GOT SO BAD"
After years of letting Maddie live as a girl at home, Rose decided to let her do so at school as well.
On her first day of fourth grade in Sherman, Texas, near the Oklahoma border, Maddie went to school with girls' clothes, long hair and nail polish. Even though the public school was informed that Maddie was transitioning, Rose said they would not allow her to present as a girl. She said Maddie was taken to the nurse's office to have her nail polish removed and was not allowed to use the girl's bathroom.
Her fellow students, who knew she had once presented as a boy, bullied her relentlessly, according to Rose. And as she got older, the students got crueler.
"She was assaulted in the bathroom, they pushed her on the ground and they kicked her, and they pulled her hair," Rose said. "The bullying got so bad that her and her older brother, who went to the same school, were taunted to commit suicide," Rose added. "That's when Charlie, her old brother, was hit in the face."
Rose said her family got in contact with the ACLU of Texas for help. "We didn't know who else to reach out to, and we didn't have money for lawyers." After the ACLU got involved and penned a letter to the school, the school "backed off a bit" and let Maddie use the staff bathroom instead of forcing her to use the boys' facilities.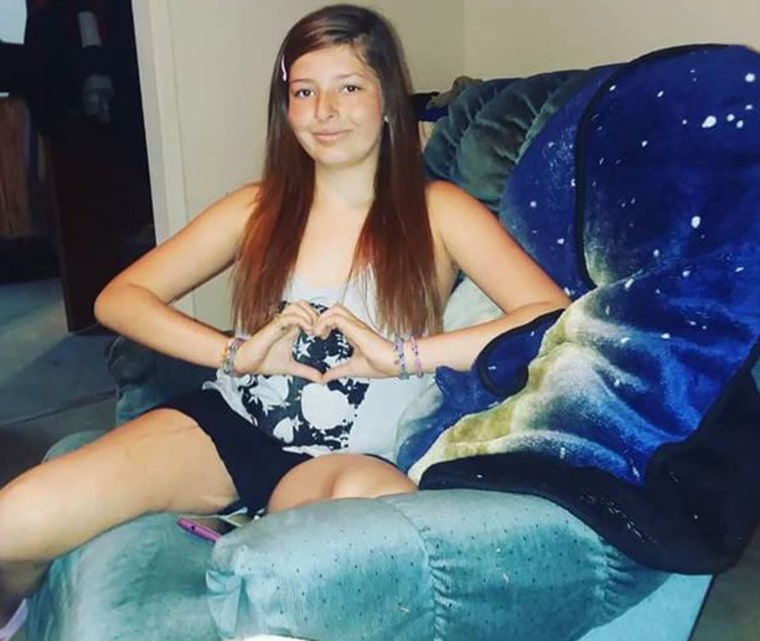 In 2016, the Rose family tried to move to Houston, where they have family, but "financially it ended up being a big mess," Rose said, so they moved back to Sherman. Then in March 2017, the family moved Achille, Oklahoma, about 30 minutes north of Sherman, so Maddie could have a fresh start where no one knew she was transgender.
The fresh start, however, spoiled quickly. Students found out Maddie was trans and accused her of peeking at other students under bathroom stalls, an accusation that she denies. She was then asked to use the staff bathrooms, which she said she doesn't mind, because they're "bigger" and "smell better."
"My personal opinion is that she should be allowed to use the girl's bathroom, 'cause she's a girl, but I've never fought the school district over it," Rose said. "I'm not the one going to school there, and so since Maddie likes using the staff bathroom, I'm not going to fight it."
"IT DIDN'T SEEM REAL TO ME"
Maddie began seventh grade on Wednesday, Aug. 8, in a new school within the Achille Public Schools System. She was supposed to use the staff bathroom and was told she would find out later that day where it was, but nature called first.
Maddie used the girl's restroom in her new school that first day, and the threats started shortly thereafter. A number of adults posted violent comments in the "Achille ISD Parent Group" on Facebook, which is not officially tied to the school district.
"Just tell the kids to kick ass in the bathroom and it won't want to come back!!" one person wrote, according to local NBC affiliate KFOR. Another added, "This is terrible!! Y'all have great kids and a lil half baked maggot is causing them probs." A particularly violent comment stated, "If he wants to be a female, make him a female. A good sharp knife will do the job really quick."
"It didn't seem real to me," Rose said of the threatening comments. "Then I was just angry. I was angry more than anything, and then the fear set in."
The Bryan County Sheriff's Office began to investigate the online threats against Maddie the following weekend, and then the whole school system was closed on Monday, Aug. 13, and Tuesday, Aug. 14, due to the incident.
The sheriff said no arrests were made, but Rose sought a protective order against a man whom she said verbally harassed her in a parking lot.
As for Maddie, Rose said she's still shaken and scared. "She still won't sleep in her bed. She sleeps in bed with us," Rose said. "When we asked her, 'Why are you scared to sleep in your room?' She was like, 'I'm afraid someone is going to come in my window and hurt me.'"
"THERE ARE PEOPLE OUT HERE ... WHO CARE"
Along with the threats, the Rose family also received an outpouring of support from people within — and far outside — their rural Oklahoma community.
Darius Douglas did not know Maddie and Brandy Rose when he first heard their story on the local news. An active member of the local LGBTQ community, Douglas was not even aware there was a transgender child living in the community. But once he found out about the threats against Maddie, he said he felt compelled to help.
"At her age, I didn't know who I was," Douglas said. "She is only 12, and for someone so young to identify and know who they are, to see that she was merely living in her truth and being herself, and then being attacked for that by adults — it was pretty hurtful for me."
Douglas put his hurt into action and organized a protest last week to show the school and the broader community that people were standing with Maddie and against hate. Twenty protesters gathered on Tuesday with their mouths taped shut to represent how they wanted to use actions, not words to show their support.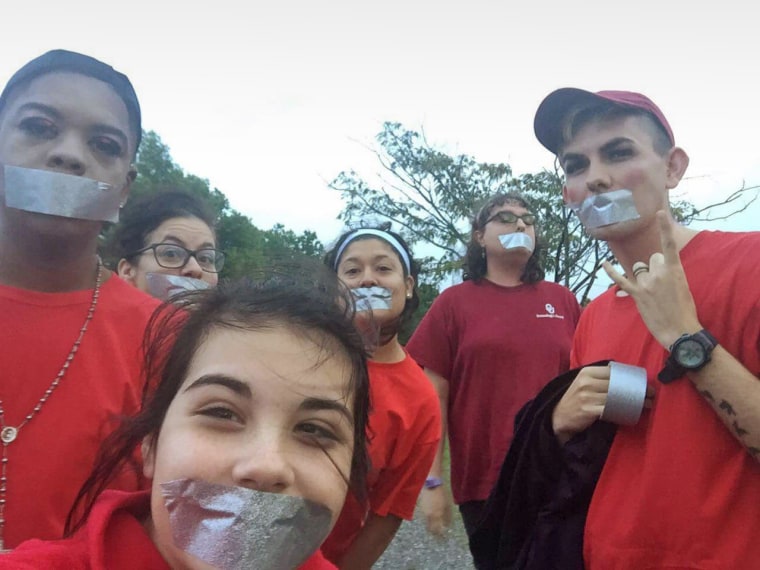 "I hope that it now shows other young LGBTQ youth or any child who may be getting bullied for being different that they aren't alone," Douglas said. "There are people out here who they may not know, but who care for them."
While Douglas and the Rose family have still not met, Brandy Rose called Darius Douglas last week to thank him for his support.
"I DIDN'T EXPECT STRANGERS TO DO THAT"
Douglas wasn't the only stranger to be moved by Maddie's story. L Anne Babb, a writer and journalist in Oklahoma City, was perusing Twitter when she saw a news story about Maddie.
"The article's main graphic on Twitter was screenshots of quotes from those parents that were shocking and scathing," Babb told NBC News. "I looked at those quotes and of course, I clicked."
"When I read that story, I thought to myself, 'Oh my God! This is wrong,'"she said. "So I went on Facebook and posted, 'I bet money if someone started a GoFundMe for that family, they would be out of Achille, Oklahoma, in 30 days.'"
Babb said her neighbor replied to her Facebook comment, saying, "Why don't you do it?" When she saw the reply the next morning, she recalled saying to herself, "Oh my gosh. Why don't I do it?"
Babb found Rose on Facebook and reached out to gauge her interesting in moving out of town and to get her blessing to start an online fundraiser for the family.
"I was just like, 'Well, that'd be a blessing to be able to move out of the area,'" Rose recalled telling Babb. "That's when she told me that her and a neighbor of hers had been discussing it. They thought that it would help us to start a GoFundMe page to get the funds to move … I thought that was very sweet and amazing and a blessing, so she set that up for us."
While she initially wanted to set the fundraising goal for $15,000, Babb decided to start with $10,000, thinking that would be more feasible. They made their initial goal in just 22 hours and then increased the goal to $15,000.
"I never imagined that we'd get the donations that we've gotten, because I mean it's strangers," Rose said. "I didn't expect strangers to do that. But, it's been amazing."
As of Monday afternoon, the donations had reached nearly $25,000.
"I hope we get our ducks in a row so we can move to Houston as soon as possible," Rose said. "We just want to do it the right way, so it's not something that's going to happen overnight, but that is our plan — to just get out of this little town."
When asked what advice she has for other parents and kids who may find themselves in a similar situation, Rose advised them not to "let all the hate get to you."
"My daughter cried the other day saying that this is all her fault. I just want kids to know out there that the hatred is not their fault at all," Rose said. "There's nothing wrong with them. God made them the way there are for a reason. God doesn't make mistakes."
"To parents, accept your children. Let them be who they are," Rose added. "All you can do is love your children and protect them as best you can."
Lastly, she said, "There's so much more love than there is hate, and everyone needs to know that."