On a recent Sunday, women's soccer superfan Tara "Murph" Murphy packed alongside 25,218 fellow fans at Providence Park in Portland, Oregon, to cheer on the Portland Thorns as they beat the North Carolina Courage, 2-1. The match set an attendance record for the formerly struggling National Women's Soccer League, the premier professional women's league in the United States.
For Murphy, 31, who identifies as nonbinary and uses they/them pronouns, it was about more than watching their favorite team beat a rival.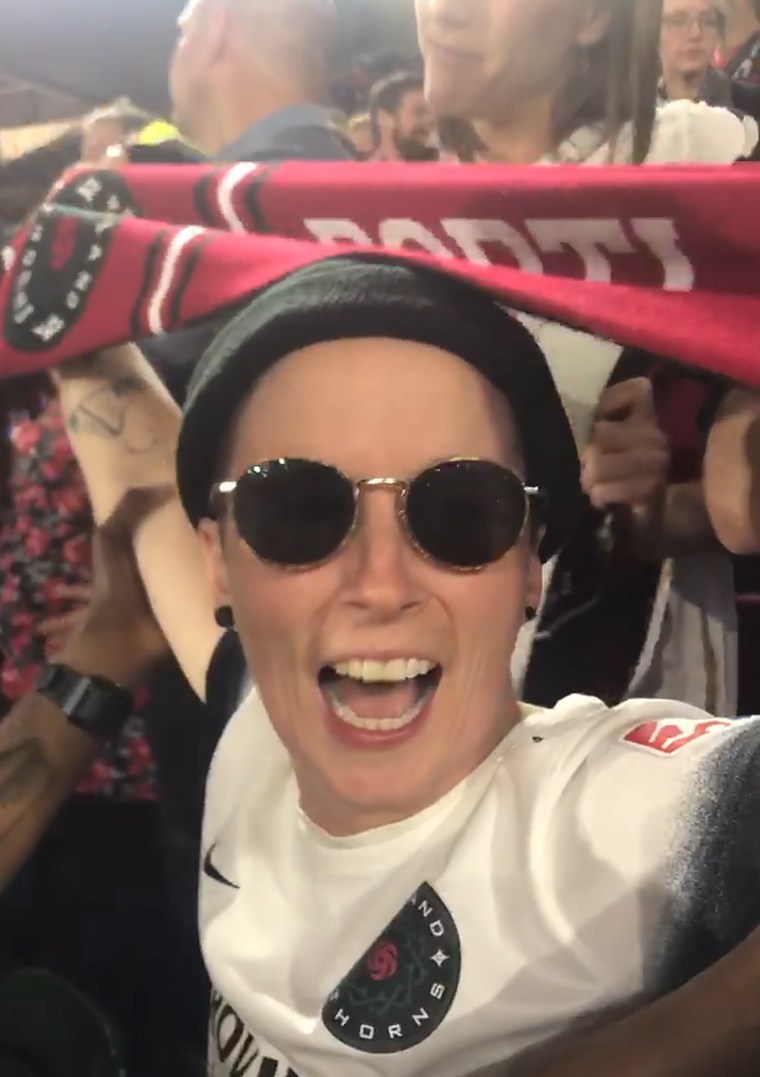 "It's about visibility and accountability and equity," Murphy, who has been to over 40 Thorns matches, told NBC News. "No matter who you are, where you come from, you can go to this space and be in a crowd of people and feel a whole bunch of emotions and investment, and you're part of something bigger, and it's definitely unifying."
Following the World Cup — where the U.S. women's national team clinched its fourth title by beating the Netherlands on July 7 — the National Women's Soccer League has seen a major spike in popularity. The league, which counts every member of the national team among its players, has reportedly seen a 70 percent increase in attendance since the World Cup, and at least half a dozen games have sold out following the return of players from the tournament, according to the Girls Soccer Network, a women's soccer blog.
Both longtime fans, like Murphy, and those who have only recently started following the league say the league's appeal goes beyond an appreciation for soccer.
FEMINISM & EQUAL PAY
Jessica Strong, 42, interim president of the Royal Guard, a fan support group for the Reign FC in Tacoma, Washington, said she was attracted to the league's feminist appeal.
"Becoming more active in watching and supporting women's soccer I think accompanied my own growth and understanding of feminism and my own sense of wanting to be involved with pushing the needle forward, with helping to really make women's sport a viable and thriving operation in the U.S.," Strong explained.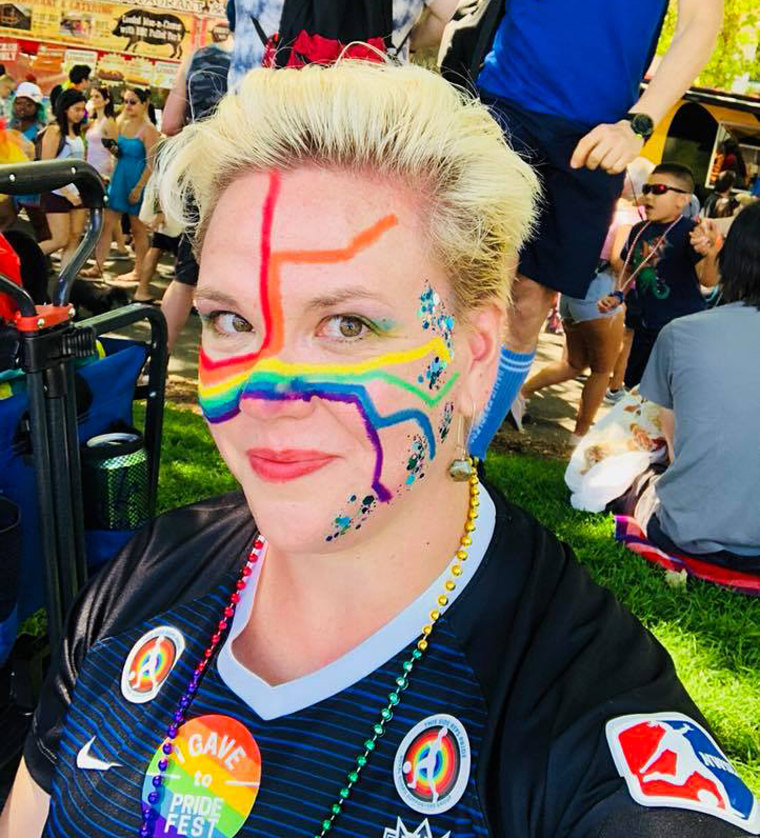 Strong said that after this summer's World Cup, the Royal Guard's membership grew more than 12 percent, and the club's section at Tacoma's Cheney Stadium has seen an increase of 20 to 30 fans per match.
A number of World Cup stars, including Megan Rapinoe, who plays for Reign FC, and fellow co-captains Alex Morgan and Carli Lloyd, are using their platforms to speak out in favor of equal pay for women. They are among 28 national players waging a lawsuit against the U.S. Soccer Federation over pay equity and gender discrimination. Last week, the players announced they would seek a jury trial after mediation talks with the federation failed to reach an agreement.
Rapinoe, one of the World Cup's top goal scorers, has been particularly outspoken on the issue.
"From a social perspective, from leaving the game in a better place for women everywhere, if it's not equal, there's no deal that we can get to. This isn't bargaining," Rapinoe said during an interview last week on NBC's "Today" Show. "This is you either value us equally and show that, or you don't."
In a country with a persistent gender gap in pay, the players' fight for equity is resonating with many female fans, according to Jennifer Gruskoff, editor-in-chief of the Girls Soccer Network.
"Right now the U.S. women's national team and many of the teams from other countries are on the forefront of what I believe is really the third wave of feminism," Gruskoff said. "So it's absolutely a movement. It's a movement without soccer, but what's happened is soccer has really exposed it and given it a megaphone."
LGBTQ VISIBILITY
The number of out players in the Women's World Cup did not go unnoticed by lesbian, gay, bisexual, transgender and queer viewers. Approximately 40 lesbian and bisexual players participated in the tournament, with at least five openly LGBTQ women on the U.S. team, according to Outsports.
For Murphy, who started attending Portland Thorns games after getting hooked on women's soccer during the 2015 World Cup, LGBTQ visibility is part of the appeal.
"It was the first time that I saw all of the things I love," Murphy said of their first Thorns game. "Women's soccer, women in sports, queer people celebrating being one unit … badass women doing dope s--- out on the field and off the field, too."
Many in the LGBTQ community see their local NWSL matches as safe spaces to come together and have fun, and local supporter clubs, unique to both men's and women's soccer, are working to ensure that their stadiums are welcoming spaces, their leaders say.
The Rose City Riveters, a fan club for the Portland Thorns, is known citywide for unraveling rainbow pride flags at Providence Park. The club has also organized fundraisers to benefit Portland's LGBTQ community. Most of its members are women, and many are LGBTQ, according Jo Thomson, the group's communications manager.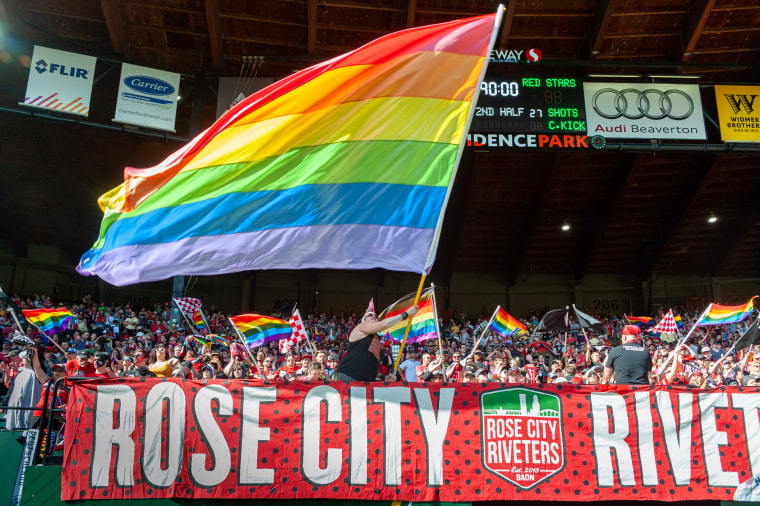 "We go out of our way to make very clear that the North End in particular at Providence Park is a safe space, and members of the LGBTQ community are absolutely welcome and encouraged to attend," Thomson told NBC News.
Strong, who identifies as queer, said the Royal Guard club discourages fans new to women's soccer from singing chants that include sexist, racist, homophobic or ableist language, which she said have been "status quo" in men's athletics.
"We're seeing a lot more in the U.S. in terms of pushback against the chants," she said.
The Royal Guard have also encouraged Tacoma's Cheney Stadium, shared by the Reign FC, Tacoma Rainiers, and Tacoma Defiance, to remove what members view as advertisements that are unwelcoming to the LGBTQ community. On Aug. 7, the Royal Guard released a statement over its concern that the stadium had displayed ads for Chick-fil-A, a fast-food chain that has donated to anti-LGBTQ groups through its charitable foundation, according to Strong. She said the Reign FC does not receive revenue from the ads.
CHALLENGES AHEAD
Justyne Freud, marketing and communications director for the Chicago Red Stars, said the rising success of women's soccer in the U.S. has to do with one thing: winning.
"If you win, fans will come," Freud told NBC News. "Between the U.S. women's national team winning, and [the Chicago Red Stars] being a top contender — we've made the playoffs four consecutive seasons, more than anyone else — it helps drive that traffic in."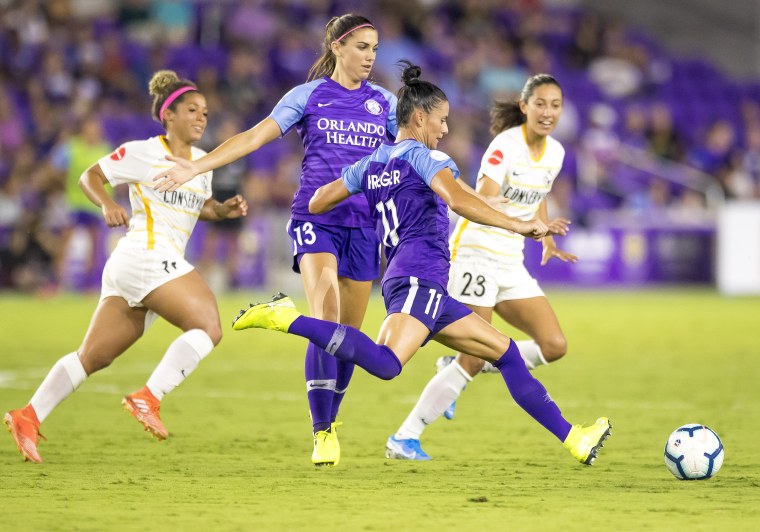 The Red Stars, the Orlando Pride and the North Carolina Courage attract about 5,000 people per game, while the Utah Royals and the league leader, the Portland Thorns, routinely draw more than 10,000 fans a week, according to the Girls Soccer Network.
But as fervor cools off from the World Cup — where the women's final was reportedly watched by 22 percent more U.S. viewers than the 2018 Men's World Cup final — questions linger about whether the NWSL games will continue to sell out.
While U.S. women's soccer has flourished on the international stage over the past two decades or so, it has struggled to gain momentum domestically. Both the Women's United Soccer Association and Women's Professional Soccer, both NWSL predecessors, folded in 2003 and 2012, respectively.
Despite the post-World Cup boost, the NWSL still faces challenges. It's a young league, has few teams and gets little air time on major sports networks compared to men's soccer. That, however, is beginning to change.
In July, a record-breaking 149,000 viewers tuned in to ESPN2 to watch a match between the North Carolina Courage and the Chicago Red Stars. And the NWSL recently secured a deal with ESPN to broadcast 14 games, which it hopes will generate more interest among soccer fans. But the deal, which ends with the league championship game in October, represents just a slither of airtime.
Only about four percent of sports media coverage focuses on women's sports, according to the University of Minnesota's Tucker Center for Research on Girls & Women in Sport. Without media coverage, Freud said it is difficult to attract new fans to the NWSL.
"A lot of these people might not know about the Chicago Red Stars or the Sky Blue or Washington Spirit, because they're not seeing it on their news stations, and without that how are they able to follow it?" Freud said.
'THIS IS MY TRIBE'
The teams, the players and the fans are all trying to do their part to keep interest strong.
Franchises with famous national players have leveraged their celebrity to fill stadiums. The Tacoma Reign FC, for example, invested in billboards featuring Rapinoe and teammates alongside the slogan "She Plays Here."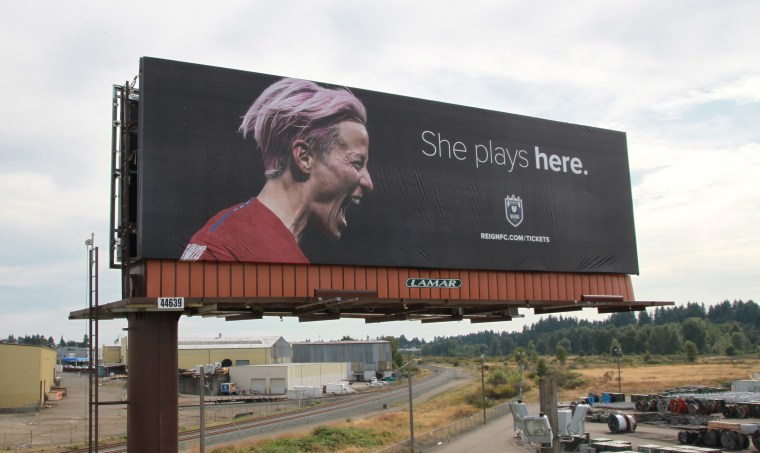 Alex Morgan used her massive social following to promote her first game back with the Orlando Pride earlier this week.
"Finally back with my girls!!! Game day 730pmET," she shared with her 9 million Instagram followers.
Famous players are having a big impact on bringing new fans into the sport, according to Gruskoff. She said the Girls Soccer Network saw a significant spike in traffic during the World Cup, and that traffic has remained double from before the tournament. She said many fans are drawn to content about players they idolize.
"Let's say you take somebody who doesn't know much about soccer — a young woman — I think the first thing they will connect to is the person, and that brings them into the sport," Gruskoff said.
During the 2015 Women's World Cup, Murphy had begun following players like Christine Sinclair and Tobin Heath on social media. After realizing they played for the Thorns, Murphy started attending games and was hooked.
"You go to one game and you're like, 'This is my tribe, I belong here,' and it's so much fun," Murphy explained. "That's really how I got into it."
A grassroots movement driven by local supporter clubs is also helping to generate interest in the sport in the U.S., according to Bailey Brown, president of the Independent Supporters Council, an organization that advocates for supporters clubs at home and away matches for U.S. and Canadian leagues. Six local clubs supporting NWSL teams are members of the ISC. Brown said all are determined to see their beloved teams thrive.
"They're getting on social media, they're doing word of mouth, and they're saying, 'Hey, look, it's not just the men's game in our city, and here's what we do,'" Brown said.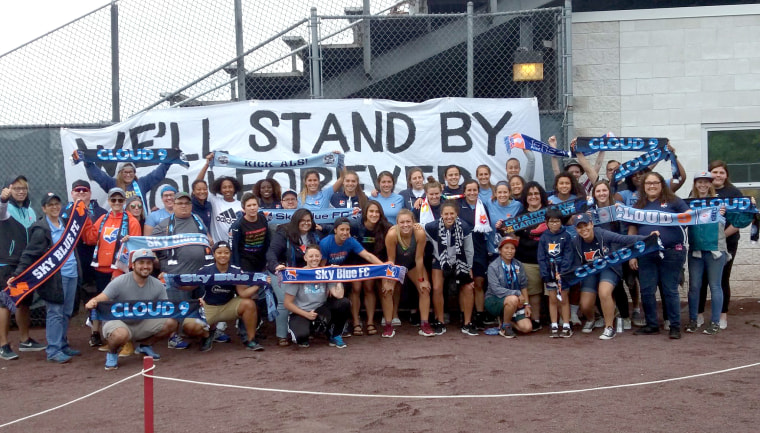 Jen Muller, 43, president of Cloud 9, a fan group for the New Jersey-based Sky Blue FC, which held its first sold-out match after the 2019 World Cup, said the group is organizing ride-shares to get fans throughout the heavily suburban state to the team's stadium in Piscataway.
"We're doing everything we can to keep it," Muller said.
While Gruskoff predicts some of the post-World Cup bump will decline over time, she said a number of factors — including the 2020 Summer Olympics — will keep fans invested and wanting more.
"We're watching women play at the highest level," she said, "and women have our backs and are fighting for us."