"We're stronger when our gay and lesbian cadets and troops can serve their country - a country they love - without hiding who they love," declared President Barack Obama in his last commencement speech as commander-in-chief on the morning of June 4.
The United States Air Force Academy class of 2016 stalwartly looked on in their unique dress uniform under the glorious sun in Colorado Springs. Among the crowd, you couldn't miss the satisfied smile of soon-to-be graduate Second Lieutenant Emma Pauken. The philosophy major, who has jumped out of planes more than 550 times, will soon be sitting on 24-hour watch alerts, ready to deploy a missile if the next President of the United States so commands. Pauken also happens to identify as a lesbian.
The President himself acknowledged the prestige of joining the Academy, saying "just being accepted is a big deal," and adding it is "a testament to your talent and your leadership."
That testament is particularly palpable when you meet 25-year-old graduating cadet Second Lieutenant Calvin Llarena, who enlisted in the Air Force at 17 years old. Llarena begged his parents to sign the paperwork despite fears of their gay son being harmed due to homophobia in the military. Back then, the law banning gay, lesbian and bisexual individuals from serving openly, "don't ask, don't tell" (DADT), was still in full effect.
DADT was instituted by the Clinton administration in 1994, and those in violation of the policy were discharged. More than 17 years later - and after numerous pieces of academic research demonstrating that having individuals serve openly does not harm military readiness - the law was repealed under the Obama administration in 2011. However, as the law did not address gender identity, an estimated 15,500 transgender service members are still banned from serving openly. This may change, however, as Secretary of Defense Ashton Carter last year initiated a working group to explore the implications of allowing openly transgender people to serve.
"We're stronger when our gay and lesbian cadets and troops can serve their country - a country they love - without hiding who they love." ~ President Barack Obama
Llarena's job in the Air Force before joining the Academy was in air transportation. He describes it as similar to being a flight attendant, or servicing planes with food, or cleaning up the trash.
"Seeing aircraft, being on the aircraft, watching aircraft take off … inspired me to become a pilot," he said. "I got to meet a couple of pilots… and seeing how much they enjoyed their job and enjoyed the mission, made me want to do the same thing."
So, while serving in silence under DADT, Llarena's potential was noticed and he was admitted into one of the nation's most selective institutions, the United States Air Force Academy.
Rising from the ranks is something sophomore Cadet Second Class Steven Fox, who identifies as bisexual, can metaphorically relate to. Growing up near Fort Bragg, N.C., he was inspired by the C-130s flying overhead and those who chased hurricanes. Despite being told gay people couldn't be Eagle Scouts or join the military, Steven found resilience and passionately fought to contribute to society in a manner that was important to him.
"There's this saying...'Say I won't and I bet I will.' And I got both my Eagle Scout and I'm in the military now," he said.
What's striking about the Academy is the strength cadets build in their relationships. Before the repeal of DADT when he was still enlisted, Llarena felt unsafe and reached out to a friend for support. Another airman had announced in class, "If I had one bullet and I had to choose between shooting the enemy and shooting a gay wingman, I'd kill the wingman first." From that point on he felt at risk of not just being kicked out for being gay, but of being physically assaulted, too. Later at the Academy, feeling the weight of stigma, Llarena took a year off to contemplate whether the institution was ready for a gay cadet. However, it was the friendships with his classmates that made him realize he wanted to come back. Llarena concluded that those who were supportive far outweighed those who were antagonistic.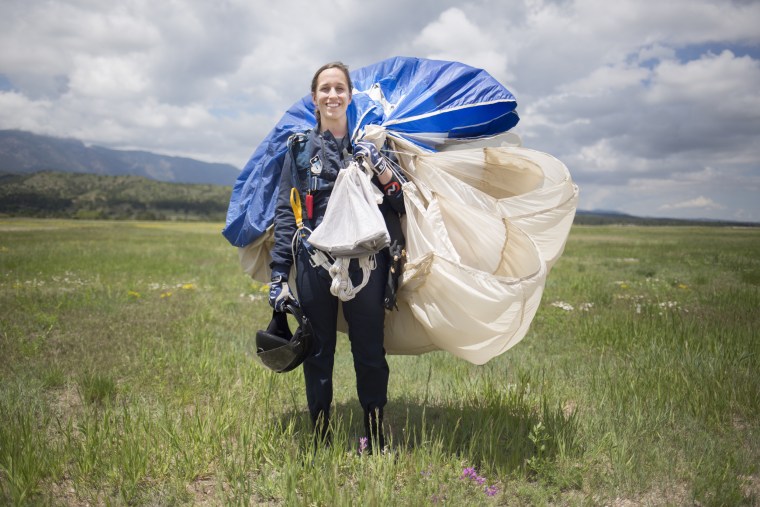 Pauken, on the other hand, was a freshman in 2012 - the first class of students to have never lived under DADT. She said coming out in the springtime of her freshman year was "the best experience with it that anyone could ask for." Pauken, however, said she feels more at home with the competitive parachute team, Wings of Blue, than with Spectrum, the gay, lesbian and bisexual group on campus.
Within Wings of Blue, she's an instructor for the only program in the world where you never jump in tandem. Right from the start you exit the plane solo. Pauken admits that she was frightened the first time she was standing in the plane's doors, with the forceful wind beating against her body as she leaned forward to soar, but she mustered courage from her jump master's conviction and went for it. With so many jumps under her belt, she now says jumping out of a plane is "not scary anymore."
Reflecting back on how this relates to her sexual orientation, Pauken speaks of the trust that is built when everyone on the team is open and authentic. Her civilian girlfriend, E.P., has become part of the Wings of Blue family, attending dinner parties and other social events with Pauken and her fellow cadets.
The importance of knowing those you're serving alongside, according to Pauken, can literally be a matter of life and death.
"We give each other gear checks before every single jump. This is me handing my life to another person, and saying I trust you to examine me and make sure I'm not going to die in the next half hour ... To have that trust relationship with someone like that, you really have to get to know people on a deeper level," she explained.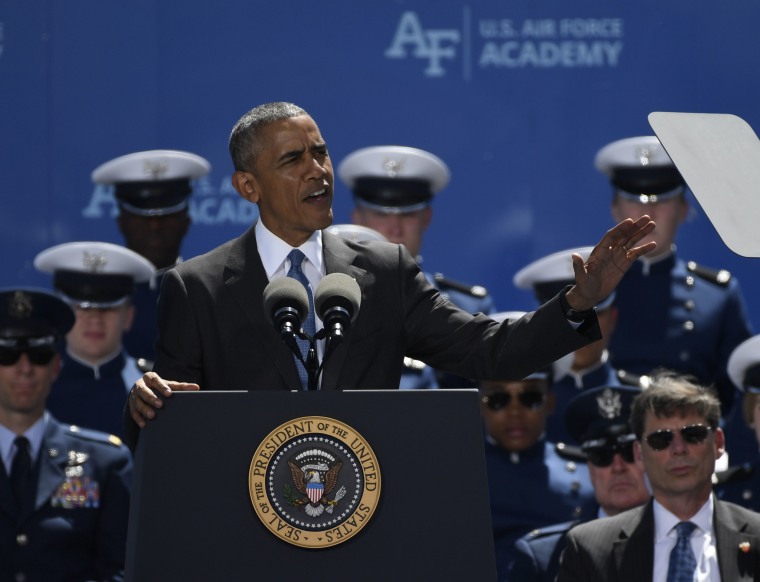 In the closing of his United States Air Force Academy commencement address, President Obama said to the graduating class: "We can never know what the future holds. But in the not-so-distant future, when I'm no longer President, I will sleep well at night because I know that men and women like you serve to keep us free."
Emma Pauken, Calvin Llarena and Steven Fox will also undoubtedly sleep better knowing they can serve openly in order to protect their country. And perhaps, in the near future, they'll also be joined by their openly serving transgender brothers and sisters.