Roy Moore, Alabama's controversial chief justice of the state Supreme Court, was suspended without pay for the remainder of his term on Friday for instructing probate judges to deny same-sex couples marriage licenses, in contradiction to a landmark U.S. Supreme Court ruling.
"For these violations Chief Justice Moore is hereby suspended from office without pay for the remainder of his term," stated the order from the Alabama Court of the Judiciary. "This suspension is effective immediately. Chief Justice Moore is also taxed with the costs of this proceeding."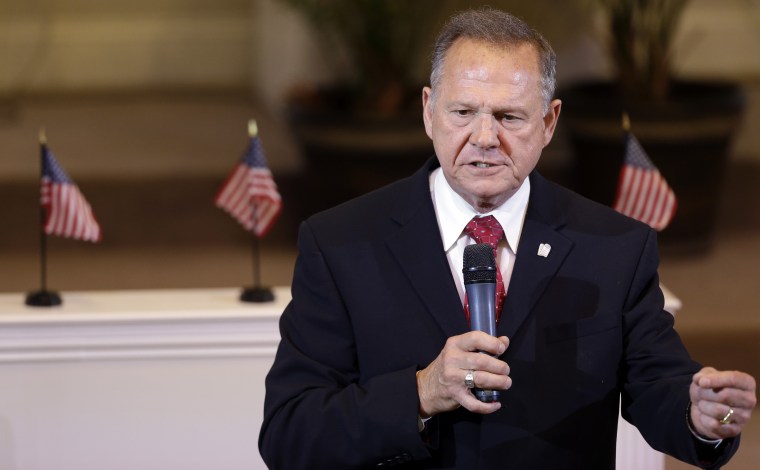 Friday's decision comes on top of nearly two years' worth of repeated clashes between the state and federal judiciary over whether same-sex couples have a right to wed in Alabama. In January 2015, a federal judge ruled that they did, but two months later the state Supreme Court decided they didn't.
All the while, Moore had been instructing probate judges — many of whom are not lawyers — to listen to the state Supreme Court and deny the licenses.
Moore had ordered probate judges to ignore the federal ruling that struck down Alabama's same-sex marriage ban in 2015, arguing that because no probate judge was listed as a defendant in that lawsuit, no probate judge was obligated to adhere to the decision.
Related: Alabama Chief Justice Roy Moore Faces Ouster After Gay Marriage Fight
Nearly a year later, in January 2016, Moore again directed probate judges to defy a federal court ruling — this time, the U.S. Supreme Court's.
"Until further decision by the Alabama Supreme Court," wrote Moore in January, six months after the landmark Obergefell decision, which made marriage equality the law of the land, "the existing orders of the Alabama Supreme Court that Alabama probate judges have a ministerial duty not to issue any marriage license contrary to the Alabama Sanctity of Marriage Amendment or the Alabama Marriage Protection Act [which banned same-sex marriage] remain in full force and effect."
The above portion was listed under a line that stated, "It is ordered and directed." However, an earlier portion conceded that Moore was "not at liberty" to provide guidance to probate judges on the effect of Obergefell. Moore and his attorney pointed to that part as evidence that he wasn't ordering probate judges to do anything.
Related: Alabama Supreme Court Refuses Challenge to Gay Marriage
Following an initial suspension with pay, Moore was tried before the Alabama Court of the Judiciary Wednesday on six charges of alleged ethics violations. At the hearing, where he received a standing ovation upon entering the packed Montgomery courtroom, Moore himself took the stand, saying he had not defied the U.S. Supreme Court's Obergefell decision with his actions.
"I would never tell them what to do," Moore said, referring to probate judges, according to al.com. He called the charges against him "ridiculous" and accused the Judicial Inquiry Commission of being unable to read an administrative order.
Prosecutors said otherwise.
"You told the probate judges that they were under a mandate to obey state court orders [a federal judge] said they could not," retired federal judge John Carroll said upon cross-examination, according to the Montgomery Advertiser.
Attorney Ashby Pate with the Judicial Inquiry Commission similarly accused Moore of flouting the law.
"[H]e urged defiance, not compliance, for defying a decision already settled by the U.S. Supreme Court," said Pate, according to the Associated Press. He called on Alabama's Court of the Judiciary to remove Moore from office.
For the rebellious chief justice, suspected by some to be gearing up for a gubernatorial run, Friday's outcome is not wholly unfamiliar. In 2003, he was removed from the exact same job when he refused to comply with a federal court order that he take down a monument of the Ten Commandments he had installed at the judicial building.
Voters re-elected Moore as chief justice in 2012.
This time, the nine-member Court of the Judiciary did not opt for the harshest punishment. Removal from the bench required a unanimous decision, yet suspension without pay only required a minimum 6-3 vote.
Moore can appeal the ruling to the Alabama Supreme Court.