Daniel Eggers said gender-affirming medical care saved his life.
Eggers, 18, a transgender high school student in Alabama, began taking testosterone two years ago with his parents' blessing following a lifetime of depression and suicidal ideation. He found it difficult to make friends at school and struggled with an eating disorder, but since transitioning, he said he feels like a new person. He said he is almost never without a smile on his face, leading teachers to describe him as the "happiest kid in the world."
"The suicide rate is 3.5 times higher for trans kids who don't have acceptance from their parents, and the biggest part of acceptance is being allowed access to these lifesaving treatments," he told NBC News, citing 2018 research from the peer-reviewed medical journal JAMA Pediatrics. "I would have been a part of that 3.5, I guarantee it."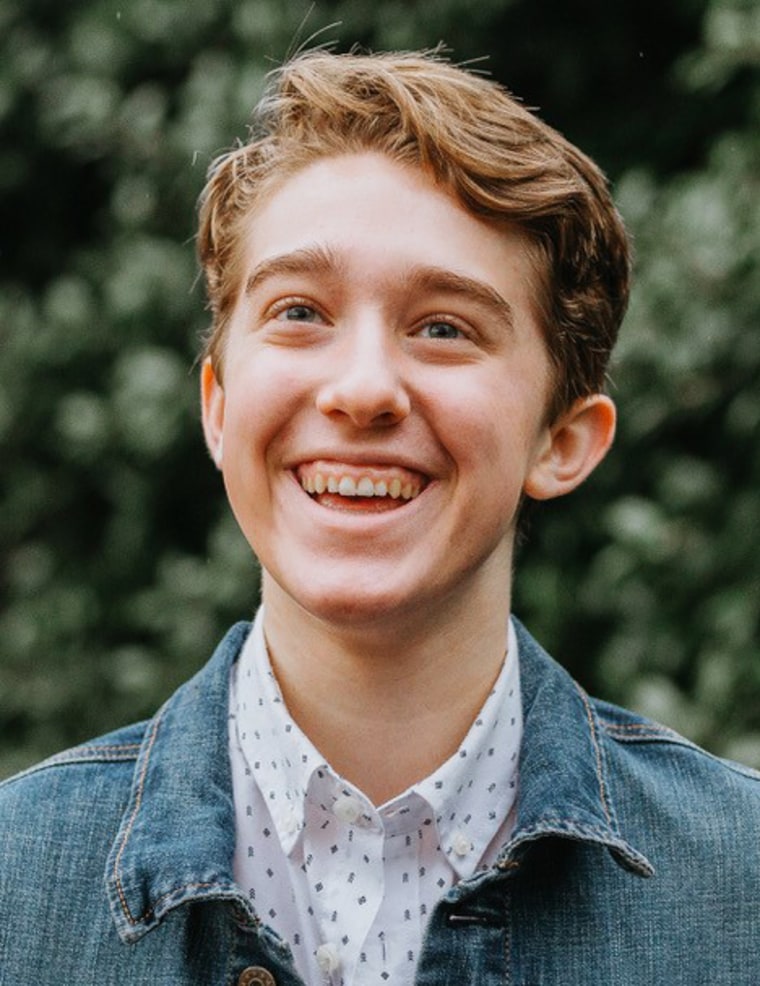 Eggers' home state may soon make it illegal for doctors to provide the trans-affirming care that he credits with saving his life. Last week, the Alabama Senate voted 22 to 3 in favor of the Vulnerable Child Compassion and Protection Act, which would make it a Class C felony punishable by up to 10 years in prison for any doctor or other health care professional who prescribes medications intended to delay the onset of puberty or perform gender-affirming procedures on transgender minors. Because Alabama classifies any person under the age of 19 as a minor, this would include Eggers.
The legislation's lead sponsor, state Sen. Shay Shelnutt, a Republican, said the bill is necessary to shield young people from "irreversible consequences for the rest of their life."
"Kids are not fully developed until later in life," Shelnutt said during a debate on the Senate floor. "I think we can all agree that kids aren't capable of making certain decisions until certain ages, and so we want to just stop these procedures from happening in Alabama."
The legislation has been strongly opposed by civil rights groups and medical experts who treat trans youth in the state. In press releases following the bill's passage, the American Civil Liberties Union of Alabama said the proposal "runs counter to medical science, prevailing standards for the treatment of transgender youth, and basic human dignity," and the Human Rights Campaign called it a "license to discriminate against transgender and nonbinary Alabamians."
Dr. Morissa Ladinsky, who has been practicing primary care pediatrics in the Birmingham area for five years, warned that the "fallout from this type of legislation would be exponential."
"What keeps gender-diverse youth healthy and alive is hope," Ladinsky said. "If hope is perceived to be removed from their lives, you will see mental health consequences and behavior challenges. There isn't precedent for it, and it's opening a Pandora's box that will be truly dangerous."
Ladinsky is one of more than 200 medical professionals in the South who have opposed legislation to reduce the kinds of care that can be provided to trans youth, with bills similar to Alabama's also introduced in states including Georgia, Kentucky and South Carolina this year. In an open letter released by the LGBTQ advocacy group Campaign for Southern Equality, signatories note that groups such as the American Medical Association and the American Academy of Pediatrics "recognize that supporting transgender youth is critical to their health and well-being."
"Many credible studies of trans youth populations have demonstrated that gender-affirming care is linked to significantly reduced rates of depression, anxiety, substance abuse, and suicide attempts," stated the letter, which was signed by an array of health care professionals. "To put it plainly, gender-affirming care saves lives and allows trans young people to thrive."
Although legislation similar to Alabama's trans health care bill has been unsuccessfully introduced in other states this year, including South Dakota and Idaho, LGBTQ advocates in Alabama are worried the Vulnerable Child Compassion and Protection Act will become law. The bill was already approved in a House committee earlier this year and is likely to be heard on the House floor Thursday, where conservatives boast a commanding 45-seat supermajority.
"There are enough Republicans to do it," Sydney Duncan, lead LGBTQ attorney for Birmingham AIDS Outreach, said. "The proponents who come from outside of the state to lobby for this bill are well-practiced, and there seems to be momentum behind it. There seems to be a want to do it, despite the clear demonstration of the damage that will happen as a result."
Duncan predicted the bill would be met with an immediate lawsuit over issues of "parental rights, privacy rights and due process rights," but it isn't the only legislation aimed at transgender Alabamians this year. A second bill, the Gender Is Real Legislative Act (GIRL), would prevent trans student athletes from playing on school sports teams in accordance with their gender identity. The legislation was advanced by a state House committee in February but has yet to receive a full vote on the House floor.
Transgender Alabamians and their families say they aren't sure what will happen if Gov. Kay Ivey, a Republican, signs either of these bills. Justin Vest, whose daughter is trans, said his family could hypothetically make the three-hour drive to Atlanta for her medical care but questioned whether doctors would take out-of-state insurance.
"As long as we are able to do what we need to do to make sure she has the care that she needs," Vest said, "I'm committed to staying here, fighting like hell to overturn this and electing people who are going to actually stand up for LGBTQ Alabamians, because everyone in this state deserves better."
As for Daniel Eggers, he is headed to college out of state in the fall, but he said he's worried about the difficult choices that trans young people who choose to remain in the state — or those who have no choice in the matter — may have to make.
"A lot of people won't have money to just up and leave," he said. "I have had to leave two schools because I didn't feel safe enough to go there in Alabama. I know that I'm immensely privileged because my family can afford for me to do that. A lot of other people don't have that capability, so they just have to stay in these awful, abusive environments that are dangerous for their mental and physical health. This bill is not going to do anything about it."