Alabama's first openly gay legislator bid farewell to the state's House of Representatives on Tuesday evening. Rep. Patricia Todd, a Democrat from Birmingham, will not seek re-election after serving 12 years.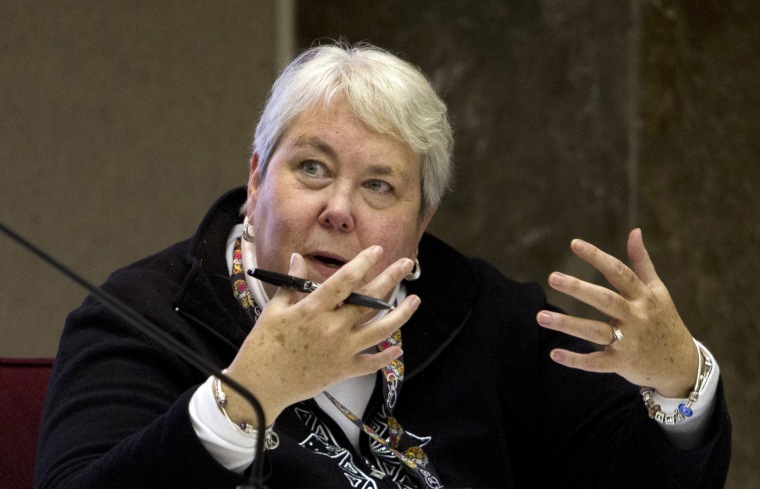 Todd said on the House floor that her colleagues are "incredible, beautiful people" who all treated her with equality, even though some she thought she "would never get along with or like."
Originally from a small town in Kentucky, Todd moved to Alabama in the mid '80s and was first elected to state office in 2006. She announced in January that she would not run for re-election, as she had previously planned to do.
"The current ethic laws and the time to serve as a legislator create a barrier for me to secure full time employment and it has created a financial burden on my family," Todd said about her decision. Alabama's complex ethics laws regarding interactions between legislators and nonprofits made it difficult for Todd, a nonprofit professional, to obtain employment.
Todd, who was one of NBC Out's #Pride30 honorees last June, told NBC News at the time that as a representative in one of the country's most conservative states, she's most proud of the legislation she prevented from passing.
"Alabama has only passed one anti-gay bill since I've been in office, but we've killed every other one, bathroom bills and all, that have come up," she said.
Former Houston Mayor Annise Parker, now CEO of LGBTQ political organization Victory Institute, applauded Todd's service Alabama.
"Her presence in the state legislature will be sorely missed by all communities who demand their representatives support equality," Parker told NBC News. "Being an out LGBTQ leader anywhere in America takes courage. Being the sole out LGBTQ elected official in the entire state of Alabama takes courage of an entirely different level."
In her farewell speech on Tuesday, Todd said she hoped she "opened up some hearts and minds" and wouldn't be the state's last gay legislator. An openly gay former Marine and Birmingham native, Neil Rafferty, is one candidate running for her seat.
Todd received a standing ovation after her speech.