A potential showdown later this year between Albania's burgeoning LGBTQ movement, the government and European lawmakers marks the latest chapter in a stirring tale of guts, determination and good old-fashioned grassroots activism.
Kristi Pinderi, 34, and Xheni Karaj, 31, who have been at the forefront of the movement for almost a decade, plan to file a lawsuit with the Strasbourg-based European Court of Human Rights seeking to amend Albania's Family Code prohibiting cohabitation rights for same-sex couples.
Should the activists prevail, Albania's government –- eager to join the EU –- would come under enormous pressure to allow civil partnership agreements irrespective of sexual orientation. A successful ruling could even help pave the way for the legalization of same-sex marriage, a proposition that would have been inconceivable just a few years ago.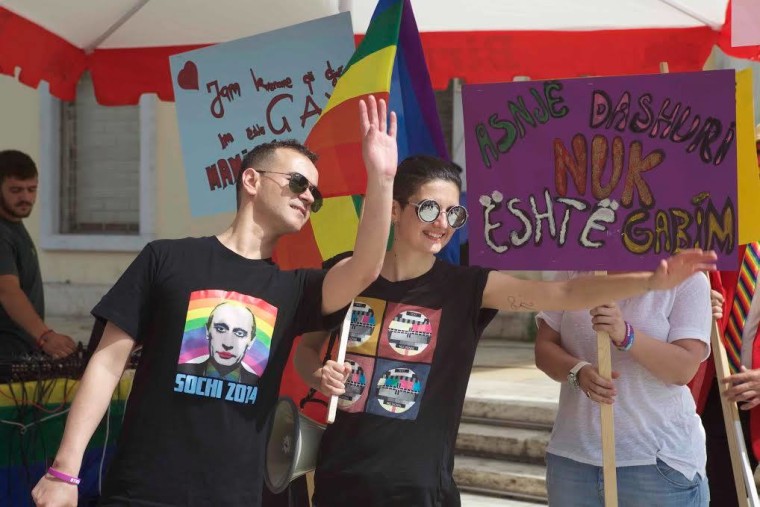 Pinderi and Karaj, speaking in a video call from Albania's capital city, Tirana, admitted it has been quite a turnaround. When the activists met through Facebook in 2009, the LGBTQ community in Albania had been marginalized to the point of invisibility.
After the fall of the communist dictatorship in 1992, and the decriminalization of same-sex relations three years later, most LGBTQ people continued to hide their sexuality rather than risk family rejection or professional ruin.
"There were some attempts through two or three organizations to make it a public discussion, but probably it was not the right time," Pinderi said.
"We need to continue to strengthen young people from the LGBT community to understand and to continue the challenge, because it's not finished yet –- I think it's just the beginning."
Even today, pro-LGBTQ legislation banning discrimination cannot mask the homophobic and transphobic sentiment that pervades this family-oriented nation. Besides, many interpret the Albanian government's support for progressive policy as a ruse to speed up EU membership rather than as genuine concern for the rights of sexual and gender minorities.
"You can see that there is a big contrast between the legislative developments and the changes when it comes to the everyday reality of LGBT people," said Karaj, founder of the Alliance Against Discrimination of LGBT (Aleanca).
Back in 2009, though, no one in Albania was even talking about the issue. But that was about to change. The activists seized their opportunity after the country's powerful Catholic, Orthodox and Muslim leaders had come together to vehemently attack then Prime Minister Sali Berisha's surprise support for same-sex marriage.
Pinderi and Karaj drafted a press release criticizing the intolerance of their religious detractors. Albanian news outlets were eager to hear more from this hitherto voiceless community; for the first time, the young activists felt empowered.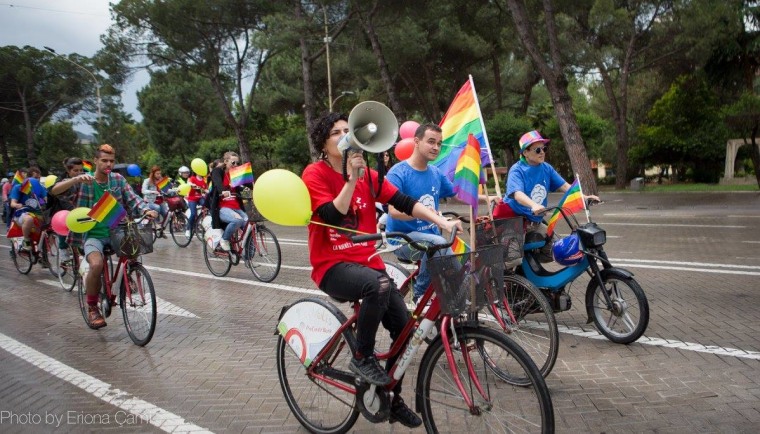 By their own admission, they set out to provoke. Clandestine meetings organized through social media led to brazen, guerrilla marketing-style stunts on the streets of Tirana. Posters trashing homophobia were glued to lampposts, park benches next to government buildings were daubed in rainbow colors and walls were sprayed with pro-LGBTQ messages, often within sight of religious buildings.
"In the first year it was kind of dangerous," Karaj said.
Sure enough, an early Pride event involving just a handful of activists was attacked by thugs with homemade bombs, while a live television debate between members of the community and anti-LGBTQ groups was interrupted by a rabid politician threatening to cut Pinderi's throat. Hostility toward the community had reared its ugly head –- quite literally, in some cases.
Still, a sense of community among local gay and lesbian populations was emerging, and for the activists, that justified the bluntness of their style. LGBTQ people who had been reluctant to come out were now attending activist-organized discussion groups, community events, art exhibitions and concerts. Pinderi and Karaj, meanwhile, were discovering they had enough clout to demand meetings with police chiefs, ambassadors and high-ranking politicians.
RELATED: Amid Heightened Security, Belgrade's LGBTQ Community Marches for Equality
Perhaps, though, their most significant achievement came in 2014. As the movement in Albania became more visible, greater numbers of young people were coming out to their families. For some, their decision to confide spelled violence and rejection.
"We thought a shelter would be the biggest help that could come to these young people and would give them the possibility of not ending up in professions like sex work," Karaj said.
In December of that year, the Streha project opened its doors. With funding from USAID and the Dutch Embassy and strategic support from UK-based Albert Kennedy Trust, the eight-bed refuge in Tirana is still the only one of its kind for homeless LGBTQ youngsters in the Balkans region of Eastern Europe.
Beneficiaries, as they are called, typically stay at Streha for six months, during which time they can access psychological support, vocational training, careers advice and, in certain cases, help in reconnecting with families. Most residents are Albanian, although the refuge has also housed young people from neighboring Kosovo and Montenegro, according to Marsida Cela, Streha's executive director.
RELATED: Serbia's First Trans Army Veteran Celebrates Gender Confirmation
For Pinderi, the shelter, which became an independent entity in 2015, symbolized the beginning of a second stage for Albania's LGBTQ movement. If the first years were marked by raising visibility and challenging the establishment, then a key focus since has been about providing direct and immediate help to community members.
Fast forward to 2017, and Albania stands on the verge of ushering in a new era of equality. Similar cases to theirs involving the European Court of Human Rights are cause for optimism. Two years ago, Italy was taken to the Strasbourg court by three gay couples seeking greater legal rights for those in same-sex relationships. The Court agreed, and in May of last year, Italy's parliament approved a bill recognizing same-sex civil unions.
"We've got a great chance in Strasbourg," the activist said. "We don't have legal leverage to challenge the definition of marriage, but we have enough to challenge the definition of cohabitation."
As well as preparing litigation for the lawsuit, this year the activists will continue helping NGOs in neighboring Macedonia to set up their own refuge for LGBTQ youngsters, while embarking on a new campaign at home to raise the visibility of transgender issues.
From the cloak and dagger tactics of the early years to pressuring legislators for marriage rights, you would forgive these activists a moment to revel in their success.
"I think the hard times have passed now," Karaj said. "The community is stronger and our response (to homophobia) is much more active and aggressive than before."
"But we need to continue to strengthen young people from the LGBT community to understand and to continue the challenge, because it's not finished yet –- I think it's just the beginning."