The Trump administration could overturn Obama-era guidance protecting transgender students as early as Wednesday, according to White House Press Secretary Sean Spicer.
At Wednesday's daily press briefing, Spicer responded to a reporter's question about whether rumors of the policy change were true.
"I would expect further guidance to come out on that today," said Spicer, adding that "The President, as I said yesterday, is a firm believer in states rights."
Spicer also touched on rumors that allege Education Secretary Betsy DeVos opposed changing the transgender guidance, saying that while there have been disagreements over "the timing and wording," the "conclusions" are something that "everyone in the administration" has agreed upon.
NBC News has obtained a draft copy of an alleged "Dear Colleague" letter, dated February 2017, that rescinds policy guidance sent to schools last May regarding "access to sex-segregated facilities based on gender identity rather than biological sex."
Rescinding the guidance, originally issued by the Department of Education and the Justice Department's Office of Civil Rights under the Obama administration, would allow states to individually interpret whether Title IX's federal student protections include transgender students.
"OCR and DOJ have decided to withdraw and rescind the above-referenced guidance documents," the letter reads, "In order to further consider the legal issues involved. The Departments thus will not rely on the views expressed within them."
Overturning the school guidance could make it more difficult for transgender students to access restrooms, locker rooms, and other facilities that correspond to their gender identity and presentation rather than biological sex at birth.
Eliza Byard, executive director of GLSEN (Gay, Lesbian and Straight Education Network), said her group would fight even harder for the rights of all students if the rollback happens.
"While the Trump Administration calls into question its support for transgender students, GLSEN won't." Byard said in a statement to NBC News "And neither will the thousands of teachers, administrators and parents around the country who work with GLSEN and our local chapters to ensure that transgender students everywhere have the opportunity to simply be themselves and live better lives."
Multiple requests to both the Department of Education and the Justice Department's Office of Civil Rights did not result in official comment.
Related: What Happens if Trump Pulls Transgender Bathroom Guidance?
But on Tuesday, White House Press Secretary Sean Spicer appeared to confirm upcoming changes in the transgender student policy, in response to a reporter's question at the administration's daily press conference.
"All you have to do is look at what the president's view has been for a long time, that this is not something that the federal government should be involved in, that this is a states' rights issue," said Spicer, who added that "further guidance" should be expected soon.
Though the draft could not be confirmed directly with the respective agencies, the Washington Post reported on Tuesday night that a "Republican operative with knowledge of the conversations within the Trump administraion on the issue" said a final version of the letter is expected to be issued today.
The source also told the Washington Post that Education Secretary Betsy DeVos objected to the letter and does not want the transgender student protection rescinded.
National LGBT advocacy groups issued warnings about the potential policy changes on Monday, before the draft appeared. National Center for Transgender Equality tweeted about the upcoming changes on Monday, after Executive Director Mara Keisling said she was tipped off by a source in Washington.
Keisling spoke with NBC News on Wednesday morning about the draft letter.
"We all knew that Trump was going to start attacking LGBT people," said Keisling. "We just prayed that he wouldn't be attacking the kids first."
The National Center for Transgender Equality was one of several groups that spent the past few weeks pressuring the new administration through petitions and the #DearBetsy social media campaign to keep transgender student protections in place. On February 15, the Human Rights Campaign sponsored a letter penned by over 800 parents of transgender kids pleading with Trump not to rescind the school guidance.
"Title IX already protected trans students before [Obama's] guidance, that's why they issued it," said Keisling, who added that school administrators and parents had initially asked the Obama administration to clarify policy on transgender students. "The schools still have an obligation to do that."
Keisling said that if the policy is officially overturned this week, National Center for Transgender Equality will "look at all our options," including "the legal aspects."
The draft of the allegedly upcoming letter does clarify that transgender students are still protected "from bullying" even as it states that it will "not rely" on bathroom protections.
"The withdrawal of these guidance documents does not diminish the protections from bullying and harassment that are available to all students," read the draft. "Schools must ensure that transgender students, like all students, are able to learn in a safe environment."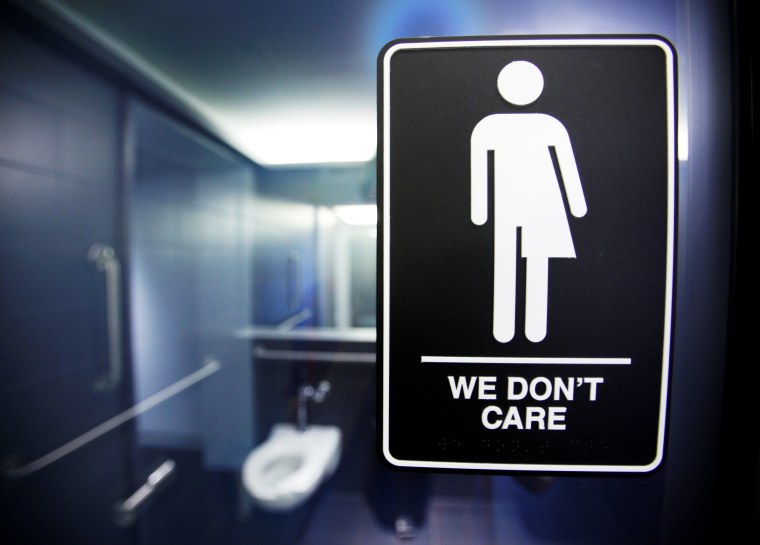 If the administration does revoke transgender student protections, extra pressure will be placed on the upcoming March 28th Supreme Court case of Virginia high school student Gavin Grimm, whose battle to use the boys restroom is poised to result in a new national standard.
Grimm's case rests on the same issue of legal interpretation driving the school guidance; when he goes to court next month, the justices will decide whether civil rights protections against sex discrimination include transgender people.
The ACLU attorney Chase Strangio, who frequently speaks out as an advocate for the teen, using the hashtag #StandWithGavin, told NBC News on Wednesday that the expected Trump administration policy change only highlights the importance of Grimm's case.
"Trump, [Attorney General Jeff] Sessions and DeVos may not want to ensure the safety of trans youth but they cannot change federal law," said Strangio. He added that transgender youth and their families are "scared."
At 5:30 p.m. Wednesday, the National Center for Transgender Equality and parents of transgender kids plan to rally outside of the White House to protest the rumored policy change.