Just days after a national address on defense policy in Afghanistan in which Trump lauded the diversity and inclusivity of the U.S. military, the White House appears ready to issue a memo with guidelines to begin barring transgender individuals from serving openly. The memo would signal the administration's intention to follow through on the ban on transgender service members, announced via tweet on July 26.
According to the Wall Street Journal, the memo would give Defense Secretary James Mattis six months to implement the ban, the ability to consider "deployability" as grounds for separation, prohibit the coverage of transition-related health care and block the accession of transgender troops.
A Defense Department official told NBC News, as reported on MSNBC Thursday, that the Pentagon is expecting as early as this week an official memo from the White House that will give guidance on how to implement the transgender military ban.
GLBTQ Legal Advocates and Defenders (GLAD) and the National Center for Lesbian Rights (NCLR) have already filed suit against the Trump administration on behalf of five transgender members of the armed forces, arguing that damage to their careers and wellbeing has already occurred. Other organizations, such and Lambda Legal, have promised to sue if the policy is implemented.
A 2016 report by the Rand Corporation, which was commissioned by the Pentagon, states that transgender members of the armed forces would not compromise military readiness, ability to deploy or require a significant increase in health care costs. According to the report, there are approximately 1,320 to 6,600 active transgender service members. Of those, only a fraction — between 29 and 129 — would be expected to seek transition-specific medical care annually. This would cost an estimated $2.4 million to $8.4 million a year, an amount that will have "little impact" on overall military health expenditures, according to the report.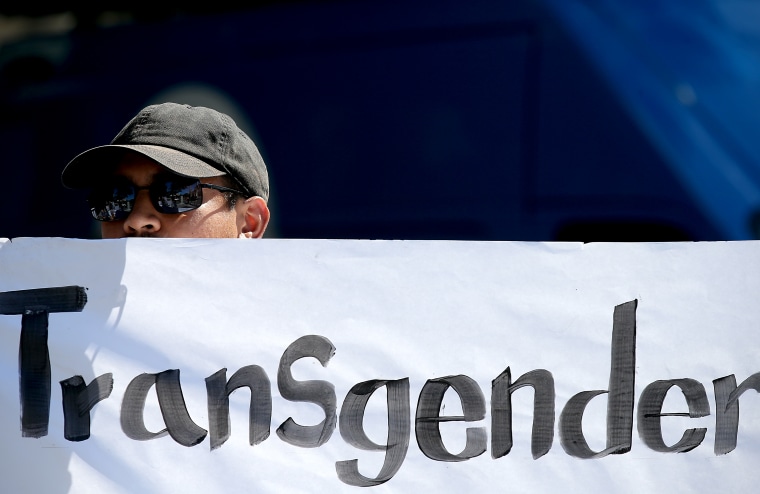 The Rand report was part of a policy revision undertaken by then Secretary of Defense Ashton B. Carter. In June of 2016, Carter announced that transgender service members "can no longer be discharged or otherwise separated from the military just for being transgender." He also announced the military would provide transition-related health care coverage.
Since Trump took office, incorporation of transgender service members into the military has become more fraught. In May, Secretary Mattis delayed plans to permit transgender recruits to enlist in the armed services to "review their accession plans and provide input." At the same time, Republicans in the House tried but failed to pass a bill that would have prohibited the military from paying for medical care related to gender transition.
Military Opposition to the Ban
In addition to legal action by LGBTQ organizations, the ban could face obstacles from within the Defense Department. Navy Secretary Richard V. Spencer, for example, told reporters last week, "On a fundamental basis, any patriot that wants to serve and meets all the requirements should be able to serve in our military." And Marine Corps Gen. Joseph Dunford, chairman of the Joint Chiefs of Staff, stated publicly his intention to continue Obama-era policies regarding trans troops until formal guidance comes down from the White House.
Radha Iyengar, a senior economist at the RAND Corporation and an author of the commissioned trans military report, remarked upon the unusual character of what has occurred thus far between the White House and the Department of Defense (DoD).
"The normal way [policy change] would happen," she said, "is the President would announce we are ending [the existing policy] and then would send an already approved, signed letter to DoD, saying 'I direct you to temporarily suspend service by transgender people and develop a plan.' It would be a temporary halt and then reviewed by the White House legal counsel, and the DoD would review it in the context of its other requirements" regarding dismissing military personnel.
"What we are waiting to see if there is a document with legal force that the White House can provide the DoD to begin the official process." Given the complexity of military personnel policy, Iyengar said, and in absence of a written statement from the White House, much is still left up to speculation. "What any order from the White House actually says really matters."
However, Iyengar noted, "If you see the Secretary of Defense make a statement, if he directs the services to do X, Y and Z, you are going to start the implementation wheels turning."
Related: Banning Transgender Troops Could Cost US $960 Million, Report Says
The Rand report suggests that the DoD may want to allow transgender troops to serve openly based on the military's experience with "don't ask, don't tell," which was repealed in 2010. According to the a 2011 report by the Government Accountability Office, compensating those discharged under this policy has cost the Pentagon about $193.3 million from 2004 to 2009.
Trump's desire to abruptly change policy course has turned some top Generals into unlikely LGBTQ allies.
Katherine Kidder, a fellow in the Military, Veterans, and Society Program at the Center for New American Security, remarked that Mattis' insistence on a formal White House directive before taking steps to bar transgender soldiers signals a form of resistance to Trump's wishes.
"If you asked me two years ago if [Mattis and Dunford] would be standing up for transgender issues, I would say it is not necessarily what they are concerned with."
Stonewalling in Congress
The ban could also be stopped in Congress, where both Republicans and Democrats have spoken out against the ban. The Congressional LGBTQ Caucus joined more than 50 members of congress in sending a letter to Secretary Mattis and General Dunford, urging them to reject any such ban on transgender soldiers.
Regarding possible Congressional checks on the President's authority, there are three avenues, explained Kidder — adding language in the National Defense Authorization Act (NDAA), passing legislation to prohibit the ban or exercising their oversight authority by calling Secretary Mattis to appear before Congress.
"The real lever that Congress would have is to use very proscriptive language in the NDAA — reigning in what the administration or the Department of Defense is able to do," Kidder explained. Senator Kirsten Gillibrand, a Democrat of New York and a ranking member of the Personnel Subcommittee on the Senate Armed Services Committee, pledged such an intention earlier this month.
"Congress can put language in the NDAA prohibiting discrimination against transgender service members. It can also hold the Administration's feet to the fire to ensure that discrimination or undue dismissals are not occurring through vigorous oversight," Kidder said.
Sen. Cory Booker, a Democrat of New Jersey, has vowed to block the ban with legislation.
"That's another way they could go about doing it, outside the normal Department of Defense appropriation process," Kidder said. "The question is where it would get enough support [in Congress]."
There may be adequate support as some Republicans, such as Sen. John McCain, Republican of Arizona, have already come out in opposition to the proposal.
"There is no reason to force service members who are able to fight, train, and deploy to leave the military — regardless of their gender identity," McCain said last month.
Finally, Congress can exercise its oversight. This would entail calling Secretary Mattis to appear before Congress. "Mattis in particular faces oversight accountability with Congress — particularly in the wake of the direct questions asked of him at his confirmation hearing back in January," Kidder said. "Perhaps the most important question in that respect came from Senator Mazie Hirono, to whom Mattis pledged he would not roll back any rules set by the Obama Administration regarding LGBT issues or women in combat policy."
According to Kidder, should Mattis implement a ban that contradicts his confirmation statements, and be called before Congress to account for the action, convention would have it that he resign.
"No one wants that to happen with Mattis," Kidder said. "The catch-22," she explained, "is that Mattis is the one everyone trusts." Conversely, she said, "Trump would hardly want that to happen from a PR perspective."
A Political Miscalculation
According to Kidder, Trump's tweeted transgender ban was a "misreading" of fellow Republicans' position on transgender service members.
"Defense hawks within the House wanted to place a ban on funding gender reassignment surgeries through the Defense budget, but even the most conservative of the contingent weren't pushing for a ban on transgender service members," she said. "Trump himself misread how far Republicans in Congress wanted to go."
However, if Trump does submit formal guidelines to the Pentagon, it will be yet another example of doubling down on unpopular statements, such as his recent statement condemning white supremacist violence in Charlottesville, which he then contradicted the following day blaming counter-protestors as well.
The road to make Trump's trans military ban proposal actual policy, Kidder said, could turn into a "showdown" between Republicans and Democrats in Congress or between Congress and the White House.