Annie Lennox is a rock star, but to people living with HIV/AIDS — especially in Africa — she's a savior.
After witnessing Nobel Laureate Nelson Mandela in South Africa in 2003 describe the HIV/AIDS epidemic as a genocide devastating the lives of women and children, Lennox was converted to a leading advocate in the fight to end HIV/AIDS.
She subsequently recruited 23 other acclaimed female musicians to collaborate with her on "SING," a rock anthem about HIV. That recording launched Lennox's SING campaign, which continues to provide financial support to women and kids impacted by HIV/AIDS, while raising global awareness about their plight.
To mark World AIDS Day 2016, Lennox, who is also a UNAIDS ambassador, spoke with NBC OUT about that fateful day with Nelson Mandela and her work toward ending HIV/AIDS.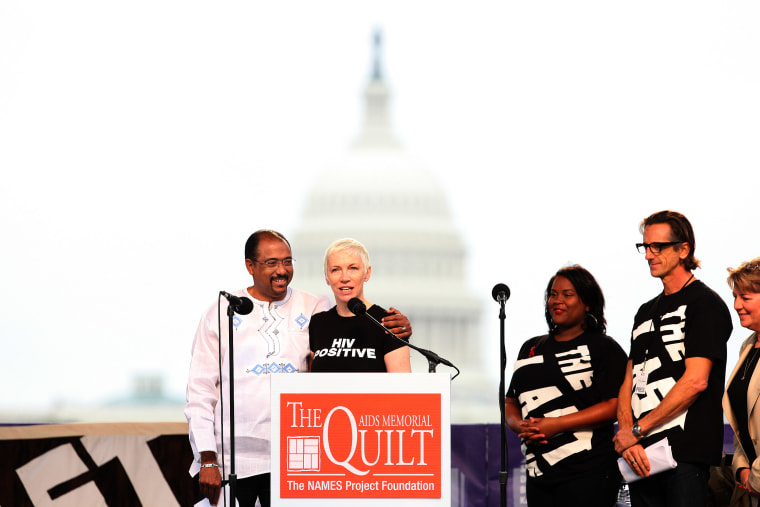 NBC OUT: You have been honored with numerous awards for your work as an HIV/AIDS activist. How did fighting the epidemic become one of your life's missions?
Lennox: In November 2003, I was invited to perform at the concert to launch Nelson Mandela's HIV/AIDS Foundation — 46664. The day before the concert, all the artists were invited to attend an international press conference held by Mandela on Robben Island in the exercise yard in front of his former prison cell. He described the AIDS pandemic as a genocide which was destroying the lives of thousands of women and children on a daily basis.
As a woman and mother myself, I was appalled by this horrendous situation and felt compelled to engage and make a contribution. Latterly, 46664, Comic Relief and Oxfam gave me opportunities to directly witness the devastation of AIDS first hand, in townships, hospitals, clinics, orphanages, and people's homes both in urban and rural areas. Those impactful encounters changed my paradigm completely and made me become a dedicated advocate and activist.
NBC OUT: What do you think is the legacy of South Africa's most famous leader, Nelson Mandela, with respect to HIV/AIDS? How did Mandela's interest in HIV influence your own interest in this fight?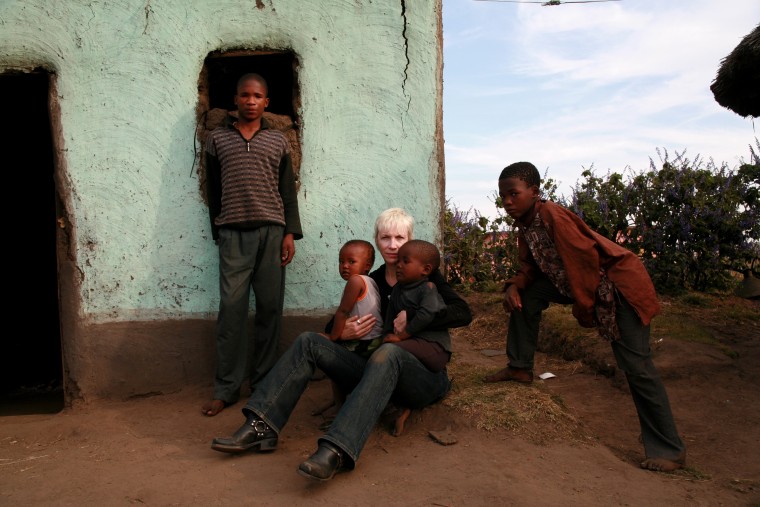 Lennox: I think Mandela realized that something urgently needed to be done to tackle the HIV/AIDS crisis in South Africa after his presidential office had concluded. He put HIV/AIDS at the forefront of his very last public effort in an attempt to make the world aware of the crisis that was happening, and he tried to drive the call towards effective action. His iconic name and authority meant that people paid attention to what he was saying, despite the fact that there was a prevailing lack of support among powerful political figures in South Africa at that time to ensure that people had access to testing and treatment. Mandela went into people's homes in townships to make direct contact with people living with HIV, breaking down the barriers of stigma, which was an incredibly powerful gesture. He spoke about HIV publicly to bring it out of the shadows of stigma, and in doing so, I believe he catalyzed action to turn the crisis around to where it is today, with access to treatment doubled and mortality rates halved.
NBC OUT: How do your roles as a woman and as a mother influence your role as an HIV/AIDS activist?
Lennox: As a woman and mother, I empathize and identify with mothers and children in a deeply personal way. I know what it takes to deliver babies and raise children. Women are often the "glue" that keeps families together and sustains them. They should be supported, respected, and given the best opportunities to live empowered and healthy lives. Tragically, this is very often not the case for millions of women around the world.
I have visited countries where girls and women have a severe lack of resources, and have to merely survive with disempowerment at every level. Whether it be in terms of lack of access to education, lack of legal rights, lack of access to decent medical health care, decent nutrition, protection from sexual and physical abuse, child marriage, slavery, female genital mutilation, the list is endless and there is so much to be done. In my view, the situation with HIV/AIDS as it affects girls and women is one part of a much broader picture of gender disparity around the world.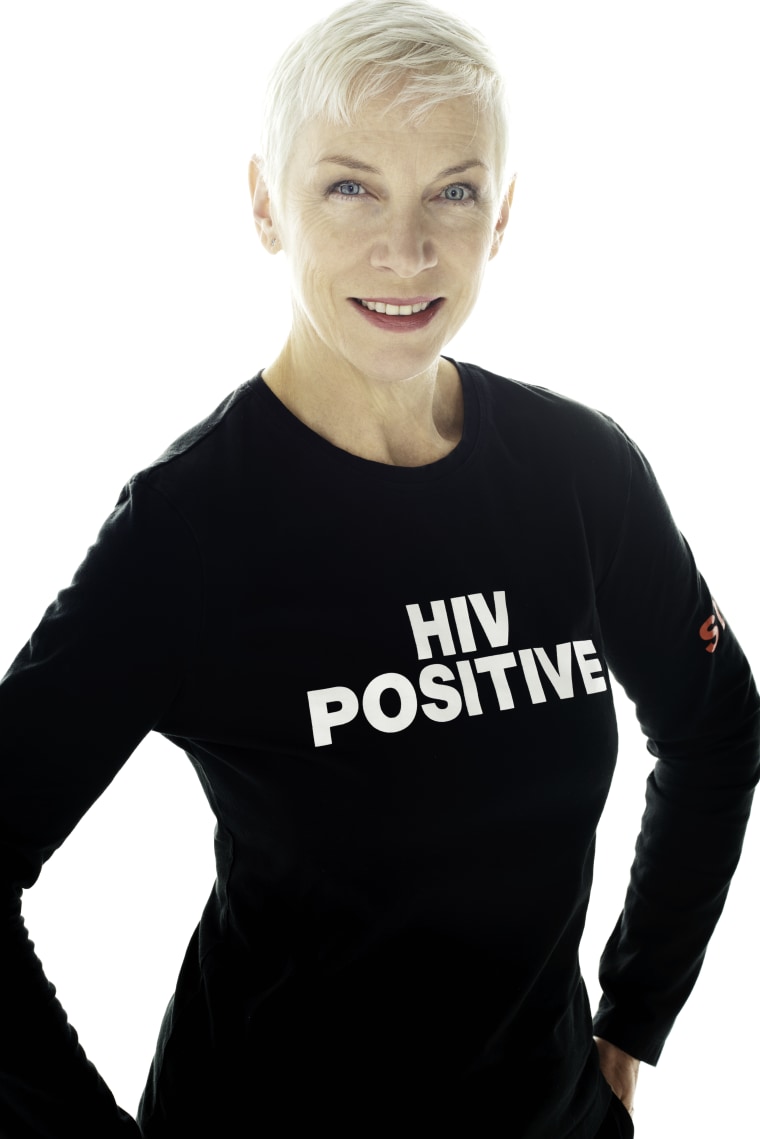 NBC OUT: You are often photographed wearing a T-shirt that says, "HIV Positive." How did this shirt become a staple of your wardrobe, and what does it mean to you?
Lennox: I first saw the T-shirt being worn by Zackie Achmat, one of South Africa's leading HIV/AIDS activists and the founder of Treatment Action Campaign. Wearing the T-shirt is a very simple but powerful way to express solidarity, while making HIV stand out and become "visible" from the stigma that accompanies it. It also serves as a reminder through any photographic image taken while it¹s worn that the issue of HIV hasn't gone away.
NBC OUT: UNAIDS says the No. 1 barrier to ending the global HIV epidemic is stigma. How do people respond when they see you in a T-shirt that says, "HIV Positive"? Are you ever afraid that people will think you are HIV-positive?
Lennox: I'm actually proud to wear my HIV T-shirt in solidarity with millions of people around the world who are affected or infected by HIV. It's a message of strength, hope and encouragement. Many people have privately disclosed their status to me and thanked me for wearing it, which always makes me feel deeply touched and humbled. I think it does make people stop in their tracks, and that's exactly what I want them to do. It serves as a reminder that AIDS isn't over and we still have a long way to go.
NBC OUT: You covered Cole Porter's song, "Ev'ry Time We Say Goodbye," which was featured in the soundtrack for the AIDS documentary, "A Closer Walk." Was your cover influenced by your AIDS activism?
Lennox: "Ev'ry Time We Say Goodbye" was actually recorded for the first "RED HOT + BLUE" project in the early Nineties, and I felt very privileged to be able to take part. Back then, my perception of the HIV AIDS pandemic was that it mainly affected the gay community, sex workers and intravenous drug users. I wasn't aware that it affected women and children on a massive scale. I was very aware of AIDS however, and had several friends who died because they weren't able to have access to life-saving treatment.