The fact that for the first time in the 51-year history of "Star Trek," out gay actors are playing gay characters in love, is not something CBS, its stars or its creators are either hiding or promoting. But it is something they're celebrating.
"I couldn't be more proud to be a part of 'Star Trek' TV's first gay couple," actor Anthony Rapp of "Rent" fame told NBC News. "I can't say how much that means to me personally as a fan of the series and as a member of the LGBT community."
Rapp plays the prickly, grumpy genius anastromycologist Lt. Paul Stamets, which basically means he's the foremost expert on fungus. And fungus gets far more screen-time than his same-sex relationship on the CBS All Access streaming show, which is just fine with Rapp.
"I'm proud of the fact that none of that really matters in the show," Rapp said, describing the portrayal of their relationship as "alive, truthful and human."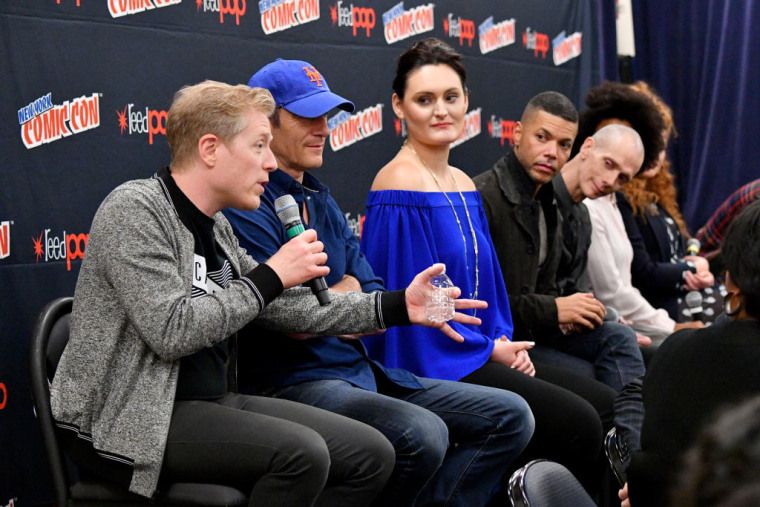 His on-screen partner and costar, Wilson Cruz, who plays Dr. Hugh Culber, called Rapp his "space boo" on stage at New York Comic Con. They've been friends since they starred together on Broadway two decades ago. "We've worked together for 20 years, so it was so easy to create this together, because we have so much back history."
Cruz won applause during the event, when he spoke up for transgender rights, called out violence based on gender identity and called for more LGBTQ representation in entertainment. "These stories we tell are really important, so that people understand who we are, what our lives are like, and perhaps they will understand us and not hate us."
The "Star Trek" franchise, said actor Jason Isaacs, is inclusive of "all genders, all sexualities, all flavors, not just of humans, but in our show of [other] species as well. The point being, things we are told should separate us, actually unite us."
"The original series was borne out of troubled times, " Isaacs continued, "the birth of the civil rights movement and feminism, and I think there's never been a time where a story like this, with a positive view of the future — even though we're at war in the show — has been more necessary, than when division is being sown by some really toxic elements."
"Star Trek: Discovery" Executive Producer Akiva Goldsman said the franchise has "always been about inclusion."
"We're not value-neutral when it comes to the issues of people being isolated, separated, not understood, ostracized," Goldsman explained.
Citing proof of the show's inclusivity, Alex Kurtzman, also an executive producer on the series, said the team behind the scenes is an even mix of men and women. He also revealed the show's producers decided a refocus was necessary following President Donald Trump's unexpected election victory. That included a not-accidental nod to Trump's "Make America Great Again" slogan, by giving the show's antagonists, the Klingons, a new rallying cry: "Remain Klingon."
Cruz was swift to point out that from sexual harassment of women to racial inclusion, Hollywood has a lot more work to do, especially from his perspective as an industry trailblazer. He was the first out Latino actor on network television, playing the first openly gay teenager on TV: the character of Rickie Vasquez on "My So-Called Life" in the mid-1990s. Times have changed, Cruz said.
"But the fact of the matter is," he told fans, "most of the LGBTQ characters now on TV are still gay white men. The work that needs to be done now is to diversify the picture of LGBTQ people, so that people can see that we come from all races, different genders, we have trans people." Cruz's character on the U.S.S. Discovery is only the second regular "Star Trek" character of Latinix heritage, following the half-Klingon, half-human B'elanna Torres on "Star Trek: Voyager."
As gay actors, Cruz and Rapp have tremendous allies both on the screen and in front of it, largely thanks to social media. "Star Trek: Discovery" is the first installment of the franchise since the creation of Twitter and Facebook.
"The 'Trek' community is so profoundly engaged," Rapp said. "We're all in this together. Yes, I'm the one in the show, and you're the one consuming the show. But we all care about it, and we get to share in that."