Even as Europe's lesbian, gay, bisexual, transgender and intersex (LGBTI) community enjoys a high point in legally enshrined human rights, its members face growing threats posed by political hate speech and violence, according to a report released Tuesday by an international queer rights group.
The annual review by the European arm of the International Lesbian, Gay, Bisexual, Trans and Intersex Association found that the picture for sexual and gender minorities remains "complex," particularly because Europe's reputation as a beacon for equality is a "surface impression that does not tell a complete or accurate story."
A more accurate story, according to the findings, would focus on the "rollback" that last year's ILGA-Europe report forecast, which "took root in a sharp rise of hate speech" in 2019 that was "often carried out by public officials."
Poland's political turn toward homophobia was one of the most dramatic developments of 2019, according to the report. In the majority Catholic Eastern European nation, ILGA-Europe found that "anti-LGBTI rhetoric by the governing Law and Justice (PiS) Party resulted in more than 80 municipal or local governments proclaiming themselves to be 'free from LGBTI ideology.'"
Indeed, before European Union elections last May, several Polish municipalities declared themselves to be "LGBT-free," and a magazine associated with Polish nationalist politics printed "LGBT-Free Zone" stickers in its July issue. On the other hand, Poland's opposition party tapped a gay man to run for president in 2020.
While Poland's anti-gay turn received more media attention, ILGA-Europe found "growing official hate speech" on behalf of government officials in several other European countries as well: Albania, Andorra, Azerbaijan, Belarus, Bosnia and Herzegovina, Bulgaria, Cyprus, the Czech Republic, Finland, Georgia, Greece, Hungary, Kosovo, Portugal, Slovakia, Spain and Turkey.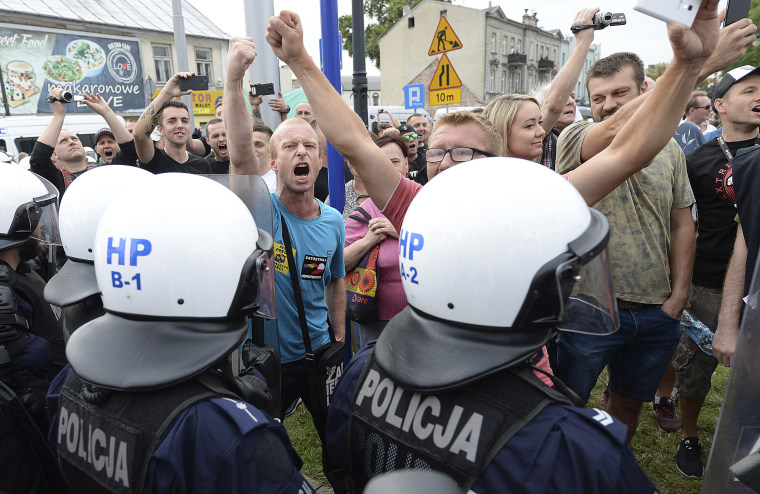 In addition, government officials in Armenia, Hungary, Poland and Russia banned LGBTI events last year. Turkey, which banned gay pride marches in 2015, prosecuted people last year for violating the ban. The "growing presence of anti-LGBTQ, anti-gender and neo-Nazi protesters in public places" like pride parades is raising freedom of association issues across the continent, according to the report.
ILGA-Europe touched upon the growing "pan-European phenomenon" of anti-gay violence by focusing on the United Kingdom's just-completed departure from the European Union. Brexit was linked to a significant jump in anti-LGBTI hate crimes in England and Wales, which rose from 5,807 in 2014-15 to 13,530 in 2018-19, according to U.K. police records cited in the report.
One event that received particular attention, according to ILGA-Europe, was an attack on a lesbian couple who were riding a public bus back from a date in London.
The report also cited findings from migration and human rights advocates across the continent who said that LGBTI people seeking asylum in Europe face disbelieving immigration authorities and insecure accommodations that do not take into account the unique challenges and risks faced by those LGBTI people who are forced to leave home to find safety elsewhere.
"The issue of LGBTI forced migration, asylum-seekers and refugees to and within Europe and Central Asia becomes more prominent year after year," the report states. "It is to be expected that much more attention will have to be paid to these issues by public authorities and intergovernmental bodies in the years to come, as the needs for protection of people continue to increase."
For transgender people seeking to change their identity documents in European countries, the report found that progress is "slowing down." In 2019, Belgium, Ireland, Kyrgyzstan, Lithuania, Germany, North Macedonia, Finland, Norway, Spain, Switzerland and the U.K. were all midway through "reforms and consultations" over how to allow trans and gender-nonconforming people to change their IDs, and in some European countries like the Czech Republic and Turkey, transgender individuals still face "abusive requirements" like sterilization as they seek to change their gender on legal documents.
The report also shines a light on the ways in which the European LGBTI human rights picture lags behind that of the United States, which is facing its own rollbacks in queer rights. Issues like conversion therapy bans and nonbinary gender markers on identification documents are just "emerging" and "growing" discussions in Europe.
"By making people aware of such a broad and nuanced picture, which is constantly shifting and evolving, the ILGA-Europe Annual Review aims to give a sense of the enormity of issues and areas that affect the lives of people, which will continue to require attention, especially in a context where LGBTI people are being targeted and vulnerability is heightened," said Evelyne Paradis, ILGA-Europe's executive director.