Troy Stevenson, executive director of Freedom Oklahoma, an LGBTQ advocacy group, said the cleaning crew found the windows of their Oklahoma City office shot out early Sunday morning.
"We left the building at about 9:30 p.m. Saturday night, so it must have happened between then and Sunday morning," he said. "The glass was tempered to withstand Oklahoma thunderstorms and tornadoes. It was shot completely out and four other panels were damaged."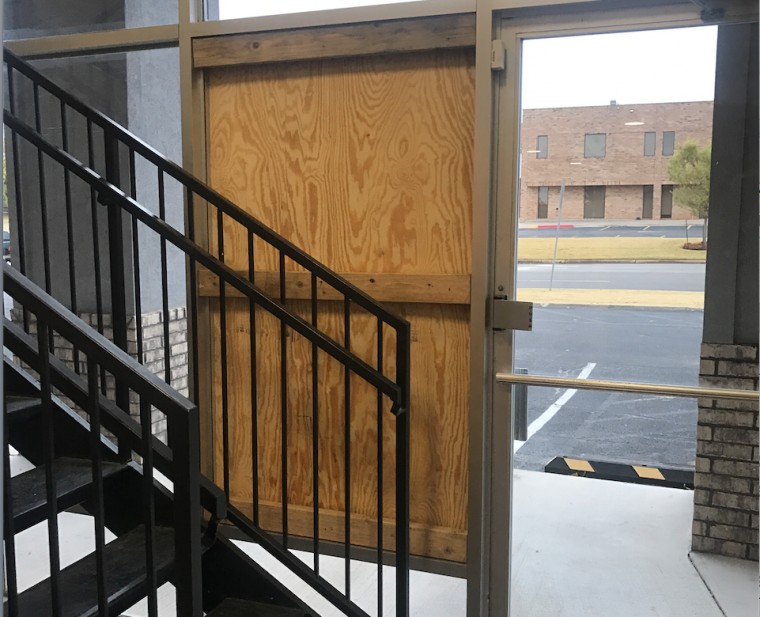 Stevenson said no one was inside the building when the shots were fired. He said Freedom Oklahoma is currently working with the Oklahoma City Police Department and the local FBI office to find out who is responsible.
A spokesperson from the Oklahoma City Police Department told NBC News on Tuesday "this is an ongoing investigation with no suspect information."
Though Stevenson is still waiting for answers, he mentioned he recently received death threats following Freedom Oklahoma's involvement in a case in Hitchcock, Oklahoma, where a gay man claimed his house was burned down and his family was run out of town.
"It was a gruff voice, calling and saying 'I'm going to kill you,'" Stevenson said, describing a call he received. "I would block the number, and they would call back a couple days later, the same voice at 7 a.m. on my personal cell."
He said the calls happened about two months ago, amid "the heat of the Hitchcock situation."
This past weekend's vandalism is not the first time this year an LGBTQ community center in Oklahoma has been targeted. In March, the Tulsa headquarters of Oklahomans for Equality was the victim of a similar incident. Security camera video caught a white truck drive by and fire more than a dozen times at the center early in the morning on March 6.
"I am sickened, yet not surprised, by the bullet holes that now riddle the front of the Dennis R. Neill Equality Center," Geoffrey Brewster, board president of Oklahomans for Equality, said in a statement following the attack. "They are the latest reminder of the deep-seated hatred some individuals have towards the LGBTQ community."
Stevenson referenced the Tulsa incident as another reason why he suspects the vandalism in Oklahoma City was a targeted anti-LGBTQ attack.
"We're obviously going to take extra security precautions," Stevenson said. "But we won't be intimidated. It's part of the nature of what we do."