Still in shock over the election of Donald Trump as president, LGBTQ Americans joined protests in cities across the country on Wednesday. In New York, Los Angeles, Chicago, Portland, Nashville, Austin and several other cities, bodies streamed into the streets and blocked bridges and highways.
In downtown Los Angeles, protesters burned a giant Trump puppet. In Oakland, police used tear gas and flash grenades to disperse crowds. In New York, the central thoroughfare of Fifth Avenue was impassible—as a march stretched from 14th Street all the way up to 55th Street, where protesters surrounded Trump Tower for several hours. Police told NBC News that at least 65 people were arrested in New York on charges of disorderly conduct and resisting arrest.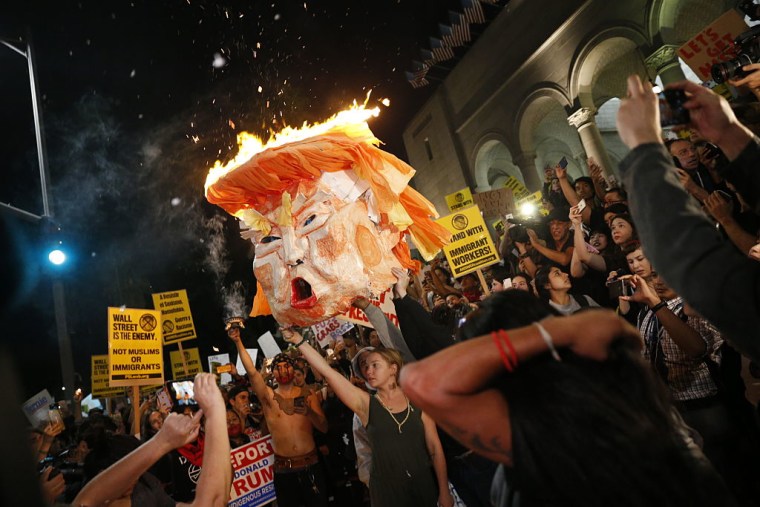 Protests in New York took place in various locations across the city—with reports of rallies at Columbus Circle, Washington Square Park, Union Square Park and Trump Tower, among others. At Union Square, 48-year-old Marcy Langstein told NBC OUT that she had "ranged from despair to rage all day" and was scared certain hard-fought rights would be rolled back under president-elect Trump.
"I've heard a lot of people say today that you can't undo what's been done, but the truth is one court case can undo things—not just for gay rights but for women's rights, reproductive rights," Langstein said, as rain began to trickle onto the rally. "I've never been this terrified."
"The bigotry is now validated. It's not Donald Trump I'm afraid of—it's the people he's empowered."
Other LGBTQ people echoed Langstein's sentiments. Many waved rainbow flags as they marched uptown toward Trump Tower. Others held signs with slogans like "Love trumps hate" and "P*ssy grabs back."
Outside Trump Tower, LGBTQ people joined protesters in the middle of Fifth Avenue to chant "Not my president." Jordan Evangelista, 25, told NBC OUT "the LGBT community needs to make our voices heard over the next four years."
"This rally is great because it really represents unity of the people who are going to create backlash against Trump," Evangelista said. "He needs to know that we're coming for him, and we're going to fight back."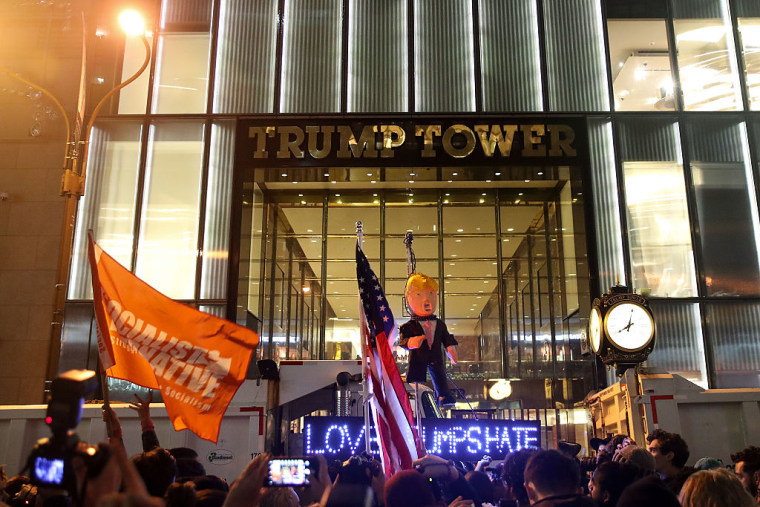 While some expressed hope and resolve alongside a desire to take to the streets and be heard, other LGBTQ community members shared worries and fears about what a Trump-Pence administration might do to roll back hard-won equality.
"I'm worried about people feeling like violence is OK, that being openly racist and anti-gay and everything is going to turn into more violence and more incidents like Orlando," Lauren Patterson said. "The bigotry is now validated. It's not Donald Trump I'm afraid of—it's the people he's empowered."
Patterson stood facing Trump Tower with her wife, Kimberly. The lesbian couple expressed concerns that their legal marriage could be overturned—and with it, all of the financial security they currently rely on.
"My wife is on my insurance, and I'm the single income earner right now," Kimberly Patterson, a nurse whose job requires that the couple travel and move frequently, told NBC OUT. "If I were to die, she might lose her right to my estate and my social security and everything. What is she going to do? If our right to marriage is overturned by the Supreme Court, she may end up with nothing."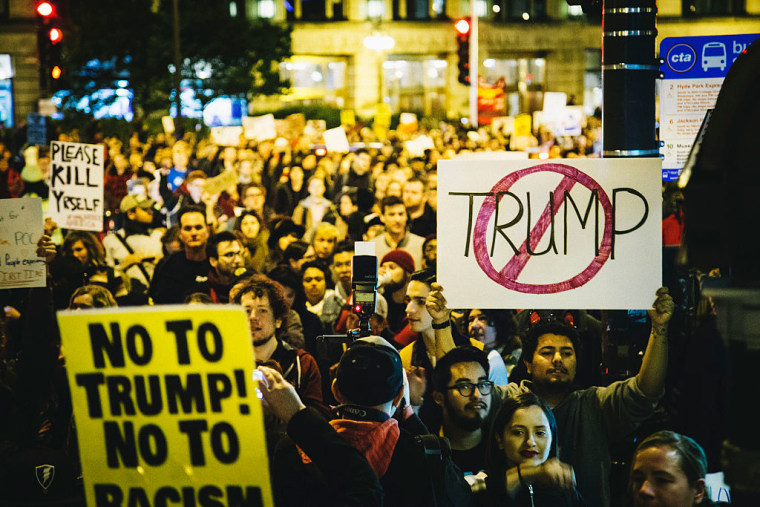 The potential threat to marriage equality posed by a Trump-Pence administration was an issue raised by many LGBTQ protesters in New York. But for several people interviewed by NBC OUT, it was hard to choose which of their fears was most prevalent. For many, LGBTQ status was just one of the intersecting identities—alongside race, national origin, HIV status and gender identity—that could leave them especially vulnerable to upcoming policy changes under a Republican-controlled House and Senate, along with a more conservative Supreme Court.
"It's hard for me to pick just one identity or one issue with this presidency," Christen Madsen II, a 33-year-old gay man, said. "I'm a Mexican-American. My mother and grandparents are from Mexico. I have HIV. I work in education, developing multilingual tests for refugees and immigrants. And I'm getting a Ph.D. at one of the largest public universities that serves many people of color."
Madsen told NBC OUT his primary fear is a potential return to spending caps on what insurance agreed to cover—something that was wiped out by the passage of the Affordable Healthcare Act. Each month, said Madsen, the sticker price on his HIV medication amounts to about $3,000. If the spending caps are allowed to return, his insurance company could theoretically refuse to cover the high monthly cost.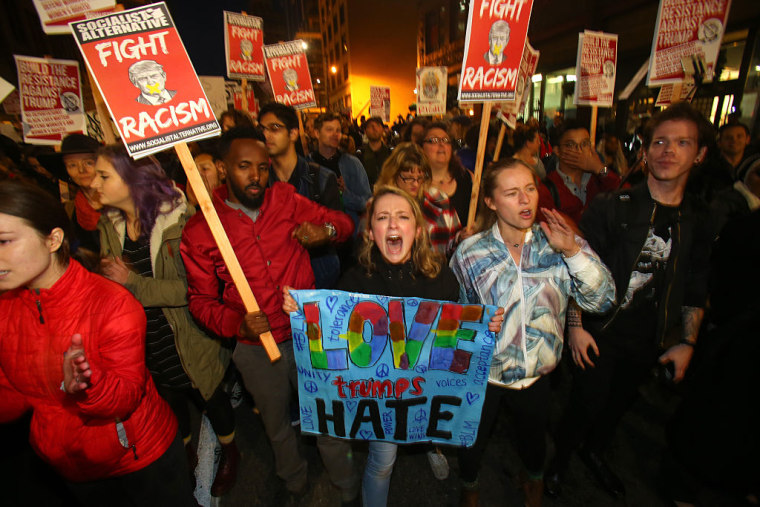 In addition to a direct promise "to repeal and replace Obamacare," Donald Trump's "Contract With the American Voter (also known as his "100-day action plan to Make America Great Again") stresses immediate deportations for undocumented immigrants and cancels all federal funding to so-called sanctuary cities that have policies against persecuting the undocumented.
These issues in particular worry Felix Flores, 32, a Mexican-American gay man who attended the Trump Tower protest Wednesday night.
"I'm worried about Mexican family members, or people who are married into the family, being deported," Flores told NBC OUT. "I'm worried about the family members who live in rural areas, where there is a lot of discrimination."
Flores was one of several people interviewed at the protest who expressed fears that the Trump presidency would lead to increased violence against the LGBTQ community: "I feel like these attacks, like what happened at Pulse, might only get worse." More than one person interviewed referred specifically to the mass shooting at the Orlando gay bar, concerned that Trump's election would embolden anti-LGBTQ bigots to act out.
"It will be easier to openly hate queer people," 22-year-old Samantha Friend, who identifies as queer, said. "In middle America people's lives are going to get worse. You just pushed people back in the closet for another four years."
Apart from the fear of outright violence, some also feared an increase in businesses and institutions refusing service to LGBTQ people.
"I was kicked out of Brigham Young University for being gay back in 2001," Madsen told NBC OUT. "And that kind of hatred and bigotry is getting enshrined and protected even more. The nation just voted to choose 'religious freedoms' over basic human rights."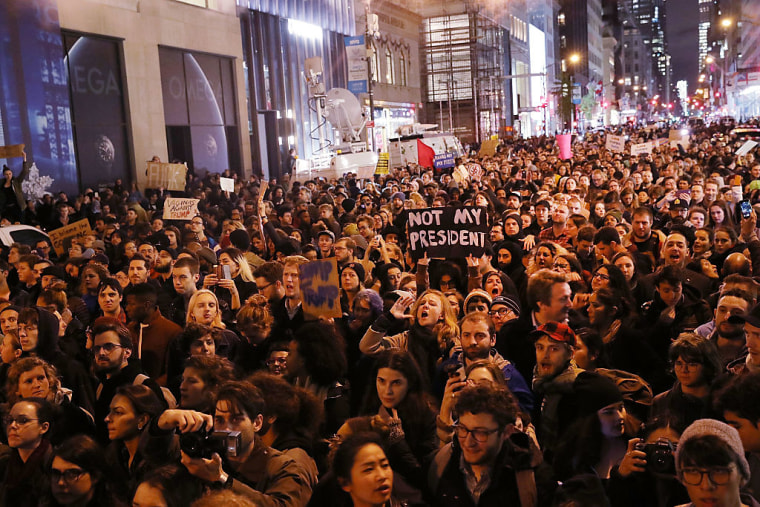 While fears and worries dominated statements among the LGBTQ protesters in New York, there was also talk of moving forward—even as the shock had barely begun to wear off. Some spoke of continuing to express their love in public.
"I'm a trans queer individual, and I'm dating a trans queer individual," 21-year-old Leo, who declined to give a last name, said. "And if we can't express ourselves in the most sacred bond that two people can make, what is the point of being alive?"
Struggling to be heard over chants of "New York hates you" that the crowd was directing toward Trump Tower, Flores emphasized the importance of communication—specifically, of educating family and friends about the threats he said LGBTQ people face under the Trump-Pence administration. Change, he suggested, begins in our own backyards.
"The more oppression you have on a small scale, the worse it gets on a bigger scale," Flores said. "I wish I had all the answers, but right now all I can do is protest."