When Alina Alieva was a high schooler in Samara, Russia, she said her teachers would scold her because of the "masculine" way she dressed. Alieva, who uses feminine pronouns, would largely ignore them and dress as she pleased, she said, but once a month she would don a skirt and makeup.
Alieva, now 29, said her classmates would rejoice and approve of her more "feminine" look on those days, but at the time she could not understand why short skirts made her look "better" and her baggy pants were frowned upon.
"I always felt wrong, abnormal," the LGBTQ activist and filmmaker wrote on the new website "Not Necessary!" The site, co-created by Alieva, is part of a multimedia project featuring childhood stories from people who — like Alieva — rejected gender stereotypes.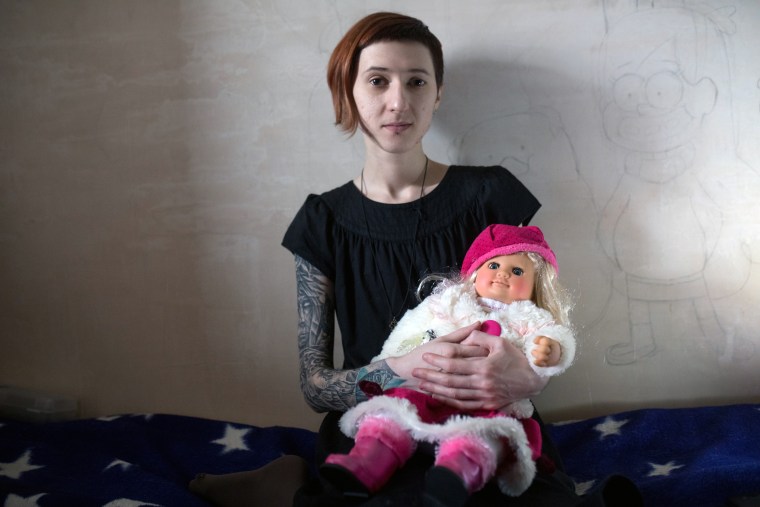 "Not Necessary!" was born out of a collaboration between Alieva and Anar Movsumov, a freelance photojournalist also based in Samara, Russia's sixth largest city. The site gets its name from one of the interviewees quotes in the project: "It is not necessary for you to play football." The site debuted on March 29. Both the site and a companion documentary, "Are You a Boy or a Girl?," shine a spotlight on gender-nonconforming people from across Russia and other post-Soviet countries.
Alieva said she was inspired to create this multimedia initiative to help empower people to express themselves.
"The more free you are, the more you accept yourself, the more goodness you have towards others," Alieva told NBC News. "This is the reason why I want people to be good and in harmony with themselves. This is all interconnected."
Movsumov photographed seven people for the project having a moment of reflection alongside their childhood toys. Each portrait includes a personal narrative about childhood experiences and lessons gained from confronting the gender stereotypes imposed by their parents at an early age.
"We decided to photograph the protagonists with their childhood toys to show that the choice of toys and 'lessons' does not influence the child's gender awareness as an adult," Alieva and Movsumov in their mission statement.
While Movsumov does not consider himself non-binary or gender-nonconforming, like the project's subjects, he said he has always been interested in the topic of gender identity.
"We decided to create the project so that both of us would be participants in dialogue with the other protagonists of the project — Alina, as a non-binary person and an activist, and I, as a representative of the cisgender (non-transgender) majority," he explained.
Movsumov shared his own experience in the project of trying to raise his daughter free of gender stereotypes.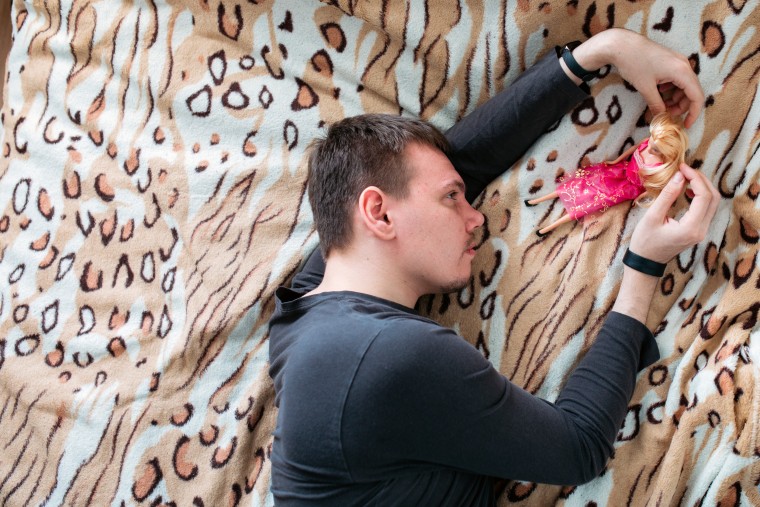 Alieva and Movsumov decided to narrow the scope of their work to the topic of gender identity, without alluding to the sexual orientation of their subjects. While the two often get grouped together, they are distinct concepts.
"This work is primarily about not tying people to stereotypes so they can live how they want to live," Movsumov said of the decision.
One of the subjects of "Not Necessary!" is a 20-year-old androgynous model who goes by the pseudonym Nick Frank. Frank, who is sitting next to a stuffed rabbit in his portrait, said he always preferred soft toys as a child, since they were usually not categorized according by gender.
Frank said one of his fondest childhood memories was when his grandmother knit him a dress. "Grandmother always treated all of this pretty well. She would say, 'If it's beautiful, why not?'" Frank recalled.
Years later, while working as a model, Frank rediscovered dresses. A photographer with whom he was working suggested Frank appear in a photoshoot as a woman. At first, Frank said, he thought it was too risky.
"The first minute, when I showed up in a dress, I felt very uncomfortable," he recalled. "But I was enthralled by the process."
The photographs taken at that shoot were eventually published in ANON, a blog and bi-annual print magazine based in Austin,Texas.
While Frank, who said he's comfortable with either male or female pronouns, said he was initially afraid to present as a woman, he now finds pleasure in the process.
"I like that my body is not only masculine. It can also be feminine. It can transform from one state to another," Frank explained. "I think this is beautiful."
Frank said his feminine alter ego, Nicole, emerged at that memorable photo shoot. He describes her as impudent, courageous and energetic. "Generally, she's a bitch," he said, using the word as a campy term of endearment.
Embracing Nicole led him to be more confident and self-accepting, he said, noting he had always been "the modest boy."
"I was quiet. It was very hard for me to communicate in society," Frank added, noting that he channeled qualities he felt he lacked into Nicole.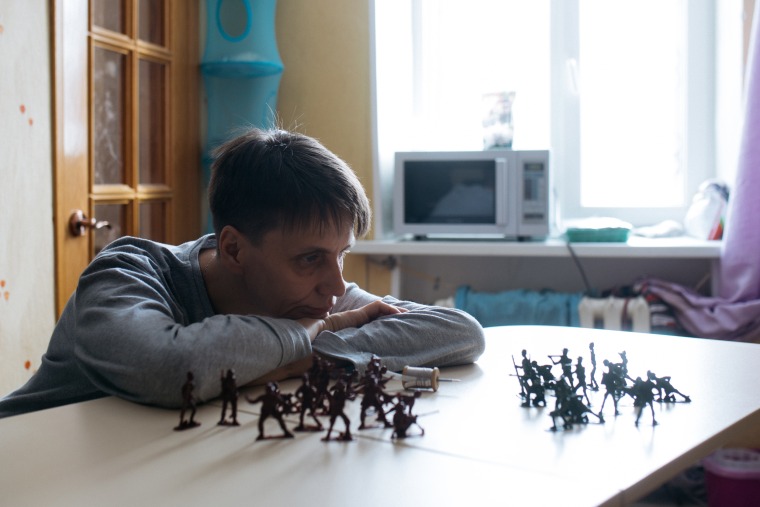 Aleksandra "Sasha" Phoenix, 48, is staring at toy soldiers from her childhood in her portrait. Growing up in the Soviet Union, Phoenix said she felt fortunate to have parents who allowed her to dress and play like a boy.
"My dad and I spent a lot of time in the work shed," Phoenix wrote in her "Not Necessary?" profile. "When I was 10, I built a gun from a wooden plank. It ended up being a great self-firing gun. No one would believe that I built it myself."
In kindergarten, Phoenix said she would use the boy's bathroom and try to urinate standing up. The nursery teachers would pull her out of the bathroom and try to teach her to use the girl's bathroom, she recalled.
"I was really sure that if I peed standing, I would sooner or later have what boys have," Phoenix shared in the documentary.
In order to appease her teachers, Phoenix agreed to wear skirts and dresses in school, she said, but outside of school she was permitted to wear what she wanted.
"A person who grows up in the Soviet, such as myself, finds it hard to accept oneself. It took a long time, even though I had such accepting and supportive parents," Phoenix explained.
There were periods in her life, she said, when she felt like a "binary transgender person." She thought of transitioning to male, but she said she was discouraged by the lack of resources available. "Back then, it was era of the Perestroika in the Soviet Union. There was no internet, and I had no information."
Despite having parents who were open to her gender identity, Phoenix did not begin to identify herself as non-binary until she reached the age of 46 and became involved in LGBTQ activism.
In 2016, Phoenix and Alieva created KIT Initiative, an organization based in Samara that provides job resources, individual consultations and support groups for transgender and intersex individuals.
In order to protect KIT from Russia's "gay propaganda" law, which prohibits the promotion of homosexuality to minors, KIT's website managers had to write a legal disclaimer on the page stating the site's content is not suitable for those under 18.
In March, Roskomnadzor, Russia's federal censor, banned Gay.ru, one of the country's most popular LGBTQ websites. The site, which was banned despite having an adult content disclaimer, is currently accessible through virtual private networks and in other countries.
Svetlana Zakharova, the communications manager for the Russian LGBT Network, says having a legal disclaimer does not save people from being punished under the "gay propaganda" law. It depends on the judge, she said.
"This law it says that it's illegal to propagate non-traditional sexual relations, but it's not exactly defined does it mean to propagate. So the courts, they use it the way they want it," she explained.
Despite the risks of being fined and censored, Alieva and Movsumov say they will continue with their project and look for people who are willing to share their stories on "Not Necessary!" The project does not have a disclaimer.
"I love to express myself freely. I am open with my identity, " Alieva declared. "The more daring I am, the less I suffer."