/ Source: Associated Press
Analia Pasantino served in Argentina's federal police as a man for 20 years, then she came out as a transgender woman and was forced to resign.
She is smiling these days, though, beaming with pride to be wearing a police badge again. And the sign on the door to her office reads: "Chief."
Nearly a decade after psychiatric reports said Pasantino suffered from an "irreconcilable" illness that made her unfit to serve, she was welcomed back to the police force this week and appointed deputy police commissioner in the judicial communications department.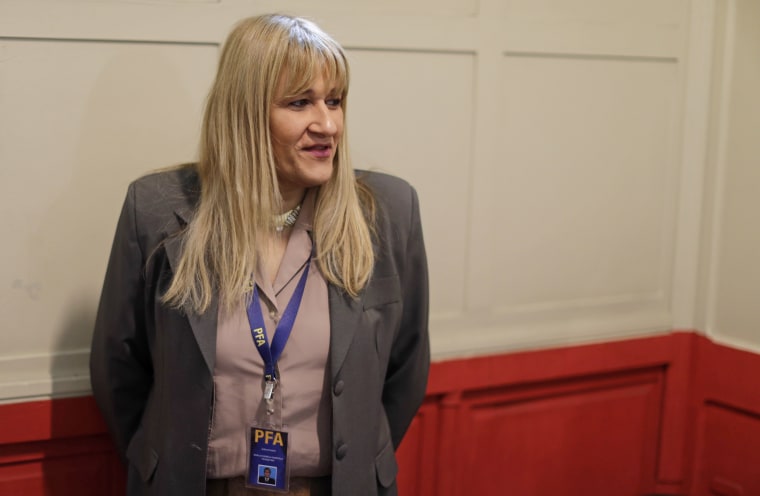 "This is a milestone," Pasantino, 49, told The Associated Press on Thursday. "I'm the first transgender police chief in Latin America. It's an unprecedented and important step to show Latin America and the world that we are an open institution."
Argentina became a world leader in transgender rights in 2012 when it gave people the freedom to change their legal and physical gender identity simply because they want to, without having to undergo judicial, psychiatric and medical procedures. The government also legalized gay marriage in 2010.
"The world has changed," Pasantino said. "You can live a life of gender identity and it's no longer necessary to live a double life."
Related: Conservative Pastor Overcomes Struggles to Accept Transgender Daughter
Pasantino struggled with this duality long before the passing of the gender identity law. She joined the police force as a man in 1988 and became a decorated officer, a respected police spokesman and then the leader of an anti-narcotics team. But at home, she lived as a woman.
Throughout this transition, she always had the loving support of her wife, Silvia Mauro.
When Pasantino began dressing in skirts and high heels, the couple went out at night through the garage door to avoid being spotted by the neighbors. They would drive around Buenos Aires, but Pasantino at first lacked the courage to get out of the car.
"The decisive moment came when my wife finally told me: 'Either you step out or you'll never leave the house looking like this again. I've put up with you for three hours getting ready and putting on makeup.'"
Pasantino and Mauro were high school sweethearts and have been a couple for 31 years.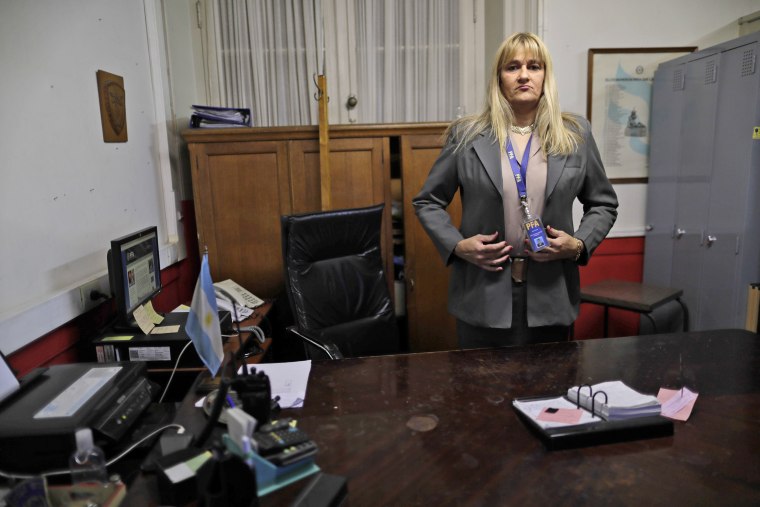 Together, they fought against bureaucracy that initially blocked them from changing Pasantino's male name on their marriage certificate and obtaining their law degrees. Pasantino, who has shoulder-length blonde hair, still wears the same engagement ring that she first wore as a man long ago.
"She has backed me with everything," Pasantino said about Mauro, who is also a lawyer. "She has been my pillar of support."
Pasantino said she was forced to take a leave of absence from the police department after coming out as a transgender woman in 2008. Every three months, she would present a psychiatric evaluation hoping to rejoin the force, but a committee reviewing her case repeatedly extended her leave.
"It was always seen as illness," she said. "As crude as it sounds, the final diagnosis was: a disturbance in gender identity that made me unrecoverable to the police force."
Then the leadership of the federal police changed and she won reinstatement, Pasantino said.
She also credits the efforts of Mara Perez, a transgender woman who leads the diversity division at Argentina's security ministry.
"Mara's efforts were priceless," Pasantino said. "When they said 'no' under previous governments, she kept insisting until she succeeded."
This week, Pasantino was flooded by messages of support from former colleagues and requests for interviews after she was welcomed back into the police force at a televised press conference with Argentina's security minister and the federal police chief.
"At first I was a bit overwhelmed by so much attention. But I'm proud to tell this story," she said. "And I hope it helps others as well."