When CW drama "Arrow" returned for its fourth season in 2015, it got an infusion of comedy when Echo Kellum joined the cast. The comedian entered the world of vigilantes and crime bosses as Curtis Holt, a tech genius with great computer skills, a sense of humor and a happy home life with his husband.
"I went into it with a bit of trepidation and just hoped I'd be able to add something that is unique and awesome," Kellum told NBC OUT. Apparently the creative minds behind the show were impressed by his work, because after a season, they decided to double down and upgrade the actor to a series regular for the upcoming fifth season.
"Arrow" follows the journey of the DC Comics hero The Green Arrow, played by Stephen Amell, as he and his teammates fight to keep their city -- and occasionally the world -- safe. The series is a gritty and dark drama where the good guys have to get their hands dirty to save the many.
Curtis' light-hearted nature and collection of jokes may have come naturally to the comedian, but it was a stark contrast to what the hit series has been dong for years. "I like the light that he brings to the darkness," Kellum said. "I feel very fortunate to play such a fun character and be able to bring those lighter moments to people."
While fans of the series finally found themselves laughing in the midst of all the show's darkness, Kellum was learning new skills. From the action scenes to balancing dark material and comedy, Kellum was growing as an actor.
Kellum is excited to further explore Curtis as a character –- and as a hero. His character's comic book counterpart, after all, is named Mister Terrific, and this season will see Curtis have a larger role on the team of "Arrow" heroes, and, ultimately, viewers will see Curtis as a hero in his own light.
Kellum is ready to get into the darker material, and have his upcoming arc unfold as Curtis becomes Mister Terrific. "It does zap away some of his light when bad things happen, but it is also great to watch him bounce back from that," he explained.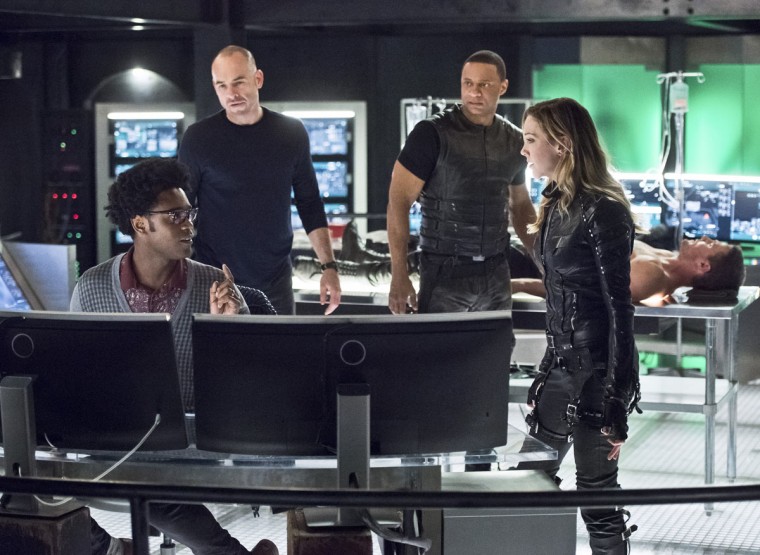 Major changes in anyone's life can have ramifications, and that is true for Curtis. Going from awarm tech guy to a member of a team of vigilantes will impact the other significant part of Cutris' life –- his happy home with his husband Paul. His new nighttime activities will put a strain on his marriage. "Seeing your husband come in with new bruises every week is not a good look," Kellum joked.
"Although they have some rifts and issues that occur from Curtis being out in the field, I think they will get through those issues," he added.
The other major thing that cannot be ignored is the representation Kellum's character brings to "Arrow." LGBTQ superheroes are few and far between on television, and Curtis' increased role and visibility means the series is putting weight and time behind this character.
"No one really lives their life through their sexuality," Kellum said, adding the approach the he has taken to playing Curtis is to view him as a multidimensional character. "We all live our lives and happen to love who we love, and that's okay."
Alongside superheroes like Luke Cage and Black Panther, Mister Terrific is another African-American hero whose story fans can follow on screen.
"Right now we're just at such a critical point with race relations. I'm excited that this African-American LGBTQ character can do anything. Our industry should reflect what the actually world looks like," Kellum said. "Honestly my hope is people absolutely appreciate and applaud that there will be this type of representation."