Dozens of models — most of whom are queer, people of color or both — strutted the runway during New York Fashion Week on Friday to spread a message of diversity, inclusivity and acceptance. The show, "Melange 2019: This Is Normal," was presented by Melange, a self-described "underground arts movement," and held at the historic St. Mary's Episcopal Church, the oldest church Harlem. The event featured LGBTQ models, plus-size figures and those with disabilities.
The models showcased a variety of fashions, including designs from Yeroc by Corey Woods, Gatito Sucio by Lorenzo Peña, Kid's Dream by Chewy Jang and the Brazilian designer Marisa Oliveira. Many of the designs challenged heteronormativity, with a number of cisgender (nontransgender) male models strutting the runway in dresses and skirts.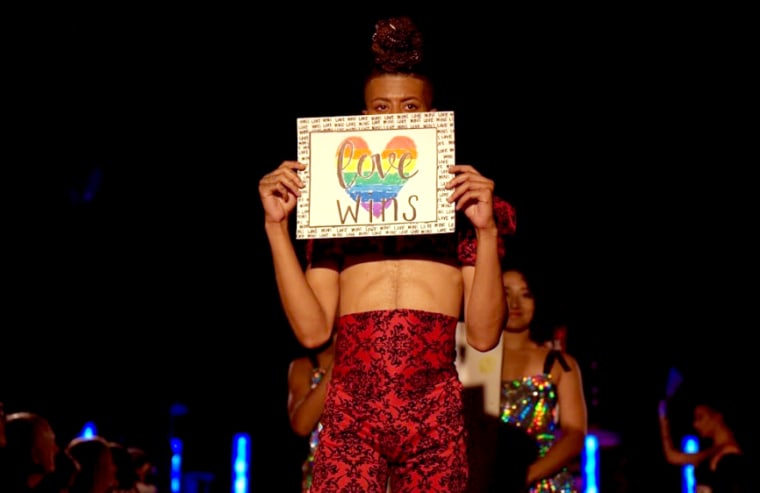 "A lot of times in the fashion industry you feel because you're gay, you're going to be turned away," Chris Zenn, 23, a model who participated in Melange's first show during New York Fashion Week, told NBC News. "Many times it feels like they only want a masculine look, but here everyone's embraced."
Melange's barrier-breaking fashion show, which was directed by LGBTQ creative director Miguel Ceron, was divided into six parts. One part had LGBTQ-affirming messages such as "love always wins," while others celebrated the Black Lives Matter movement and women's rights. One of the more poignant parts showed a model dressed as the Statue of Liberty extending her arms to other models portraying mothers and children seeking refuge in the United States.
"I'm from the Midwest, from a very conservative town. This is one of the first times I'm free to express and advocate for my opinions on LGBT rights and other issues that matter to me," Josh Roberts, 27, a model participating in a Melange show for the first time, said.
Avian Clark, 22, a LGBTQ model who walked the Melange runway, said he answered its casting call because the group was seeking diverse body types. Clark said his shorter height makes it challenging for him to be booked for most runway shows, and by participating in Melange's show, he felt he was making a difference.
"I'm shedding light on issues that affect us through music and fashion," he said. "It's so inclusive. Melange is changing the game."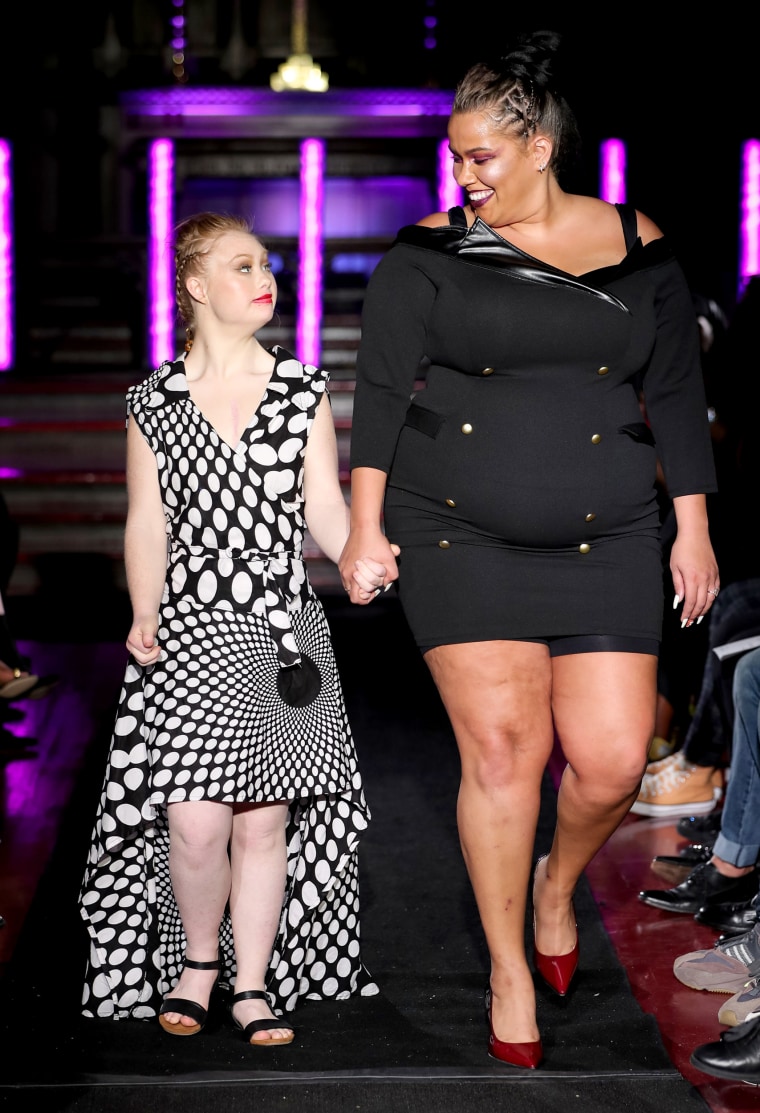 Melange's executive producer and co-founder, Nick Navarro, said he and others started the "fashion network" in 2011 as a "unique catalyst for community building for people of diverse backgrounds." The founders chose the French word "mélange," which means "mix," to celebrate diversity and the different art forms incorporated into Melange's shows. Melange is currently transitioning into a nonprofit, and Navarro said Friday's show raised money for KEHF, an organization that provides schooling and health services to orphans in Uganda.
Melange has held events in San Francisco, Rio de Janeiro and New York City, but Navarro said there was something particularly meaningful about Friday's show.
"Melange having its first show during New York Fashion Week is a significant milestone, as it shows our unstoppable growth and impact in terms of promoting more love in the arts world," Navarro said.
Melange's advisory board includes several people who have broken barriers in the fashion world, including Katiti Kironde, the first African woman to appear on the cover of a fashion magazine, in the August 1968 issue of Glamour, and Madeline Stuart, the first model with Down syndrome to walk the runway during New York Fashion Week, in 2015.