Out athletes, sports icons and allies gathered this week in New York City to support LGBTQ representation in sports and to honor those making unprecedented strides for inclusion.
The third annual Athlete Ally Action Awards arrived at a transitional time for LGBTQ people in the sports world. The NBA's first openly gay player, Jason Collins, has retired, and while the collegiate sports world has seen its fair share of newly out athletes, the major leagues still lag in LGBTQ representation.
Athlete Ally Executive Director Hudson Taylor, a former NCAA All-American wrestler, told NBC OUT he started the organization to encourage inclusion. Taylor, who is straight and married, believes LGBTQ people aren't "respected or protected" and that change must come from all levels.
"I believe sport has the power to change the world, but oftentimes athletes, coaches and owners aren't using that platform with a purpose," he explained.
A significant portion of athletes still feel ostracized due to their sexual orientation. Of the nearly 10,000 lesbian, gay and bisexual athletes surveyed in the 2015 international study Out In the Fields, 80 percent said they had witnessed homophobia in sports. And half of gay men and a third of lesbians in youth sports programs reported staying in the closet for fear of rejection by teammates.
In his opening remarks, Taylor said Athlete Ally has trained college athletes, incoming NBA players and others across the country on LGBTQ acceptance. Though some athletes come around easier than others, retired NBA star Grant Hill noted it's all about awareness.
"I think more awareness and recognizing those for having the courage to either be themselves or to stand up and be advocates is just the right thing to do," he explained. Hill said organizations like Athlete Ally and You Can Play, which both encourage LGBTQ representation and acceptance in sports, are moving in the right direction by normalizing conversations that were long considered "taboo."
Empowering young LGBTQ athletes was top of mind for many of the out athletes and allies at the awards ceremony. Former NCAA football star Akil Patterson told NBC OUT he faced "anger and disgust" when he came out to fellow teammates, which is why he became involved with Athlete Ally as a community liaison. "It matters how young people are perceived and that their teammates are open and welcoming," he said.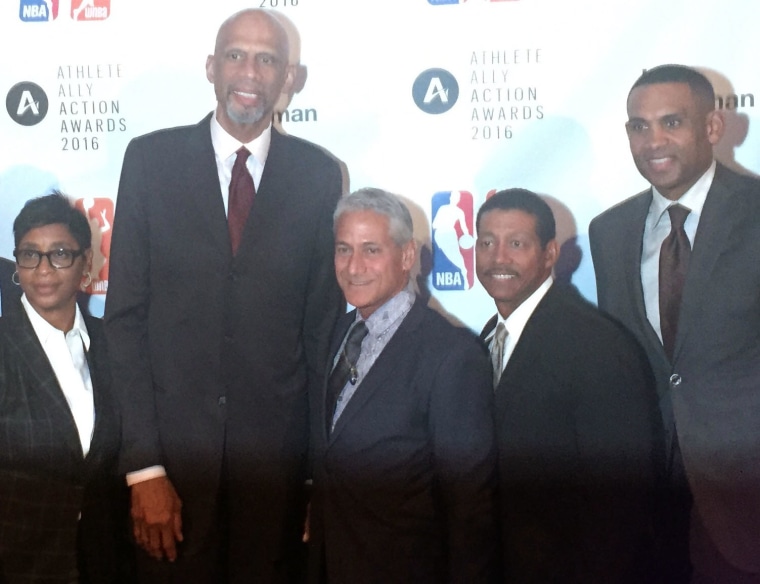 However, it isn't just young athletes who will benefit from LGBTQ inclusion in sports. Bill Kennedy, an NBA referee who recently came out publicly after being called a homophobic slur by a player, told NBC OUT his journey is just beginning. He said during his years in the closet, he could never have imagined coming to an LGBTQ sports event, like the Athlete Ally Action Awards, and said it marked a new beginning for him.
"It's the catalyst for me to get myself in gear and caught up and be vocal in some areas where the LGBT community needs my voice."
Violet Palmer, the NBA's first openly gay referee, concurred. The retiring referee made history when she came out and attended the awards to show support as she transitions into a career in management.
"The more we educate the community and the more we educate people, the more they can understand that we just want the same rights as everyone else," Palmer said.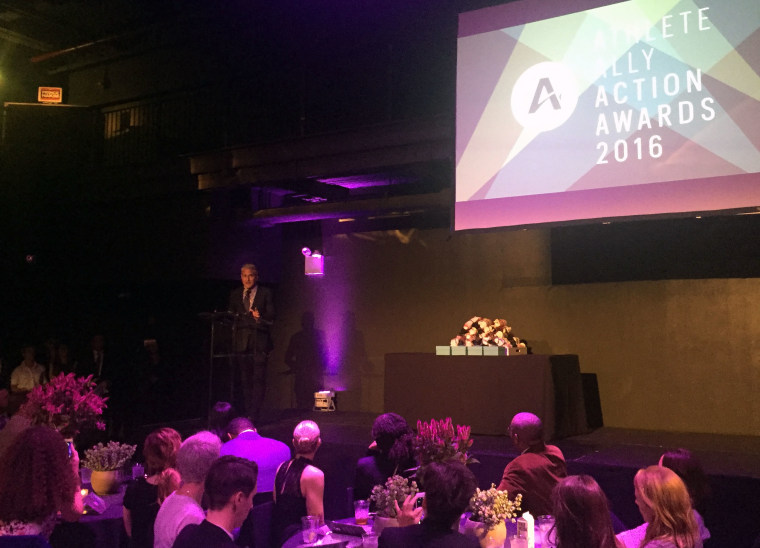 The crowd saved its largest round of applause for legendary out Olympian Greg Louganis, one of the night's honorees. Louganis noted that while events like the Athlete Ally Action Awards are beneficial for the community, it remains important to spread the message of inclusivity in spaces that may not be as safe for LGBTQ people.
"Actions speak louder than words," he said. "The one thing I've learned is that the true difference is made by going to some pretty scary places."