Democrats and LGBT groups assailed Attorney General Jeff Sessions for an off-camera, closed-door speech Tuesday to an organization designated as a "hate group" by a prominent civil rights watchdog.
As announced on his public schedule, Sessions addressed a crowd at the Alliance Defending Freedom's Summit on Religious Liberty in Orange County, California.
As the news of the scheduled speech traveled, nonprofit advocacy groups and Democrats issued statements asking why the head of the U.S. Justice Department was speaking at a summit put on by the ADF, designated a "hate group" by the Southern Poverty Law Center in 2016.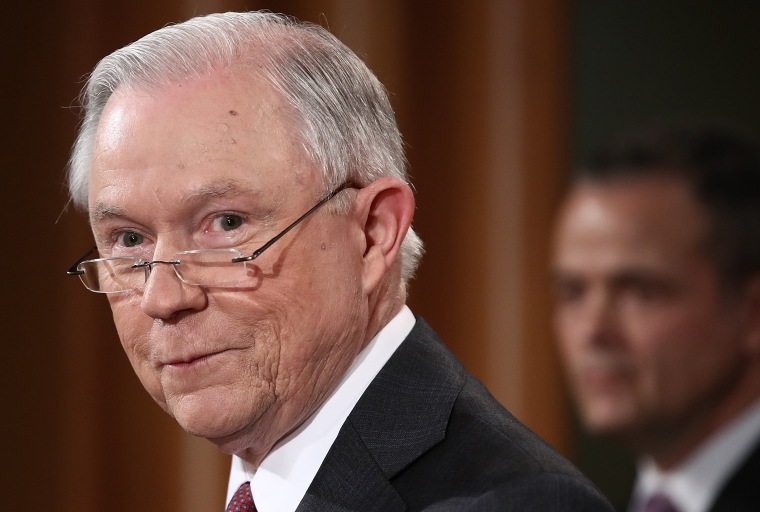 "You can judge a person by the company they keep and tonight — Attorney General Jeff Sessions is choosing to spend his time speaking in front of one of the country's leading anti-LGBTQ hate groups," Democratic National Committee spokesman Joel Kasnetz wrote in a statement emailed to NBC News. "Sessions' appearance at this event, as the top law enforcement official in the country, brings into question whether the attorney general intends to protect all Americans."
"The nation's top lawyer rallying with an anti-LGBTQ hate group? Outrageous," the Human Rights Campaign said in a blog post Wednesday.
NBC News asked the Justice Department for comment on the public outcry but did not receive a response. An additional request for comment sent to Alliance Defending Freedom did not receive a reply.
ADF is essentially a powerhouse Christian law firm, defending clients like Masterpiece Cakeshop, the bakery taking its refusal to make a same-sex wedding cake all the way to the Supreme Court. But with millions in its war chest, ADF does more than just litigate: The firm wrote model legislation called the Student Physical Privacy Act that built a foundation for dozens of proposals and policies around the country that are frequently referred to as "bathroom bills." ADF's model legislation, and the national trend that stems from it, is aimed at keeping transgender people out of restrooms and other private facilities that correspond to their gender identity and presentation.
Related: Gay Rights Group Launches $26M Campaign Ahead of Midterms
Founded in 1994, the Alliance Defending Freedom was a coalition effort between conservative Christian leaders aiming to preserve traditional social norms, restrict access to abortion and fight the "homosexual agenda." Much of the firm's early work came in the form of court briefs urging states to keep anti-gay sodomy laws on the books and in fighting attempts to legalize same-sex marriage. After Massachusetts legalized gay marriage in 2003, ADF issued an official statement deriding the "radical homosexual" state policy.
"Radical homosexual activists have made their intentions clear – 'couples' will now converge on Massachusetts, 'marry,' and return to their respective states and file lawsuits to challenge Defense of Marriage Acts (DOMAs) and try to force the states to recognize their 'marriages.' We are disappointed but we're going to continue the fight state by state," longtime ADF president Alan Sears wrote at the time.
The list of anti-LGBTQ remarks by ADF co-founders is long; James C. Dobson wrote an entire book about the gay "culture war" in 2004's "Marriage Under Fire." But after a Supreme Court decision in Obergefell v. Hodges made same-sex marriage legal across America, ADF pivoted away from a now-futile fight and toward a new goal: keeping transgender people out of bathrooms.
Related: Lesbian's Workplace Discrimination Case May Be Headed to Supreme Court
In April, ADF attorney Kellie Fiedorek disputed the idea that the firm's model legislation — and general motivation — is anti-LGBTQ or harmful to the rights of transgender people.
"The bills protecting privacy are simply ensuring that when it comes to intimate facilities, they are simply limiting them to biological sex. We all have a right to privacy," Fiedorek said. "Even if you believe you are a man, a woman shouldn't have to undress in front of you."
In response to ADF being designated a hate group by the Southern Poverty Law Center, Fiedorek said the latter was "increasingly irrelevant" and "extreme," saying ADF was the world's "largest religious freedom legal advocacy organization."
SPLC's Heidi Beirich, though, told NBC News in April her organization doesn't recklessly toss around the hate group label and had good reason to classify ADF as such a group.
"We don't put a group on the hate list because they are against gay marriage," Beirich said. "Where the rubber hits the road is when ADF attorneys engage in model legislation and litigation that attacks the LGBT community."
The Attorney General's own track record on LGBTQ issues has been cause for concern among LGBTQ advocates, too. When Sessions was confirmed in February, Lambda Legal executive director Rachel Tiven called it a "travesty," while Mara Keisling of the National Center for Transgender Equality said the confirmation marked a "deeply distressing day for civil rights."