Australia's vote on same-sex marriage has triggered a surprisingly toxic debate for a country known for its laid back attitude and vibrant gay and lesbian culture.
The non-binding nationwide postal ballot was launched in September and results are due on Nov 15.
Homophobic attacks and hate speech have spiked while anti-gay marriage activists complain of harassment and abuse, prompting parliament to pass emergency anti-hate laws.
Same-sex marriage has long been a hot button issue in Australia, which only decriminalized homosexuality nationwide in 1997, but the current vote has turbocharged the debate.
Turnout has been greater than last year's U.S. presidential election and Britain's Brexit referendum, and celebrities such as Elton John, Ellen DeGeneres and Macklemore have also weighed in.
Thousands of gay rights campaigners have taken part in rallies they hope will help end Australia's status as one the few developed liberal democracies where gay couples cannot wed.
Those against the move have held smaller protests, but have marshaled an impressive — if controversial — TV and digital campaign urging Australians to vote "No."
Here's a bit more about the survey:
WHY A POSTAL BALLOT?
The government launched the survey to gauge support for equal marriage before deciding whether to bring legislation to parliament.
Opinion polls in recent years have consistently shown a clear majority of Australians support gay marriage, and experts say the relevant laws would have easily passed a parliamentary vote.
However, Prime Minister Malcolm Turnbull's center-right Liberal Party has a vocal right wing and is in coalition with the National Party, which primarily represents conservative rural voters.
Even though Turnbull said he personally supports gay marriage, his parliamentary majority of just one seat meant he was under pressure to honor an earlier promise of a plebiscite made by his predecessor Tony Abbott.
If the postal survey result is "Yes," Turnbull and his conservative colleagues have pledged a free parliamentary vote on equal marriage.
If Australia votes "No" the issue is highly unlikely to be revisited during the current Turnbull government, and possibly the next government should he remain in power after 2019 polls.
WHY SO BITTER?
Advocates for the vote say it will give all Australians a say on a key issue, which in the case of a "Yes" result will make it easier for those against gay marriage to accept changing the law.
Politically, it has helped the anti-gay marriage camp to slow change, giving them time to try to sway public opinion.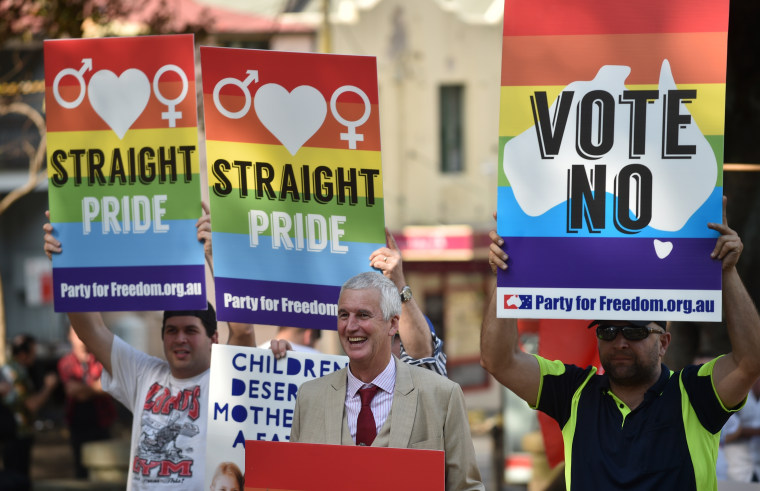 Those against the vote say a human right should not be put to a public ballot, and that it has given a vocal minority a platform to air homophobic views under the guise of democratic debate.
"Discourse around the postal survey has been incredibly divisive, not least because it has put the issue in terms of 'respectful debate.' This has opened the door for broadly anti-LGBTQ rhetoric to be legitimized as simply one side of a debate to be 'respected,'" Hannah McCann, gender studies lecturer at Melbourne University, told NBC News.
The discussion has in some respects morphed into a wider culture war, polarizing Australia in similar ways to the Brexit vote in Britain and the election of Donald Trump in the United States.
This is partly due to the "No" campaign linking gay marriage to other issues dear to conservatives in an attempt to rally support.
"If you're worried about religious freedom and freedom of speech, vote no. If you don't like political correctness, vote no," former Australian leader and "No" campaign figurehead Abbott told reporters.
HOW BAD HAS IT GOTTEN?
More controversially, the "No" campaign has also tied gay marriage to what it calls "radical gay sex education" in schools, as well as gay parenting.
Television ads show mothers decrying schools allegedly telling their children they can wear clothes of the opposite sex or choose their own gender.
"The 'No' campaign has mobilized anxieties about sex education and gender fluidity to argue their point. There have also been posters suggesting that kids in same-sex parented households are at risk of abuse," said Jessica Kean of the University of Sydney's Department of Gender and Cultural Studies.
Defending the TV ad campaign, Coalition for Marriage spokeswoman Sophie York said, "Australian parents have a right to know how a change in the marriage law will affect what their kids are taught at school."
Both sides of the debate say campaigning has turned ugly.
Earlier this year an ex-farmer shoved a pie into the face of Qantas airlines boss and gay marriage advocate Alan Joyce as he spoke to 500 people at a business conference.
In September, Abbott claimed an equal marriage activist had head-butted him, although his assailant later said the attack had nothing to do with the issue.
News outlets have reported a spate of homophobic graffiti in public spaces, homophobic hate speech and attacks on gay rights advocates and their property.
Though far fewer, other reports recount the vandalism of churches by gay rights activists and harassment of "No" voters, including a woman who was fired for airing her views.
WHAT NEXT?
Opinion polls indicate the "Yes" campaign is still in the lead on a high turnout, although gay rights advocates are still concerned.
They point to surprise conservative wins in last year's Brexit vote and Trump's election, and worry that complacency could depress the "Yes" vote.
If "Yes" does win, exactly how the right for gay couples to wed will be enshrined in law is as yet unclear, which could lead to further political wrangling.
"We will work hard to make sure that any legislation put through parliament provides sufficient protection for freedom of speech, freedom of religion and parental rights in relation to whether their children are exposed to radical LGBT sex and gender ideology in the classroom," said Coalition for Marriage spokeswoman Monica Doumit.