A new report estimates banning transgender service members would set the U.S. back $960 million, challenging President Donald Trump's pro-ban argument about "the tremendous medical costs" associated with permitting transgender people to serve in the military.
The report, co-authored by the Palm Center and current and retired professors at the Naval Postgraduate School, estimates the cost to replace transgender service members would be 100 times greater than current estimates for the annual cost of providing them transition-related care.
"President Trump said that he wants to fire honorably serving transgender troops in order to save money, but that begs the question, 'How much money would it cost to implement the President's vision?'" Palm Center Executive Director Aaron Belkin said.
"It would be much more expensive to fire transgender troops then to let them keep serving. The President wants to spend $1 dollar to save a dime, and that really doesn't make much business sense."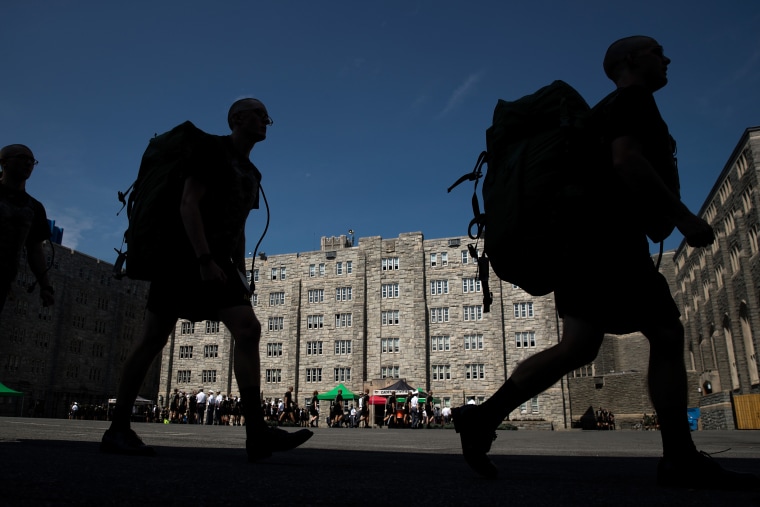 In order to get to their $960 million estimate, the report's authors multiplied the number of transgender service members (they used the Palm Center's previous estimate of 12,800) by the average per-person cost of recruiting and training a replacement for each service member who would be discharged (they used the AMSARA estimate of $75,000).
For the estimated cost of transition-related health care, the report's authors used the RAND Corporation's higher-bound estimate of $8.4 million per year.
Related: Trump Claims Transgender Service Members Cost Too Much
Estimates for the number of currently serving transgender service members and the cost of providing them with transition-related health care vary. The estimates of trans people serving range from 1,320 (RAND Corporation's lower-bound estimate) to 15,500 (the estimate provided by Williams Institute at UCLA Law).
And while RAND estimates transition-related health care costs would be less than $9 million a year, the Family Research Council, a conservative Christian group, estimates direct and indirect costs of allowing transgender people to serve could rise to $3.7 billion over 10 years.
While there has not yet been an official reversal of Barack Obama's 2016 policy change allowing transgender individuals to serve openly, President Trump's Twitter announcement that transgender people are not allowed to "serve in any capacity in the U.S. Military" garnered swift reactions from LGBTQ advocates and U.S. policy makers. Most recently, a lawsuit was filed in federal court to prevent the ban from ever taking effect.