Declaring "love comes in all flavors," Ben & Jerry's said Thursday it's banning its Australian customers from buying two scoops of the same flavor of ice cream until same-sex marriage is legalized across the country.
Ben & Jerry's, based in Vermont, is famous for its socially conscious advocacy, from combatting climate change to promoting ethical treatment of animals.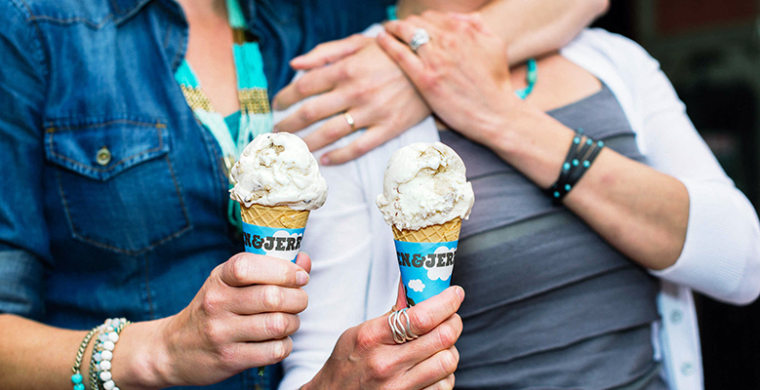 But the Australian same-sex marriage campaign is unusually serious even for Ben & Jerry's, which asked Australians in a statement to imagine "how furious you would be if you were told you were not allowed to marry the person you love."
"So we are banning two scoops of the same flavor and encouraging our fans to contact their MPs to tell them that the time has come — make marriage equality legal!" the statement said.
In November, the Senate rejected a national referendum on same-sex marriage as a coalition of liberal and sympathetic conservative senators united to denounce the vote as no more than a delaying tactic. They said Parliament could change the law without a national vote and pointed to polls showing that a clear majority of Australians support legalization.
"After a 14-month debate, the Senate saw it for what it was — an expensive and unnecessary exercise that could endanger the LGBTQI community and wouldn't even guarantee marriage equality," Ben & Jerry's Homemade Holdings Inc. said in its statement Thursday.
Related: Australian Parliament Prevents National Same-Sex Marriage Vote
The "no-same-flavor" rule is mostly symbolic, as Ben & Jerry's has only 26 stores across the enormous country. But the underlying message is serious.
Ben & Jerry's said it is collecting pro-same-sex-marriage post cards from customers to deliver to members of Parliament, and it directed customers to the Equality Campaign, a joint initiative of the LGBTQ advocacy groups Australian Marriage Equality and Australians for Equality.
"At Ben & Jerry's we love love, and we think most Australians do too," the company said. "More Australians than ever before believe everyone should have the right to love who they love — and marry them too, if that's what makes you happy. Let's make it happen!"