At least four Democratic presidential hopefuls — Joe Biden, Julián Castro, Joe Sestak and Marianne Williamson — are expected to attend an LGBTQ forum in Iowa on Sept. 20.
The event at Coe College in Cedar Rapids will be hosted by One Iowa, a statewide LGBTQ advocacy group; The Gazette, a daily in Eastern Iowa; and The Advocate, an LGBTQ magazine. The candidates will address the audience before a question-and-answer session with the three moderators, one from each of the host organizations.
Courtney Reyes, the interim director of One Iowa, said the event will "focus on LGBTQ people in the heartland and their needs."
"The overarching narrative that LGBTQ people in the U.S. live in urban coastal areas ignores the millions of LGBTQ individuals living and working in the middle of the country," Reyes wrote in a statement. "We look forward to hearing what the presidential candidates have to say to this often overlooked, but politically powerful community."
Advocate Editor-in-Chief Zach Stafford said the forum will be an event where LGBTQ issues "are front and center" and will allow the community to "make clear and informed decisions about the candidates seeking our valuable votes."
LGBTQ voters are a reliable part of the Democratic base, according to exit polls. In the 2018 midterm elections, over 80 percent of LGBTQ people said they voted for the Democrat in their local federal election, while just 17 percent voted for the Republican. And in 2016, 78 percent of LGBTQ voters said they voted for Hillary Clinton, the Democratic presidential nominee, while just 14 percent reported supporting Donald Trump.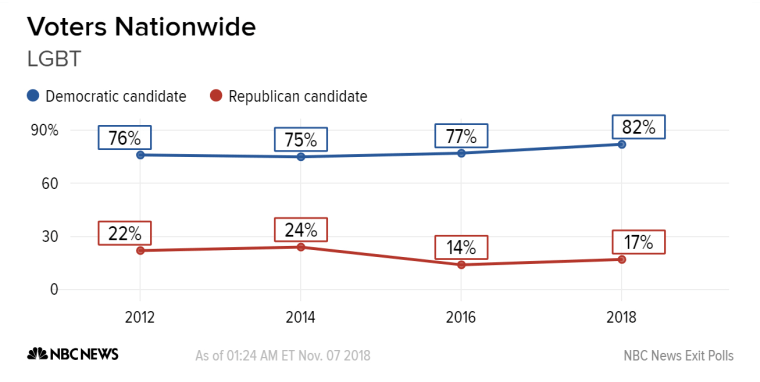 In addition to former Vice President Joe Biden, former Housing and Urban Development Secretary Julián Castro, former Pennsylvania Rep. Joe Sestak and author Marianne Williamson, other 2020 candidates "are expected to confirm in the coming weeks," according to The Advocate.
The lesbian, gay, bisexual, transgender and queer community has been largely ignored in the initial Democratic presidential debates. While the campaign of Mayor Pete Buttigeig of South Bend, Indiana, the first major gay presidential candidate, has elevated the issue of LGBTQ rights more broadly, the community was only mentioned in the first debate in the context of Rep. Tulsi Gabbard of Hawaii's prior opposition to same-sex marriage. In the second debate, Sen. Kirsten Gillibrand of New York was the only candidate to devote speaking time to LGBTQ issues.
Democratic presidential candidates have also been invited to a town-hall-style meeting at UCLA on Oct. 10, the eve of National Coming Out Day. That forum will be hosted by UCLA and the Human Rights Campaign. Additional details have not yet been released.