Katie Hill won her primary on Tuesday for California's 25th Congressional District, and now the 30-year-old nonprofit executive hopes to be part of the "blue wave" that gives control the House of Representatives back to Democrats for the first time since 2010.
"It feels surreal. Now it's going to be quite the journey from here," Hill told NBC News. "Onwards and upwards. We are really excited."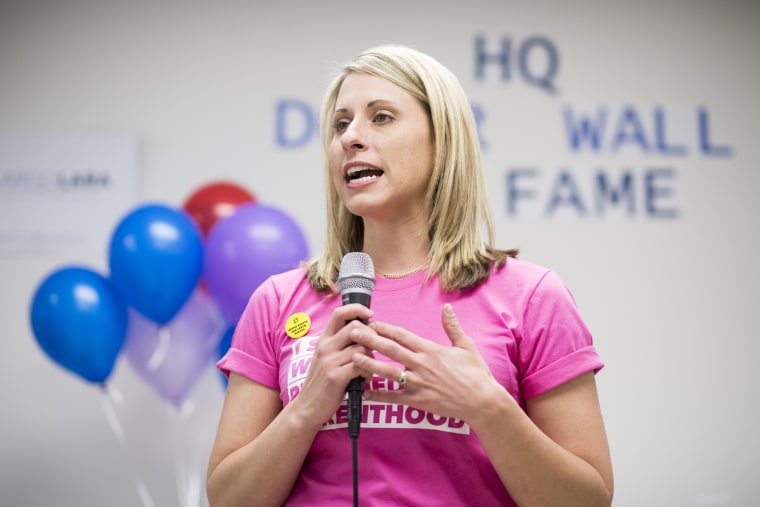 Hill, who spent the last several days running her campaign from a hotel after her home was evacuated due to a brush fire, says she plans a short rest and then "straight back at it."
Hill won her primary against three other Democratic hopefuls on Tuesday and took a step toward being one of the few openly LGBTQ people in Congress. Sen. Tammy Baldwin, D-Wis., is currently the only out member of the Senate, and there are just six out members in the House.
"I've identified as bisexual since I was a teenager, and if we want to achieve equality for all in our policies, we need more voices from the LGBTQ community in Congress," Hill stated on her campaign website. "The federal government has no business in restricting basic human rights based on sexual orientation, and I am ready to protect equality at every turn in Congress."
California is the big primary story of the season with 53 seats in Congress in the mix. Hill will face incumbent Republican Stephen Knight, a veteran of the Los Angeles Police Department and the U.S. Army, who was first elected to Congress in 2015. Knight's seat is one of seven Republican-held seats in California that Hillary Clinton carried in November 2016, making it a prime target for the Democratic party.
To take back the House, Democrats must hold all of of their seats and win an additional 23. If they are successful, this so-called "blue wave" would be the largest sweep for the Democrats since the 2006 midterm elections, when they picked up 32 seats in the middle of President George W. Bush's second term.
Hill bested her Democratic rivals in a crowded, four-way race for the chance to take on Knight in the fall. She received several endorsements from members of Congress and said she felt "incredibly supported." However, she said the party leadership stayed out of the primary race for the most part.
"For me that was victory," she added. "I think it's really noteworthy and important to convince them to give voters the chance to decide."
Hill has also received endorsements from several LGBTQ groups and political action committees, including Equality California, Equality PAC, the LGBTQ Victory Fund and the Stonewall Democratic Club.
Former Houston Mayor Annise Parker, who now serves as president and CEO of the LGBTQ Victory Fund, applauded Hill's "positive, solutions-oriented vision for the district."
"Katie will make history in becoming the first openly LGBTQ congresswoman from California if elected in November, but more importantly, she will head to Capitol Hill determined to reduce the divisiveness and produce actual results for all Americans," Parker told NBC News.
Hill said she decided to run in part because of the actions of the Trump administration.
"I wasn't planning on becoming a politician. I was incredibly fulfilled in my role at PATH," a nonprofit organization fighting homelessness, she said. In November 2016, Hill added, PATH succeeded in advocating for the passage of Proposition HHH, a ballot measure designed to prevent homelessness.
However, instead of being able to celebrate the ballot measure's passage, Hill said she and her colleagues were grappling with the election of President Donald Trump, whom they feared would take steps to undermine their organization's work.
"How do we take our country in the direction we need to go?" Hill recalled asking herself at the time. "It starts with taking back the House of Representatives."
Hill said she realized her district needed someone "who understands policy and has experience doing community organizing that could potentially run for this seat." In deciding to run, Hill said she felt she was part of a "drive across the country to do more."
Hill said that from the beginning, she decided she would campaign as openly bisexual, even though some considered campaigning as openly LGBTQ a risk in a district held by a Republican.
"Since I pass as heterosexual, I could have just not addressed that in my campaign, and I was advised not to," Hill, who is married to a man, explained. "I decided to be open about it. It's part of who I am ... It's important to be to be a voice for a community that I think is so underrepresented."
With Rep. Kyrsten Sinema, D-Ariz., attempting to become the first bisexual U.S. senator, Hill could potentially be the only openly bisexual person in the House if she wins in November. "There is a responsibility there," she said.
Hill is part of a major surge in female candidates this election cycle: 57 female candidates won their primary races. "As women especially, we are a voice, an important voice representing this new wave of energy, this new post-Trump era of politics," she said.
Several other LGBTQ candidates won their primaries on Tuesday. In Alabama, Democrat Neil Rafferty won his primary for State House district 54. If he wins his race in November, he will be the first openly gay man in the Alabama legislature. Incumbent Democrat Felicia Stewart ran unopposed Tuesday and will advance to the general election to face incumbent Republican David Faulkner.
Incumbent Democrat Liz Bennett of Iowa, who also ran unopposed, will advance to the general election in her reelection bid for Iowa House of Representatives.
LGBTQ advocate Zach Wahls, known for his impassioned speech in 2011 in support of same-sex marriage to Iowa state legislators, bested his primary rivals for a chance to become an Iowa State Senator for District 37.
Out lesbian Julia Fahl triumphed over a 27-year incumbent to become the mayor of Lambertville, New Jersey.
Looking toward November, Hill said "I'm excited to run a race that is really about the issues and what the future of politics looks like for this district."