Eddie Ndopu describes himself as "black, queer, disabled and brilliant."
"I embody all of the identities that position me at a disadvantage in society," he told NBC News. "But I am turning that on its head."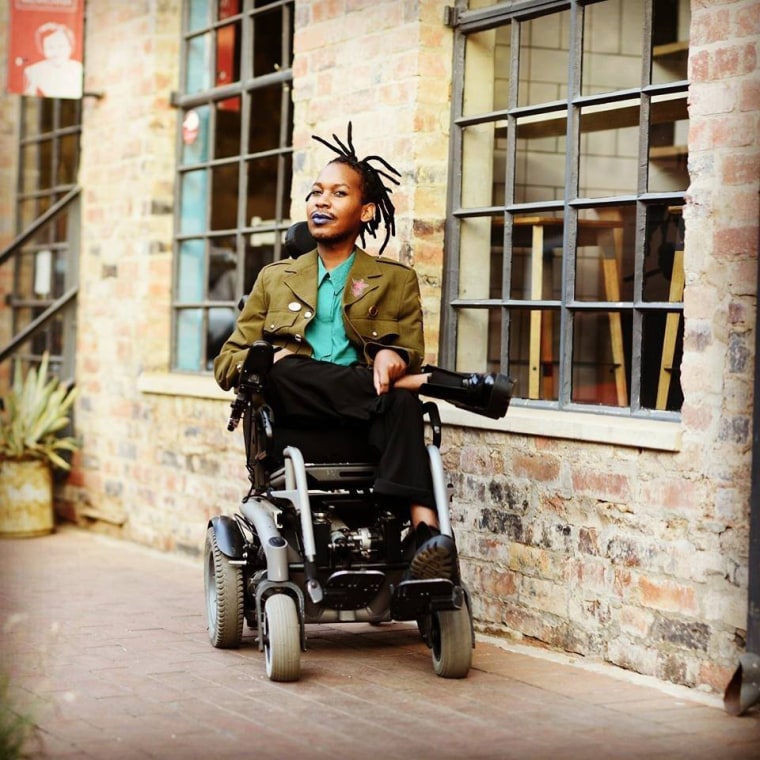 By the end of the year, the 27-year-old South African hopes to become the first person with a disability to go to space.
When Ndopu was 2 years old, he was diagnosed with Spinal Muscular Atrophy (SMA), an incurable condition that causes progressive muscle degeneration and weakness. His prognosis was devastating: His family was initially told he would not live beyond the age of 5.
But a tenacious Ndopu said it wasn't long before he was able to "outstrip and outlive all expectations," both academically and medically. He attributes this in part due to his mother, whom he said never gave up on him or stopped fighting for him.
"I embody all of the identities that position me at a disadvantage in society ... but I am turning that on its head."
Eddie Ndopu
Ndopu said when he was 7 years old and living in Namibia (he moved to neighboring South Africa when he was 10), his mom came home to find him sitting in front of the television staring despondently at a blank screen. "She held my head in her hands and begged me to tell her what was wrong," Ndopu recalled."Finally, I told her all I wanted was to go to school."
Despite inclusive education laws, growing up disabled in southern Africa meant a mainstream education was never guaranteed. In fact, a 2017 United Nations report revealed that even today, 90 percent of disabled children in developing countries never see the inside of a classroom.
But Ndopu said his mom is a "fearless warrior" who knocked on "every door" until finally he was accepted to a small elementary school on the outskirts of his hometown.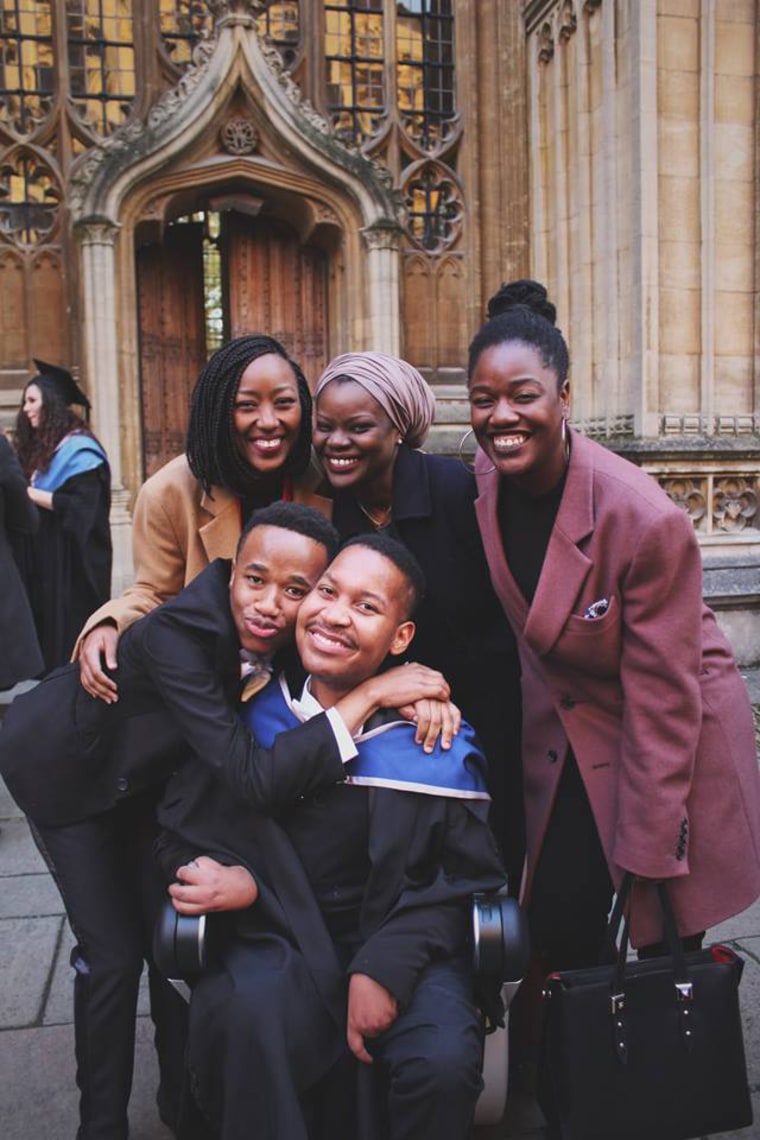 Ndopu has so far outlived his prognosis by more than two decades, and last year he became the first African with a disability to graduate from Britain's prestigious University of Oxford. The disability-rights activist, who admits he has a weakness for lipstick and fashion, said he is "a living manifestation of possibility."
Now Ndopu, whose disease has left him unable to walk, has set himself a new "audacious" goal: to become the first person with a disability to go to space.
Backed by the United Nations, he hopes to deliver "the speech of [his] life," championing disability rights from a space shuttle to the UN's New York headquarters this December.
Phumzile Mlambo-Ngcuka, a South African lawmaker and the executive director of UN Women, told NBC News if Ndopu attains his goal, it would be "a powerful symbol to demonstrate that people with disabilities can break barriers."
"By reaching space," she added, "it clearly demonstrates that determined disabled people, in an enabling environment, can excel like anyone else."
People with disabilities are the largest minority group in the world, but Ndopu said they are also the most "neglected and invisible." He sees space travel as breaking the ultimate barrier — literally defying gravity.
"I want to give credence to the idea of leaving nobody behind," he said, adding that he hopes his advocacy will galvanize world leaders to close the access gap for people with disabilities.
"I am not just talking about ramps, braille and sign language," Ndopu said. "This is also about giving people with disabilities access to things like joy, love and intimacy."
It's a cause he is willing to die for. Space travel is dangerous, and Ndopu's condition will leave him especially vulnerable to health complications.
"There is a very real risk that I may not survive the voyage … but I am willing to take that chance, because this is a mission that is bigger than myself," he said defiantly. "I am not scared of the launch into space; I am scared of what will happen if I don't see this through."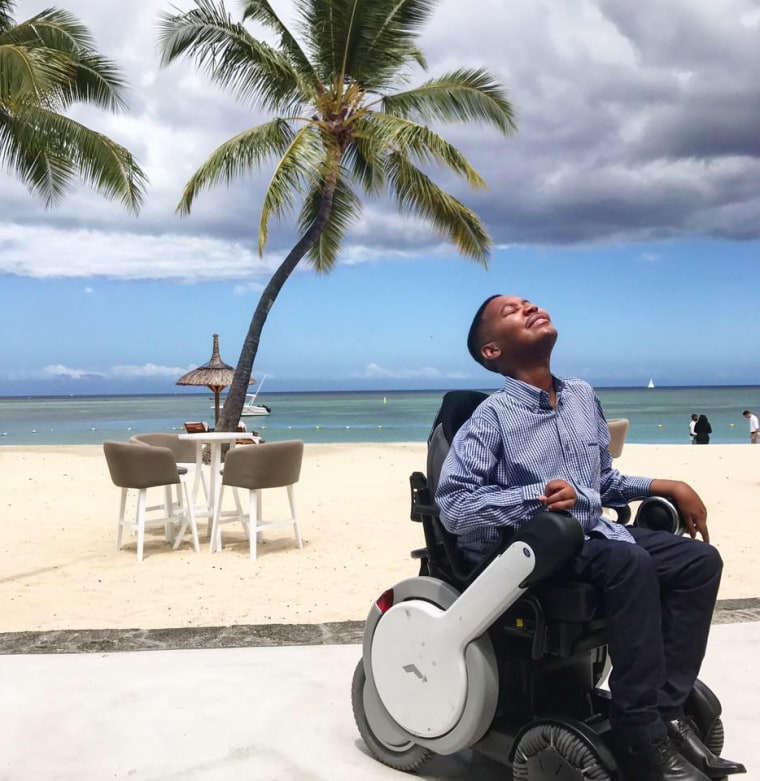 Over the next few months, Ndopu will work with New York-based Spinal Muscular Atrophy specialists to undergo cutting-edge therapies to prepare for his journey.
Ndopu's supervising physician, Gaurav Shah M.D., CEO of fortuitously named Rocket Pharma, is confident health risks can be mitigated.
"There is always risk of death with space travel due to unforeseen reasons, but given that Eddie has robust, intact, independent respiration, and that respiration is unlikely to be affected by the pull or lack of gravity, the risk is low," Dr. Shah told NBC News.
Ndopu said he takes courage from the late Stephen Hawking, who suffered from Lou Gehrig's disease. In 2017, the world renowned theoretical physicist was offered a free ride to space by Virgin Galactic founder Sir Richard Branson. However, Hawking died before he was able to achieve this lifelong dream.
"Professor Hawking had already started zero-gravity training, and he was in his 70s!" Ndopu marveled.
Working with ONE, an advocacy organization founded by musician and philanthropist Bono, Ndopu hopes to secure his ticket to space by the end of the year. He said first choice would be acquiring a rocket from South African-born SpaceX founder Elon Musk.
"We are in the process of pitching my vision to [Musk]," said Ndopu, who hopes to have a one-on-one meeting with the technology mogul in the coming weeks.