The flamboyant, pro-Brexit Boris Johnson's premiership may be a mixed bag for the United Kingdom's LGBTQ community, advocates say.
The former British foreign secretary and London mayor became prime minister Wednesday, following the resignation of Theresa May.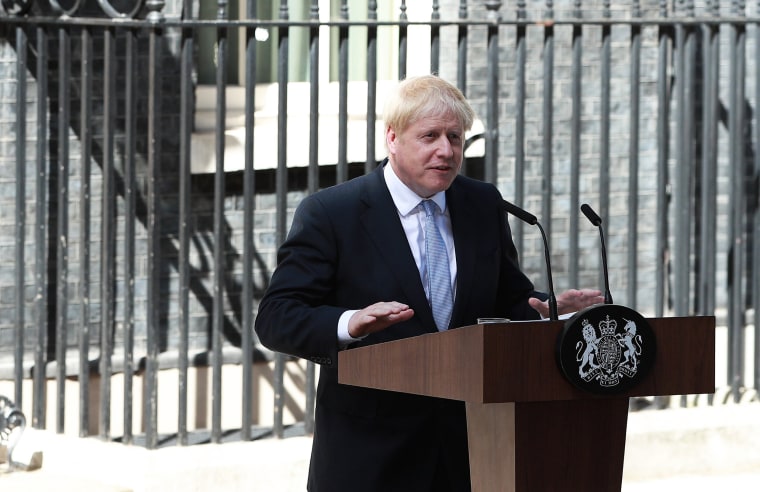 Leading up to Tuesday's vote, in which he beat Foreign Secretary Jeremy Hunt for the Conservative Party's leadership, Johnson, 55, told the LGBT+ Conservatives national organization that he had the community's back.
"I will continue to champion LGBT+ equality, get tough on hate crime and ensure that we break down barriers to a fairer society," Johnson said, according to the group.
"We must do more to ensure that trans rights are protected and those who identify as trans or intersex are able to live their lives with dignity," he continued, noting that he was one of the first senior party leaders to support same-sex marriage.
Then Wednesday, following his meeting with the queen to officially accept the premiership, Johnson specifically mentioned the LGBTQ community in his speech outside the prime minister's residence at No. 10 Downing St.
"[The U.K.'s] brand and political personality is admired and even loved around the world for our inventiveness, for our humor, for our universities, our scientists, our armed forces, our diplomacy for the equalities on which we insist — whether race or gender or LGBT or the right of every girl in the world to 12 years of quality education and for the values we stand for around the world," he said
'A CHEQUERED RECORD'
Though Johnson has often been seen as a social liberal when it comes to LGBTQ rights, there has been controversy over what he's written about the community in the past.
"Boris Johnson has a checkered record on LGBT+ equality," longtime human rights activist Peter Tatchell told NBC News in an email. "He's sometimes been supportive and other times he's been absent or abstained in parliamentary votes."
Tatchell noted that as a member of Parliament, Johnson voted in 2003 to repeal Section 28 of the Local Government Act of 1988, which prohibited local authorities from "promoting homosexuality" or "pretended family relationships." Johnson also voted in 2004 for civil partnerships.
However, a number of activists have condemned the new prime minister and have demanded he apologize over what Tatchell called Johnson's "past homophobic utterances." In a 2001 article in the Spectator, for example, Johnson condemned a British legislator for voting in favor of "Labour's appalling agenda, encouraging the teaching of homosexuality in schools." In the late '90s, he also reportedly referred to gay people as "tank-topped bum boys" and compared gay marriage to bestiality.
British LGBTQ rights activist Steve Wardlaw did not mince words when speaking about his fears of what Johnson might mean for the U.K.'s LGBTQ community.
"We are at a time when LGBT+ rights are under threat and we need to look to our leader for support when the country is becoming less tolerant than it was 10 years ago," Wardlaw told Al Jazeera. "We now have a prime minister with few morals and no principles, who is happy to tack right to appease the populists. He will throw the LGBT+ community and other minorities under the bus without a moment's hesitation."
Tatchell, however, said Johnson's impact on the U.K.'s lesbian, gay, bisexual, transgender and queer community is uncertain. He said Johnson would not attempt to "roll back" laws protecting LGBTQ people. However, he said the 77th prime minister also wouldn't seek to "remedy" the issues LGBTQ people in the U.K. still face.
"It is hard to imagine that he will go to much effort to further advance LGBT+ equality," Tatchell said. "When he was mayor of London, he did little to support the LGBT+ community and rarely attended Pride London and other major LGBT+ events."
According to Pink News, a U.K.-based LGBTQ news site, Johnson, who served as London's mayor from 2008 to 2016, was absent from the city's pride festivities every year between 2011 and 2015.
During this year's Pride in London, though, Johnson tweeted a message of support.
"Salute all those celebrating #PrideInLondon today. I have fond memories of my pink Stetson march as Mayor! Britain leads the world in LGBT+ equality and I'll continue to champion the cause if I am lucky enough to become our country's Prime Minister," he tweeted July 6.
Afterward some people took issue with Johnson's message of support, including current London Mayor Sadiq Khan, who brought up Johnson's controversial past remarks at Pride in London's opening ceremony.
"You've got the next prime minister using homophobic language," Khan said at the July 6 event. "When you speak to members of the LGBTQ+ community, they will tell you that some of the homophobia they suffered, the attackers used this language, the same sort of language he's used."
Some advocacy groups have called on Johnson to ensure LGBTQ rights are a priority in his new government. One of those groups is Amnesty International.
"This is a crucial time for LGBTI people in the U.K.," Chiara Capraro, the manager of the global organization's U.K. Women's Human Rights group, said in an email. "Since 2017, the country's LGBTI record has been going rapidly downhill, slipping from third to ninth place for LGBTI equality in European rankings."
Capraro said that this was primarily due to the country's "outdated" law that regulates legal gender recognition.
"In the absence of reform, a climate of misinformation has developed, and there have been shocking levels of discrimination and abuse against trans people," she said. " The government must act urgently and propose a reformed law in line with human rights standards if it wants to restore the U.K.'s credibility on LGBTI rights."
In Northern Ireland, rights groups expect the new government to honor legislation passed two weeks ago by the British Parliament allowing same-sex marriage in the province. The legislation, however, will only go into effect if the Northern Irish Assembly, which collapsed in 2017, has not been re-established by Oct. 21.
"While we want to see the re-establishment of the devolved administration in Northern Ireland, should direct rule be imposed, the Johnson government will be responsible for promoting LGBT equality in Northern Ireland," the Rainbow Project, an LGBTQ rights group in the province, said in a statement.
In addition to Johnson's LGBTQ track record, there have also been concerns regarding the records of his new Cabinet appointees.
According to PinkNews, almost a third of the Cabinet's ministers — 9 in total — opposed same-sex marriage in 2013.
"Of the 32 ministers serving in Johnson's Cabinet, nine voted against same-sex marriage and three abstained, while 13 cast votes in favor. Seven, including Johnson, were not MPs at the time of the vote," the site's analysis found.
One of the cabinet ministers who voted against same-sex marriage and reiterated his opposition to it as recently as 2017, Jacob Rees-Mogg, was named by Johnson as the leader of the House of Commons on Wednesday.
"Jacob Rees Mogg, who opposes abortion in cases of rape, and who ardently opposes LGBTQ rights, is now one of the most powerful politicians in Britain," openly gay columnist Owen Jones tweeted.