Comedian Bowen Yang, the first Chinese American to join the cast of "Saturday Night Live," underwent an experience as a teenager that was anything but funny — gay conversion therapy — turning the spotlight on the unique cultural pressures that Asian Americans face when they come out to their families.
Yang, who talked about growing up in a recent interview with The New York Times, has quickly gained fame for playing characters including Democratic presidential candidate Andrew Yang, Chinese trade representative "Trade Daddy" and North Korean leader Kim Jong Un.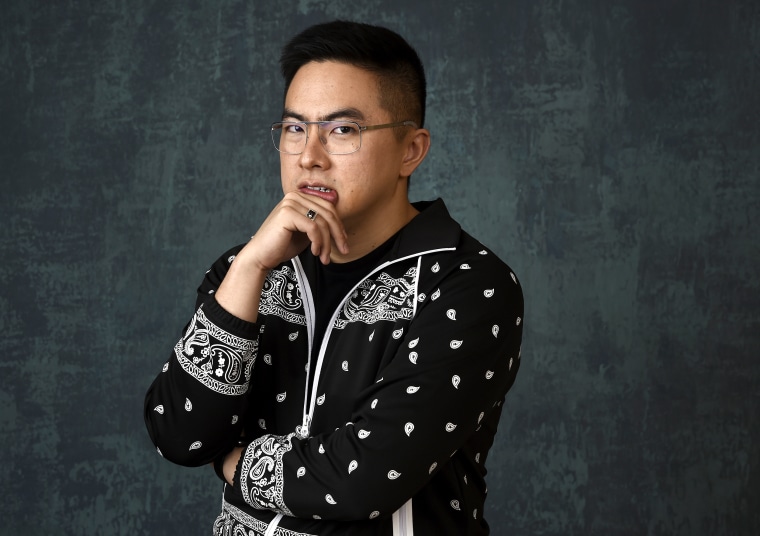 Yang, one of only a few openly LGBTQ cast members in the 45-year history of "SNL," said he was 17 years old when his parents found an AOL instant messenger conversation and realized he is gay.
"They just sat me down and yelled at me and said, 'We don't understand this. Where we come from, this doesn't happen,'" Yang, whose parents are from China, told the Times.
In the aftermath of this discovery, Yang said his father would cry every night at dinner. Soon, his parents arranged for him to begin conversion therapy in Colorado Springs, a conservative city 70 miles south of Denver.
Conversion therapy is a controversial and medically discredited practice that seeks to change a person's sexual orientation or gender identity. The American Psychiatric Association and a number of other medical groups have spoken out against the practice, which has been shown to be linked to depression and suicidal thoughts. Conversion therapy is now banned for minors in 19 states, including conservative Utah, which just outlawed it last week, and Colorado, where Yang was subjected to the practice. Several other states, including Virginia, Texas and Kentucky, are also considering such legislation.
Yang said a feeling of guilt over his parents' dismay initially made him open to the possibility that conversion therapy could work. "Even though as I read up on it, I was just like, 'Oh, wait, this is all completely crackers,'" he told the Times. "It was just crazy," he added. "Explain the gay away with pseudoscience."
"It was a cultural thing for them, this cultural value around masculinity, around keeping the family line going, keeping certain things holy and sacred," Yang added.
Coming out in Asian American families and communities, like Yang did, can come with unique cultural pressures, according to "Coming Out: Living Authentically as LGBTQ Asian and Pacific Islander Americans," a guide published by the Human Rights Campaign Foundation to support LGBTQ Asian Americans and Pacific Islanders. The report found that more than 60 percent of API Americans are immigrants and many of them have parents who left their home countries in search of a better life.
"Growing up amid these significant sacrifices, API American youth often feel indebted to their parents. They fear disappointing their parents, and will avoid doing anything that might humiliate them or bring shame upon the family among the wider community," the report states. "Especially in cultures that stress familial duty or conformity, LGBTQ API youth can carry a weight of expectations rooted in traditions that define success through rigid gendered norms."
A separate report, published in 2018 by GenForward, found that Asian American millennials are the least likely racial or ethnic group to identify as LGBTQ. The survey found 9 percent of Asian American millennials identify as LGBTQ, compared to 22 percent of Latinos, 14 percent of African Americans and 13 percent of whites.
Yang said his father — who grew up in a straw and mud hut in rural China and worked his way into university in the midst of the Cultural Revolution — still has trouble understanding his son's sexuality. But Yang told the Times he is not upset by his parents' journey.
"Both my parents are doing a lot of work to just try to understand and I can't rush them," he said. "I can't resent them for not arriving at any place sooner than they're able to get there."