Briefs flooded the Supreme Court on Thursday in support of Gavin Grimm, the transgender teenager fighting for the right to use boys-only facilities at school.
Support for Grimm came from a stunning arrangement of powerful leaders in politics, education and industry.
Among the amicus briefs submitted to the court for Grimm were arguments from nearly 200 members of Congress, more than 60 current and former police chiefs and sheriffs, over 30 U.S. cities, the National Education Association, the National Parent-Teacher Association (PTA), the American School Counselor Association, National Association of School Psychologists, the NAACP, the Anti-Defamation League, leading LGBTQ nonprofits, dozens of major corporations and over 100 transgender adults from various professions.
All of the groups argued the same thing: Transgender students like Grimm should be given equal protection under the law.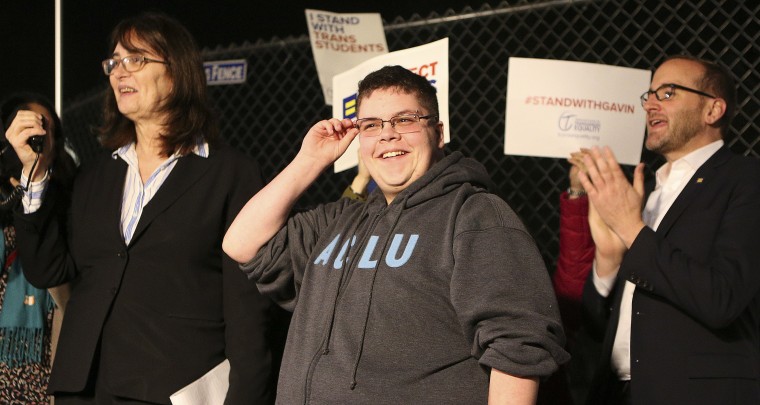 For many who signed on to the powerful slew of court documents — which were expected to continue streaming — the Grimm case represents much more than the right to choose which bathroom to use. As states argue over whether to legislate which restrooms, locker rooms, changing rooms and other private facilities transgender people are allowed to use — and the Trump administration takes a step back from defending trans youth in schools — Grimm's looming March 28 Supreme Court hearing is poised to set a national legal standard.
On a phone call with reporters Thursday morning, "Nashville" actress Jen Richards said "bathroom bills" like North Carolina's HB2, and similar policies at schools, were just a cover for discrimination.
"This isn't about bathrooms. It's really a proxy battle for who is human," said Richards, and "for who gets to exist in public space."
Richards is one of the more than 100 transgender professionals who signed on to a brief in favor of Grimm. The signatories include astrophysicists, doctors, retired military personnel, teachers, professors, athletes, clergy, artists and other transgender people who "strive to contribute to their communities, raise healthy, loving families and succeed professionally."
Grimm's case will be U.S. history's first major decision on whether transgender people are covered under sex discrimination law. Rather than just setting the stage for equal access to locker rooms in schools, the Grimm case stands to impact transgender and gender-nonconforming people across the board by defining what we mean by "sex."
Transgender Americans aren't the only ones with a stake: Intersex and non-binary people also want to see the Supreme Court rule in Grimm's favor. InterACT is an organization that advocates for youth born with mixed-sex traits. Formerly called hermaphrodites, intersex people are born with a range of differences in chromosomes, hormones or sex organs that can lead to a unique experience of gender.
InterACT's brief in support of Grimm, filed Thursday, is believed to be the first-ever Supreme Court brief on behalf of the intersex community.
"Trans folks often don't receive health care that they desire, whereas intersex folks often receive non-consensual surgeries in infancy. Both communities are facing the same issues over the fear of non-normative bodies," InterACT's Deputy Legal Director Alesdair Ittelson told NBC News. "We have a shared interest in bodily autonomy and being able to say what happens to our bodies."
While the Supreme Court's decision this year is poised to impact a range of communities, kids and teens undoubtedly remain at the center of the controversy over restroom use — and for most of those kids, the fact that grown-ups are so invested in where they pee is just plain weird.
Brandon Adams, a 15-year-old high school sophomore in Massachusetts, also spoke to reporters via phone on Thursday. In response to a question from NBC News, Adams said the Trump administration's recent withdrawal of school guidance on transgender students "shocked me."
"My right to use the restroom shouldn't be decided by my state, it should already be given," said Adams, who added that he was disappointed in President Trump after campaign statements made it seem as if he supported the LGBTQ community.
The teen also described a fundamental flaw of the argument against equal restroom access, using himself as an example of how policies based on gender at birth create the exact scenario that some people seem to fear.
"I don't think anyone would want to see a boy my age going into a ladies room," Adams said, "I would be forced to use a ladies room because of my sex at birth, but I'm on testosterone and have had surgery to go forward with my transition."
Gavin Grimm has also pointed out that he would be out of place in a girls bathroom at school. And a week ago, Grimm told NBC News that many trans teens found it "scary" that the Justice and Education Departments withdrew the school guidance.
"It definitely hurts to hear your government saying that you're not deserving of protections that you should have as a transgender student," Grimm said.
But if parts of the Trump administration seemed to oppose equal access for trans kids, hundreds of elected officials at the congressional, state and city level showed Thursday that they have Grimm's back.
One brief in support of Grimm was signed by officials in 30 of the nation's largest and most populous cities, including New York, Los Angeles, Chicago, Seattle, Philadelphia and Cincinnati. The city representatives wrote of a "common goal of ensuring that transgender people may live in our communities with dignity and respect, free from daily stigma and barriers to participation in society."
Grimm also has many in Congress on his side: In a brief signed by 40 U.S. Senators and 156 House members, elected officials stated that Title IX "Does not allow a school to limit bathroom access based solely on birth-assigned sex or according to sex stereotypes, including the stereotype that a student's gender identity should correspond to birth-assigned sex."
Most of the briefs filed in support of the Gloucester County School Board were submitted in early January. Some of the notable briefs were submitted by the Attorneys General of West Virginia and 20 other states, the National Organization for Marriage and the Alliance Defending Freedom.
Regardless of what the justices decide after hearing the case later this month, advocates pledged to continue the fight.
On the phone Thursday, ACLU attorney Chase Strangio appeared hopeful about the case's outcome, pointing out the U.S. Court of Appeals ruling that backed Grimm. More importantly, Strangio said, the ACLU and other groups are prepared to continue to push for the rights of transgender youth and adults regardless of a win or loss at the Supreme Court.
"No matter what happens, nobody is going back into the shadows," Strangio said. "Nobody is going to stop fighting."