For Lindsay Amer, bringing a live performance of their popular children's web series to the Brooklyn Public Library made perfect sense.
"I feel like libraries are kind of like the YouTube of the real world," Amer, who uses gender-neutral they/them pronouns, told NBC News. "They're publicly accessible, they have all of this information that's kind of just stock piled there, and anyone can get into it and really dive deep."
Amer is the creator and host of Queer Kid Stuff — a web series on YouTube dedicated to educating children about LGBTQ topics through vlog-style conversations and original songs. In episodes posted online, Amer and their puppet Teddy explore subjects ranging from coming out as nonbinary to the importance of giving consent.
On a recent Saturday, Amer partnered up with the Brooklyn Public Library to perform a live show of Queer Kid Stuff to an audience of children and parents in the youth wing of the library's main branch, where Amer read books and performed songs from the popular web series.
The collaboration was one of the latest examples of a public library partnering up with members of the LGBTQ community to help create more inclusive and welcoming spaces within its library system.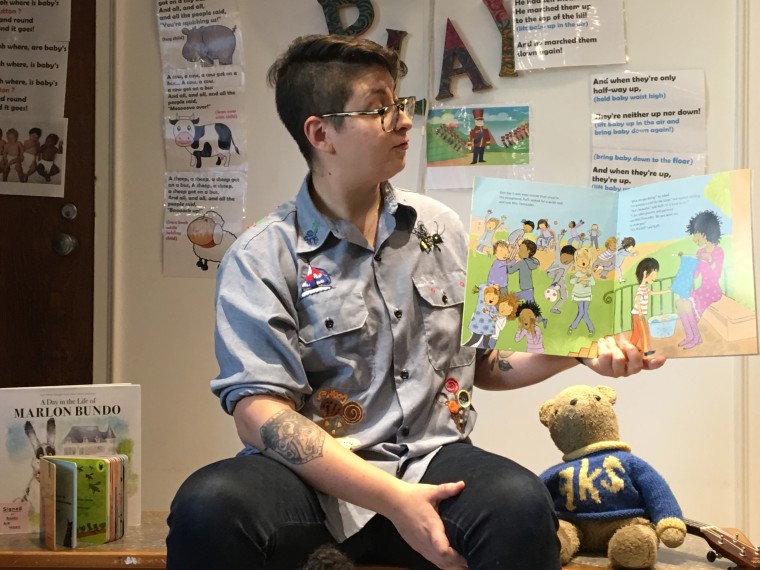 From Brooklyn to Wichita, librarians are helping foster acceptance and understanding through programming aimed at educating both children and adults about diversity, identity and inclusivity
"Librarians in a public, out-of-school setting have the opportunity to create a welcoming space for all the students and families in a community," said Becca Mui, education manager at GLSEN, a national organization focused on ensuring safe and affirming schools for LGBTQ students.
"Librarians themselves can be role models and advocates by using inclusive language, interrupting anti-LGBTQ comments and implementing inclusive programming," Mui added.
"The public library is a cornerstone of democracy, a place where all people are welcome and safe to learn, create, express and explore in ways that better their lives."
Leigh Hurwitz is the outreach librarian at the Brooklyn Public Library and helped plan the recent live show of Queer Kid Stuff.
"We really strive to be a space that welcomes everyone," Hurwitz said. "I want to make sure [the library] is a welcoming space and also an informed space."
Hurwitz said it is important for libraries to both serve as a source of knowledge for the community and to also look to the community for knowledge creation.
"That is part of why we do these programs," Hurwitz explained. "To learn from the community, to have community members talking about their own experiences and sharing resources and information."
Hurwitz added that because libraries tend to be so embedded within neighborhoods, they have the opportunity to provide a welcoming space for young people who may be struggling with their own identity in some way.
"Because [the Brooklyn Public Library] has 60 branches, we really are all over Brooklyn and can really be that affirming space that has good information and stories and programs that are representative of lots of different identities and experiences," Hurwitz continued.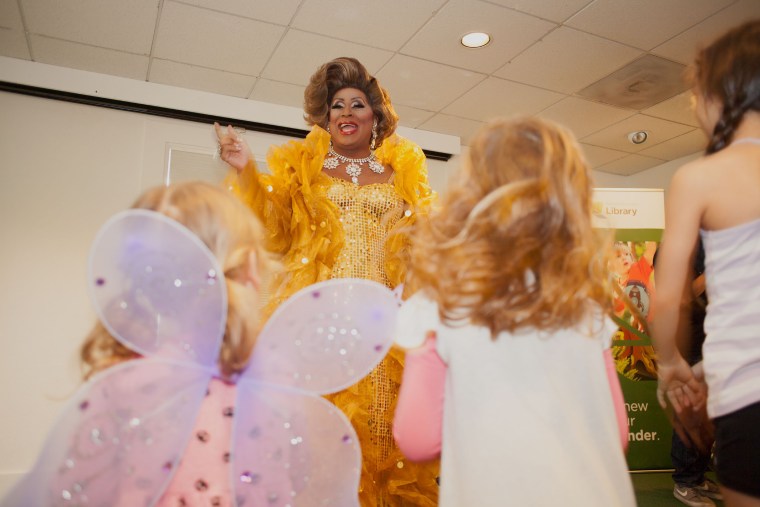 Across the country in Portland, Oregon, on the same day as the event in Brooklyn, drag queen Poison Waters read stories to an audience of nearly 100 children, parents and caregivers for a session of Drag Queen Story Hour hosted by the Multnomah County Library.
Kevin Cook, who has performed as Poison Waters for the past 30 years, first heard about Drag Queen Story Hour on social media after events were held in larger cities.
"It's been an amazing response," Cook said of his own participation. "On social media, people across the country are like, 'This is so cool, we're so glad it's happening in Portland,' and the actual response at the events has been just wonderful."
Cook said he was particularly touched by an encounter he had with a young girl in the audience of a recent Drag Queen Story Hour event outside Portland, in the city of Fairview, Oregon.
"I thought, 'I'm going to be the only person of color here,' and there was this little African-American girl that was just so sweet, and she chatted me up through the whole thing," Cook said.
He said when he left, the girl threw her arms around him and gave him a big hug. "She seemed sad I was leaving, so I was glad I brought some happiness to her," Cook added. "Whether she saw some of herself in me on some level was great."
Katie O'Dell, programming and outreach director for Oregon's Multnomah County Library, said concepts around diversity and inclusion are central to the library's priorities.
"The public library is a cornerstone of democracy, a place where all people are welcome and safe to learn, create, express and explore in ways that better their lives," O'Dell said. "By creating safe and welcoming spaces that honor diversity and inclusion, the public library can honor its traditional mission, while evolving to meet changing needs over time."
O'Dell said librarians work directly with drag performers to select books and related activities that are engaging and developmentally appropriate, and that the Multnomah County Library was compelled to start hosting Drag Queen Story Hour after seeing peer libraries successfully host the program in different parts of the country.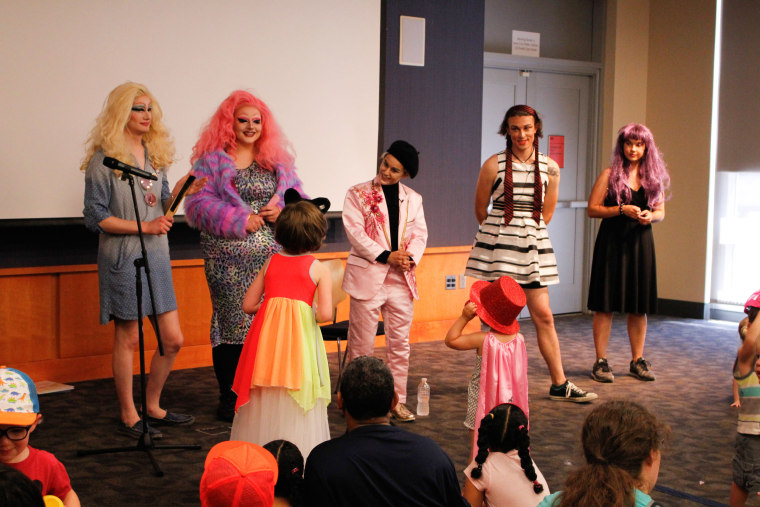 Mari Redington, children's services assistant at the Iowa City Public Library, was also inspired after hearing about Drag Queen Story Hour.
"I'm a huge fan of 'Rupaul's Drag Race,' and constantly thought about how all of the colors, costumes and makeup vital to drag would be so appealing to the preschoolers and toddlers I meet every day," Redington said. "At the same time, I kept coming across some wonderful LGBTQ+ positive picture books."
After connecting with members of the drag community in Iowa City, the Iowa City Public Library implemented its own version of Drag Queen Story Hour this past summer.
"I wanted to schedule our Drag Family Storytime in June, because it was the first year that my library had participated in the Iowa City Pride Parade, so it felt like a great year to introduce a bigger inclusive program of this nature," Redington explained.
The event was a success with over 150 people attending to hear rhymes, stories and songs being performed by several members of the drag community.
"The families had an opportunity to ask the Drag queens and king questions about drag, pride and what everyone can do to foster love and acceptance in our community," Redington said. "There were many moments of laughter and emotion … I experienced an overwhelming sense of joy that I won't forget."