California became the first state in the nation to allow "nonbinary" gender markers on birth certificates when Governor Jerry Brown signed SB 179, or the Gender Recognition Act, into law last week. The Golden State is also the second in the country, behind Oregon, to allow residents to be identified by a gender marker other than "F" or "M" on their driver's licenses.
The legislation, authored by Democratic Senators Toni Atkins of San Diego and Scott Wiener of San Francisco, allows residents who identify as "nonbinary" (someone whose gender identity is neither male nor female) or intersex to select a third gender marker on state-issued identification documents. It also makes it easier for those residents to obtain IDs that accurately reflect their gender.
"I want to thank Governor Brown for recognizing how difficult it can be for our transgender, nonbinary and intersex family members, friends and neighbors when they don't have an ID that matches their gender presentation," Atkins said in a statement. "The Gender Recognition Act will eliminate unnecessary stress and anxiety for many Californians, and it exemplifies the leadership role that our state continues to take in LGBTQ civil rights."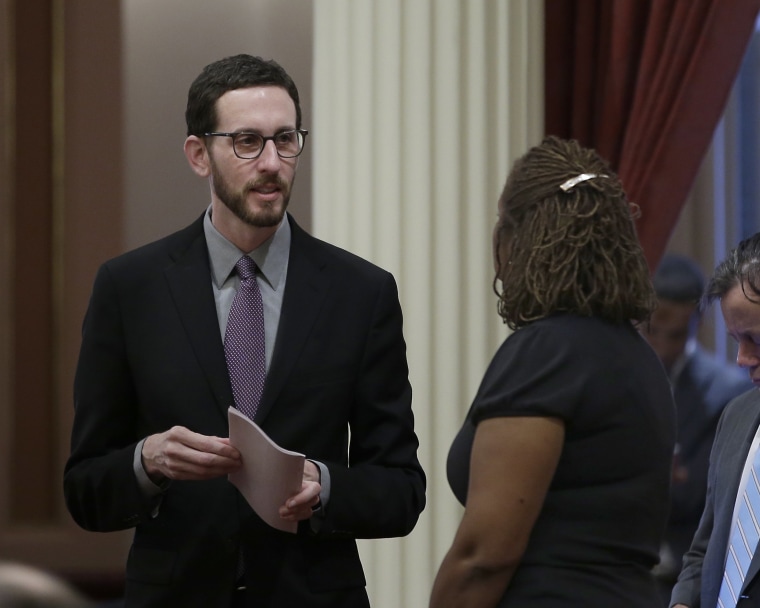 Mark Snyder, a nonbinary California resident and the communications director at the Equality Federation, said the new process — which is slated to start next year — will be a welcome relief.
"We will not be forced into the boxes of 'M' or 'F' anymore," Snyder, whose pronouns are they/them, told NBC News. "This will actually alleviate a lot of potential for discrimination, especially against nonconforming people who maybe don't look the way society would expect a male or female to look."
Snyder said they waited nervously on the night Brown signed the Gender Recognition Act into law, and they are eager to change the gender marker on their driver's license.
"I've never been more proud to live in California," Snyder said. "I've known I was different since I was a small child. I learned the word 'nonbinary,' and I thought, 'Oh, OK, that's me.' It feels good to be recognized for who I really am by our state and our governor."
Jeremy Goldbach, an assistant professor at the University of Southern California whose research focuses on the relationship between stigma and mental health in the LGBTQ community, told NBC News the new law could go a long way in improving the everyday lives of nonbinary California citizens.
"People who don't present as the sex that is listed on their documentation can have challenges engaging in the legal system and in simple things like purchasing alcohol or being pulled over," Goldbach said.
Goldbach also said the law could improve mental health. "Regardless of whatever minority status you carry, if you live in a world that is not affirming or is actively pushing against you, that is psychologically stressful," he said. "This law is a kind of structural acceptance that carries the message that we support you, beyond just shaking your hand. As a state, we support you."
Snyder echoed Goldbach's sentiment, and said during their work at the Transgender Law Center, they received a lot of calls about changing IDs. This, Snyder added "feels like the next logical step in reaching full equality in California."
"We [nonbinary people] are beginning to share our stories now more than ever before," Snyder said. "We are having a moment of visibility that's amazing to see. But we have a lot of work to do to build familiarity with our community."