On Monday, in a Santa Cruz courtroom, Sara Kelly Keenan became the second U.S. citizen—and the first California resident—to legally change her gender from female to "non-binary." Keenan followed in the footsteps of Oregon resident Jamie Shupe, who in June became the first person in the U.S. to successfully petition a court to recognize non-binary as a gender identity.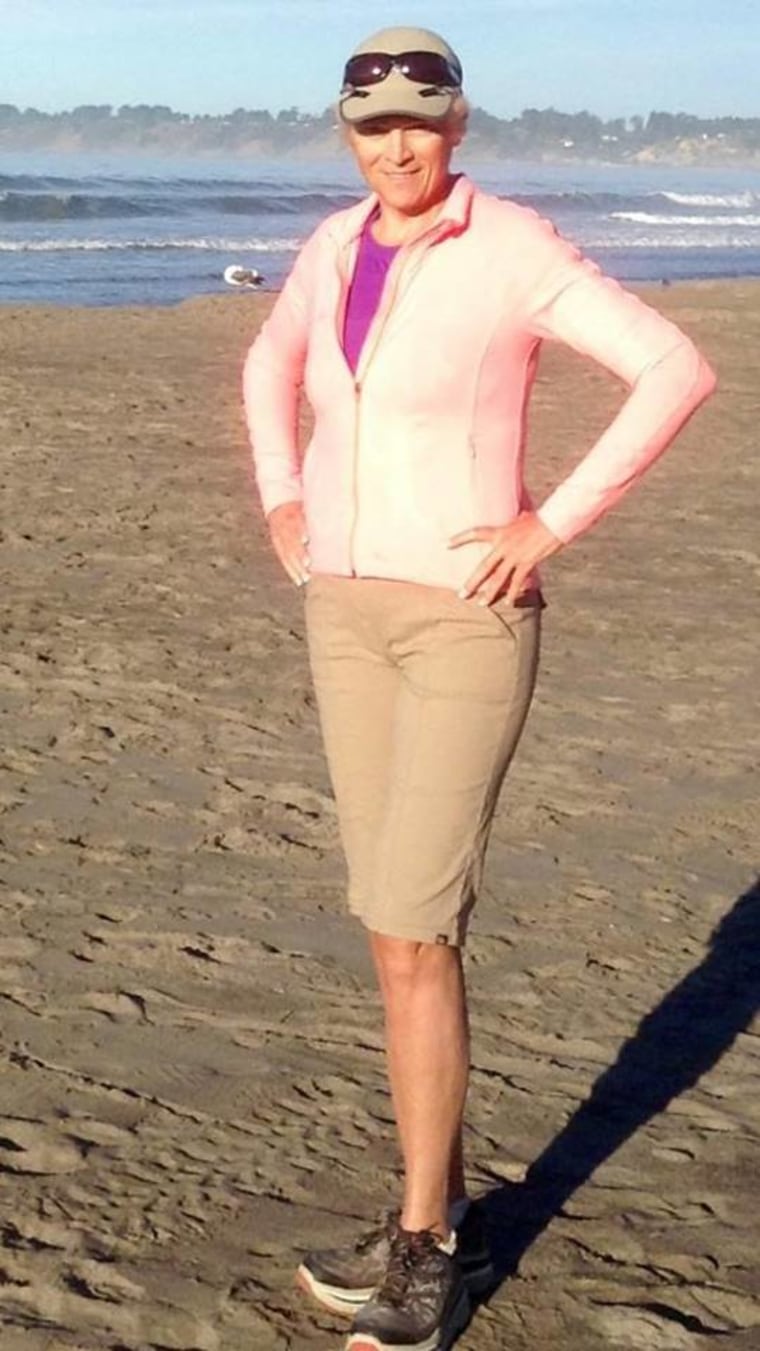 Keenan, a 55-year-old retired paralegal, told NBC OUT on Monday that she had never considered petitioning a court for a gender change to something other than male or female until Shupe's story made international news.
"Until Jamie did it," Keenan said, "I thought it was change that needed to happen through the legislative process."
Keenan was born intersex, with a condition known as Swyer Syndrome that prevents the body from producing sex hormones. When Keenan was a teenager and showed no signs of starting puberty, she was diagnosed and underwent a surgery to remove gonadal tissue—a process that she said was not fully revealed to her by her parents or doctors. Like most parents of babies born intersex, Keenan's mother and father chose her gender without consulting her in the process. After living her entire life as a woman, Keenan visited an endocrinologist seven years ago who confirmed her suspicions that she was born intersex.
Then on August 5, emboldened by Jamie Shupe's Oregon court victory, Keenan applied for a gender change.
"I identify as intersex, both as my medical reality and as my gender identification," Keenan said. "It never occurred to me that this was an option, because I thought the gender change laws were strictly for transgender people. I decided to try and use the same framework to have a third gender."
Keenan, who told NBC OUT she still prefers to use female pronouns, is not alone. Her court petition was a quiet, unannounced test case for a group of California people who also seek to change their legal genders to non-binary rather than female or male. About five people—all working with the Intersex and Genderqueer Recognition Project—plan to petition courts in the counties of San Francisco, Alameda, Santa Clara and Sacramento over the next few weeks.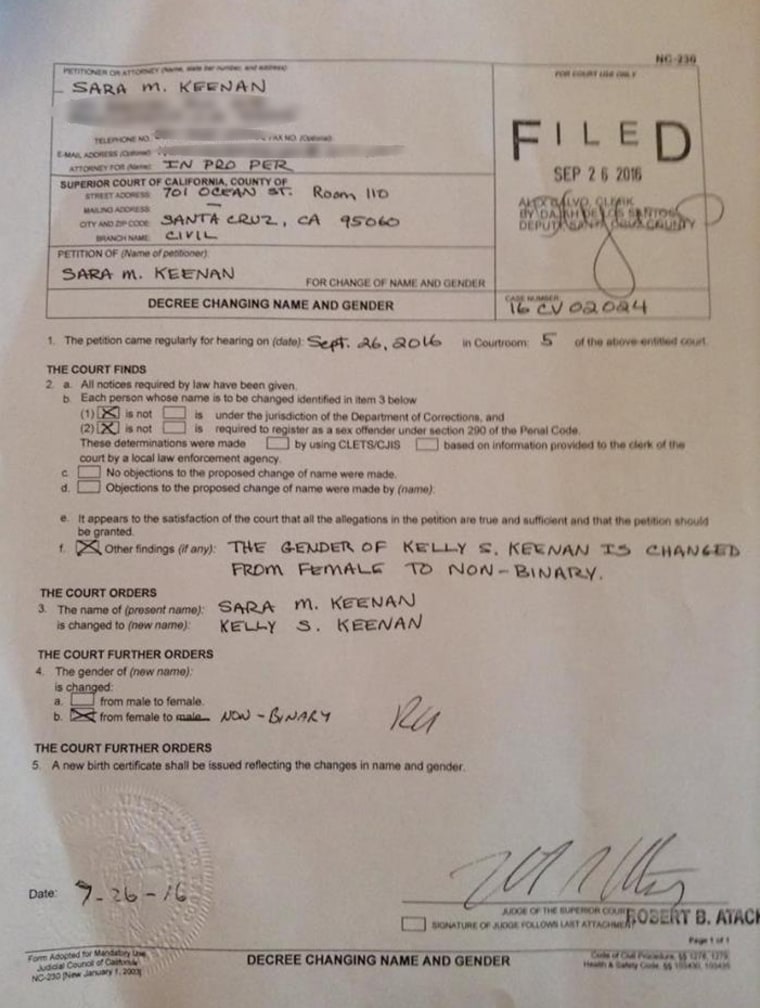 Unsure of whether California would recognize non-binary as a legal gender as easily as Oregon had in June, Keenan attended her scheduled court hearing Monday with a detailed argument prepared for the judge. Instead, she encountered Judge Robert B. Atack, who simply signed off on the gender change—albeit while acknowledging that his move was likely to push forward a complicated process for the state and for Keenan.
"I'm 55 years old, this doesn't really change my life very much," Keenan told NBC OUT. "But I want to leave the world a better place for younger intersex people. This represents a huge opportunity for acceptance and awareness for young non-binary and intersex and trans people—and for their parents."
Intersex people are not the only ones pressuring states to recognize a third gender that falls outside of, or somewhere between, male and female. For Jamie Shupe, the road to non-binary was pebbled with transitions: from male to female, and finally from female to "other."
"I view us as one and the same. I view being trans through the intersex lens," Shupe told NBC OUT on Monday. "The stuff with me having male biology and a female gender identity—that doesn't make me female. That makes me a mix of the sexes."
When Shupe's gender change from female to non-binary was approved in a Portland, Oregon court in June, it came as a sudden shock not only to the state's officials but also to transgender advocacy groups and powerful LGBTQ law firms. No one had ever successfully changed their gender to anything but male or female in the United States before, and most of the battles for such expanded gender recognition were taking place through legislative drafts or lawsuits like Lambda Legal's passport case against the State Department on behalf of an intersex Colorado resident named Dana Zzyym.
After Jamie Shupe, and now Sara Kelly Keenan, the movement to get the government to legally recognize a third gender has changed course—starting with relatively simple forms at local courthouses. But there's still a long way to go. As Shupe learned in the months after becoming the nation's first legally non-binary citizen, getting a passport or driver's license that includes the new gender is impossible—for now.
Also on Monday, Shupe's attorney received an unexpected email from the Oregon Department of Motor Vehicles:
"Last week DMV received the okay to move forth with forming an advisory committee and drafting administrative rules regarding the capturing of sex on the driver license. The rules will allow DMV to capture and print an identifier for sex other than M for male and F for female on the driver license, permit, and ID card."
The letter—signed by the Oregon DMV's Driver License Policy Program Coordinator Renee Davis—clarified that the process could take six months or more and did not promise a date by which the new system would enact. But the message was still clear: Jamie Shupe had won. And soon, Shupe's ID card will reflect the fact that they (Shupe prefers the pronoun "they" rather than she or he) are neither male nor female.
"The DMV letter came in first today," Shupe said. "But Sara's court order made me cry. I'm just amazingly proud of Sara for having the courage to carry the ball forward. I'm still emotional."
Oregon is a notoriously easy-going state when it comes to bureaucracy and is notoriously progressive when it comes to state policies—on subjects like LGBTQ rights, marijuana legalization and assisted suicide—that are controversial elsewhere. Will California be as acquiescent when it comes time for Keenan to update her license?
Even Toby Adams, Keenan's attorney and the legal representative of the Intersex and Genderqueer Recognition Project, isn't sure what to expect. Adams told NBC OUT that California is a "very big state with a big bureaucracy" to match.
"Now that Sara has this court order, she should be able to walk down the DMV and ask them to make this change," Adams said. "If the DMV is willing to work with us, that's the route we're going to go. If they're not willing to work with us, we'll continue to go to the legislature to make them comply."
Adams recalled the long years of the marriage equality movement as it moved dually through state legislatures and through the sheer force of countless same-sex couples bombarding courthouses with applications for marriage licenses. While the parallel is obvious, Adams was careful to point out that the non-binary gender recognition movement is still in its early stages.
"There are people waiting in line for this to be a possibility," Adams said. "People are born intersex, born with non-binary gender identity. You can't just sweep people under the rug and ask them to lie on their identification. Discrimination on the basis of sex is unconstitutional."