While many LGBTQ advocates in the U.S. have been fighting against retrenchment of their rights, Canada set an international precedent for the protection of transgender and gender-nonconforming people.
The Canadian Senate passed Bill C-16 by a 67-11 vote. The bill adds prohibitions against discrimination on the basis of gender identity and gender expression to the Canadian Human Rights Act, amends the criminal code to extend protections against hate speech and allows judges to take into consideration when sentencing whether a crime was motivated by hatred of the victim's gender identity or expression.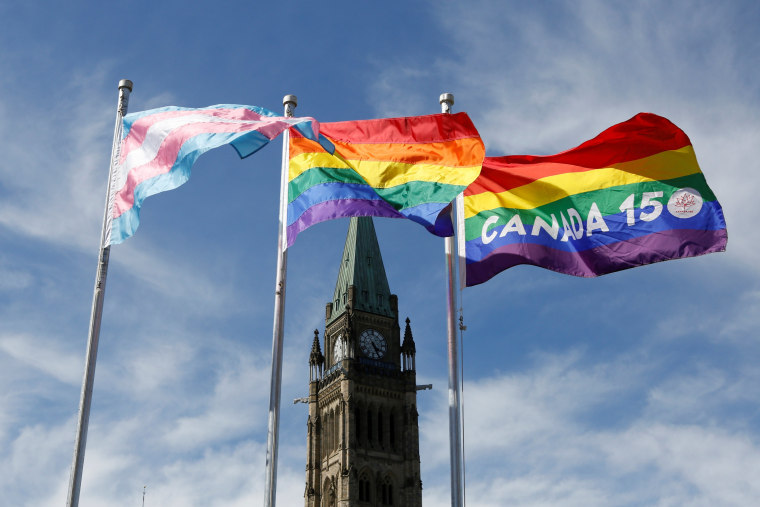 Randy Boissonnault, a member of Canada's Parliament and a special adviser to Prime Minister Justin Trudeau on LGBTQ Issues, called the bill "a critical extension of human rights."
"It is a great day for transgender Canadians and for the LGBTQ2 community in Canada," Boissonnault told NBC Out. "It saves lives," he added, noting the bill's far-reaching implications of prohibiting discrimination in any federally regulated sector.
Once the bill passes royal assent — a formality Boissonnault expects to occur next week — it will become law.
This week, Yukon became the last of Canada's 10 provinces and three territories to adopt provisions protecting gender identity. Thus, when Bill C-16 becomes law, transgender people will be protected at both the provincial and federal levels in Canada.
A Long Road
As advocates celebrate the win, it's easy to forget that the bill has not progressed without hiccups and controversy. Member of Parliament Bill Sikway introduced similar legislation more than a decade ago, and a subsequent bill, C-279, died in 2015 before coming to a vote.
C-16 was introduced in its current form in May 2016 under the politically auspicious circumstances of Justin Trudeau's Liberal Party government, but it was still slow to progress through the Senate. This prompted allegations that members of Canada's Conservative Party were stalling.
"[Bill C-16] recognizes that transgender people experience extraordinarily high levels of discrimination, violence and harassment, and for far too long the Canadian government has been complacent."
During the Senate hearings, opponents of the bill gave testimony against it, arguing it undermines free speech, "criminalizes" incorrect pronoun use and threatens "women only" spaces such as rape crisis centers. Arguments about free speech and pronoun criminalization have been debunked by legal experts, and several women's anti-violence organizations released a statement calling such testimony "harmful" and reiterated unequivocally that "trans women are women."
Marni Panas, a transgender advocate who gave testimony before the Senate, called the rhetoric against C-16 "thinly veiled transphobia."
"A lot of the rhetoric we hear just feeds into the common myths and misunderstandings about trans people," she told NBC Out. "It was a little disappointing to hear it in the Senate but not surprising."
Panas said C-16's opponents were "a loud minority, but a very small minority" and added that the Senate vote, which was overwhelmingly in favor of the bill, "was really reflective of how Canadians feel about this."
Impact of the Bill
In terms of the legal significance of the bill, Kyle Kirkup, a law professor at the University of Ottawa, said the legislation "plays both a practical and symbolic function."
"On the practical side," he said, "in human rights law it makes it crystal clear that trans and gender-diverse people can seek redress if they experience discrimination."
As a result, Kirkup said the legislation may push institutions like the criminal justice system to change policies that affect transgender inmates, such as their placement in gendered facilities.
"The Correctional Service of Canada is already looking at the policy and saying, 'We are vulnerable to a human rights challenge' and proactively changing policy," he explained.
Related: After Toronto Pride Exclusion, Canadian Cops Invited to Attend NYPD March
"On the symbolic side," Kirkup said, Bill C-16 "recognizes that transgender people experience extraordinarily high levels of discrimination, violence and harassment, and for far too long the Canadian government has been complacent."
For Kirkup, the public conversations surrounding the bill send the message to the trans community that "the government is trying to provide ways [to address] the discrimination, harassment and violence they experience."
As for Panas, she said she plans on taking a moment to contemplate the win but cautioned that "words and legislation mean nothing until we see it enacted on the front lines."
"Today we celebrate," she said, but "tomorrow we get back to work."