Washington, D.C. will be celebrating Capital Pride this weekend, but some members of the local LGBTQ community aren't on board with the festival's relationship with corporate sponsors.
D.C.-area resident Jen Deerinwater is a member of No Justice No Pride, which, according to its Facebook page, exists "to end the LGBT movement's collusion with systems of oppression that further marginalize queer and trans individuals." Deerinwater is also a citizen of the Cherokee Nation in Oklahoma and identifies as bisexual and Two Spirit.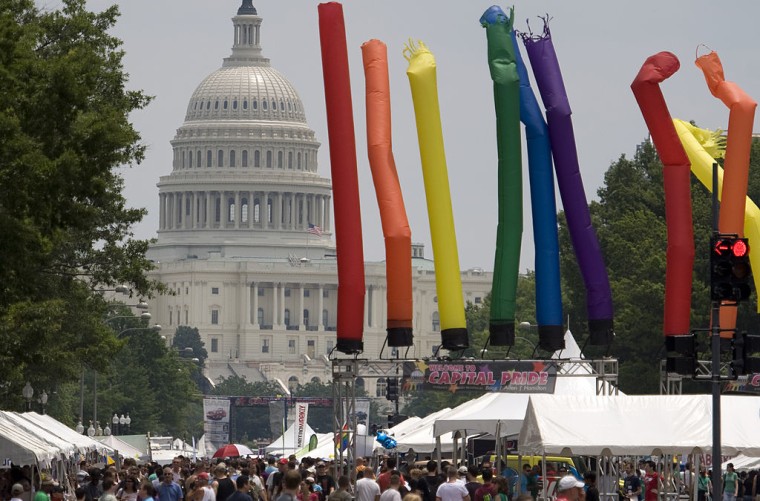 "No Justice No Pride is a group of people that came together within the last couple of months, originally to ask Capital Pride to stop banking with Wells Fargo," Deerinwater told NBC Out. "We tried to have a dialogue at [Capital Pride's] last board meeting, but the dialogue wasn't fruitful."
Deerinwater pointed to Capital Pride sponsor Wells Fargo's involvement in the Dakota Access Pipeline, which spawned protests from the Standing Rock Sioux and allies, as one reason for concern.
"Wells Fargo is one of the primary financial backers of the Dakota Access Pipeline," she said. "As an indigenous person and as a queer person, I cannot understand why Capital Pride would work with an organization that is actively causing harm to our community members."
Related: New York City Launches LGBTQ Health Care Bill of Rights
In a statement emailed to NBC Out, a Wells Fargo spokesperson countered the concerns of No Justice No Pride by pointing to the financial services company's longtime support of the LGBTQ community.
"Since 1992, celebrating LGBT Pride has been a part of Wells Fargo's larger commitment to diversity and inclusion. This year we are participating in over 60 Pride celebrations across the country, both in large cities and small towns. We are proud of our long, consistent commitment to Capital Pride and the opportunity it provides to support and engage with our DC-area team members and customers. We have stood together with the LGBT Community for 30 years and we remain committed to delivering thoughtful and strategic support to the community in the future," the statement read.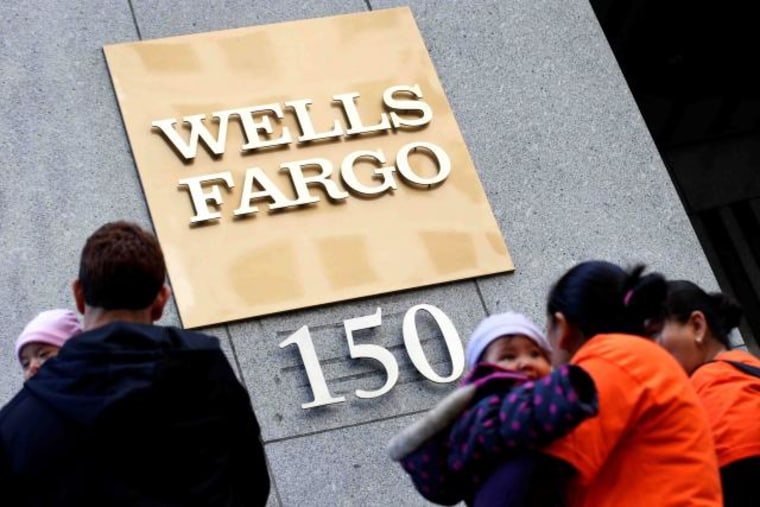 Longtime LGBTQ advocate Cathy Renna, who works with Capital Pride, told NBC Out that corporate sponsorship of Pride events has been a hotly debated topic for generations. She said Pride organizations, like Capital Pride, often find themselves caught between representing the interests of their diverse community and a need for funding.
"Wells Fargo has been a sponsor and supporter of the community for some time now, but I think that this year, there's a much more intense conversation and scrutiny of intersectionality in Pride," Renna explained.
"My wish is that we could have more conversations where our organizations are given more of the benefit of a doubt," she added. "Boards and staff have always struggled with challenges regarding corporate funding. It's a continuing conversation."
Related: After Toronto Pride Exclusion, Canadian Cops Invited to Attend NYC March
Wells Fargo is not the only Capital Pride corporate sponsor that No Justice No Pride objects to. Other sponsors include weapons manufacturer Northrop Grumman and Maryland Live Casino, whose parent company has ties to the Trump administration.
Among the demands of No Justice No Pride are unseating and replacing the Capital Pride board with "members from historically marginalized communities" creating "a community of resistance and radicalism around LGBTQ folks."
"There are things [Capital Pride] could do," Deerinwater said. "They could meet our original demands. They could drop Wells Fargo and drop some of their other corporate sponsors. But right now, we have a board that is accountable to the community, and they won't even speak to the community."
Renna, who said she was among 200 community members who attended the Capital Pride community meeting where corporate sponsorship was debated, described one of the many heated exchanges.
"We had one of the members of No Justice No Pride speaking about the displeasure that one of the sponsors is Northrop Grumman, because of their production in military equipment," Renna said. "Then someone stood up and said, 'I'm a veteran. Anyone else here a veteran?' This was a stark example of the breadth of diversity in our community, and we need to grapple with and respect [the multiple perspectives]."
No Justice No Pride is planning a "family friendly" march for "everyone who wants a Pride free from corporations, the police, banks like Wells Fargo and from military contractors like Lockheed Martin and Northrop Grumman" on Saturday, June 10, at 2 p.m. in D.C.