Pop singer Zelimkhan Bakaev left Moscow, where he lives, on Aug. 6 to attend his sister's wedding in his native Chechnya. But according to human rights advocates, he never made it to the celebration.
Two days after his departure, Bakaev was kidnapped in the Chechen provincial capital of Grozny, according to Tanya Lokshina, the Russia program director at Human Rights Watch. Who abducted him is still a matter of speculation, but Lokshina told NBC News that the most likely culprits are Chechen security officials.
"There were quite a few witnesses," Lokshina, who is based in Moscow, said. "He was dragged into a car, and he disappeared. It's been about three months."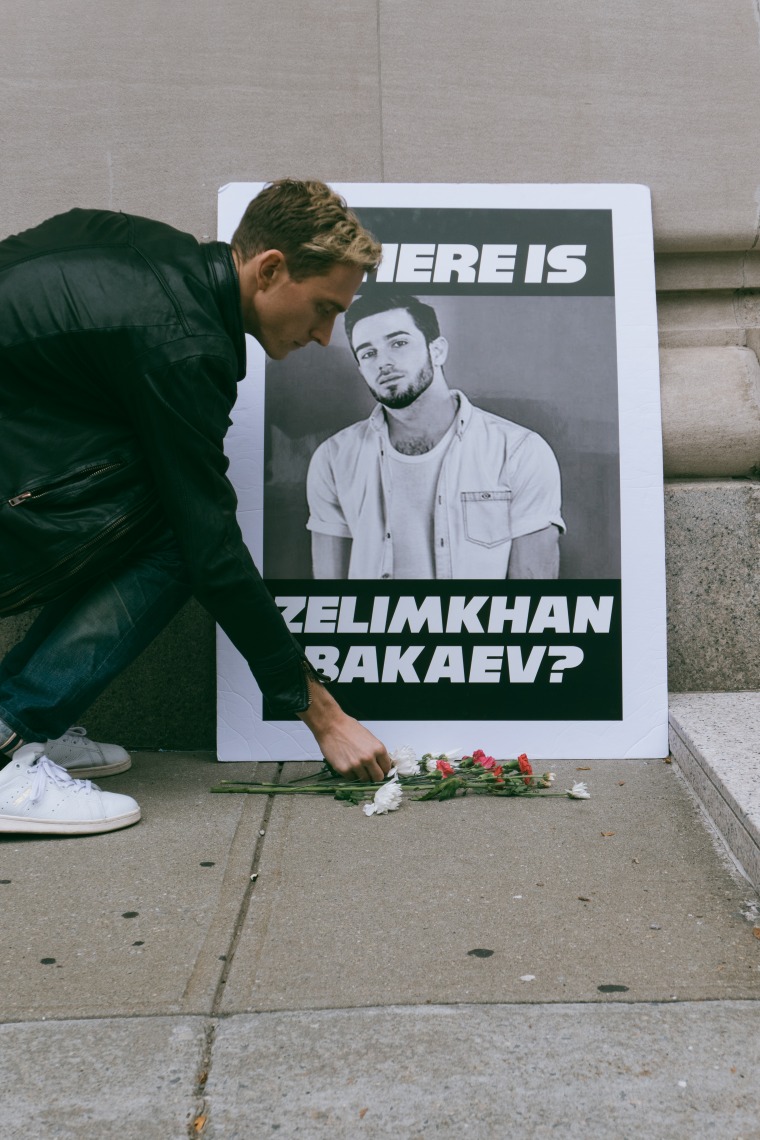 If true, Bakaev is perhaps the most prominent figure to fall victim to Chechnya's widely reported anti-gay purge under strongman Ramzan Kadyrov, who is said to run the semiautonomous Russian region like a fiefdom.
Kadyrov and other officials in Chechnya have denied any crackdown on gay people, going so far as to claim there are no gays in the region.
Bakaev has never publicly identified himself as gay, and doing so in Chechnya is considered to be extremely dangerous. However, he was widely speculated to be gay, in part because he was not married. The pop singer achieved moderate commercial success in Chechnya and even had a photo taken with Kadyrov.
His disappearance has fueled speculation in Western media, particularly LGBTQ news outlets and blogs, some of which, quoting anonymous sources, have reported that the singer had been tortured to death. Those reports have not been confirmed, leaving his fate, at the moment, uncertain.
"It is indeed possible he's alive, and we hope if he's alive he will be released," Lokshina said.
'Odd' YouTube Videos
In late September, two videos of Bakaev were uploaded to YouTube. In them, Bakaev said he left Russia for Germany in August, the month he was allegedly kidnapped. Both his friends and Lokshina, however, are suspicious of the videos.
"There's no doubt it was him, but the way he comported himself, the way he looked, seemed really rather odd," Lokshina said. "If you look at the video closely, the apartment where he's talking, it just doesn't look like Western Europe at all. It sort of looks like Chechnya or some neighboring region of the Northern Caucasus."
Bakaev's mother filed a complaint with Kadyrov "begging for his help," Lokshina said, adding, "Under the circumstances, there's just no way I would believe that he sends a joking sort of video to a friend of his without actually contacting his family."
According to Vladislav Lobanov, a Russia-based fellow at Human Rights Watch, Bakaev's friends have said he did not look like himself in the videos, that he looked "ruffled" with a "sloppy haircut" and appeared to have lost a lot of weight. His friends are convinced, according to Lobanov, that Bakaev was forced to record the videos by his captors.
Lobanov, in a Nov. 7 report, also states said one of the leaders of the Russian LGBT Network, Igor Kochetkov, told him some of the suspected gay men who were allegedly detained and tortured by Chechen officials were questioned about Bakaev's sexuality.
International Pressure
Bakaev's disappearance inspired a protest in front of the Russian consulate in New York City on Tuesday. Activist Adam Eli Werner, founder of Voices 4 Chechnya, said he organized the demonstration along with RUSA LGBT to send a message to the rest of the world.
"There's a huge amount of press on Zelim's disappearance, but there's very little press on the global LGBT response to it," Werner told NBC News. "When violence like this happens in one country and there's no ramifications, other countries follow suit."
Werner and around 50 others met in Central Park before assembling in front of the Russian consulate. Werner said he hopes an investigation is opened into Bakaev's disappearance and, as anti-LGBTQ sentiment rises in areas like Indonesia, Egypt and Azerbaijan, that LGBTQ people around the world see Americans are watching and care.
"We want this gay global consciousness to see violence is spreading, and the only reason it's spreading is no one is doing anything about it," Werner said. "One of our big quotes is, 'When you mess with one queer, you mess with us all.'"
Openly gay Ukrainian journalist Maxim Eristavi echoed Werner's sentiments and told NBC News international pressure can be effective in achieving results. He mentioned Azerbaijan and Tajikistan, where a registry has been created of suspected gays and lesbians, as areas that also need attention.
"International pressure can prevent the worst from happening," Eristavi said. "With similar campaigns developing now in nations neighboring Russia, like Azerbaijan and Tajikistan, international pressure [can prevent] the worst from happening before it's too late."
The Russian consulate did not respond to NBC News' request for comment.
Maxim Lapunov, an openly gay Russian man, was the first person to come forward publicly to accuse Chechen authorities of kidnapping, detaining and torturing him due to his sexuality. Following a news conference he participated in last month regarding the persecution of gay people in the region, the office of Chechnya's prosecutor reprimanded local law enforcement agencies for failing to investigate Bakaev's disappearance.
But Human Rights Watch said questions have not yet been properly answered, and they hope mounting international pressure will bring the truth about Bakaev's whereabouts to light.
"Moscow should go beyond window dressing and properly answer questions about Bakaev's fate and whereabouts," Lobanov said.