Army whistleblower Chelsea Manning walked out of a military prison early Wednesday after seven years behind bars.
Manning's 35-year sentence for leaking an enormous trove of military intelligence records was commuted by President Barack Obama in January.
At the time, the White House said Manning had accepted responsibility, expressed remorse and served time.
A U.S Army official confirmed to NBC News that she was released from Fort Leavenworth military prison at around 3 a.m. ET.
Manning made her first statement as a free woman on Wednesday, according to a statement sent out by the ACLU.
"After another anxious four months of waiting, the day has finally arrived," said Manning. "I am looking forward to so much! Whatever is ahead of me is far more important than the past. I'm figuring things out right now — which is exciting, awkward, fun, and all new for me."
She also uploaded the first photo taken of her in years, a snapshot of her shoes that she posted to a brand-new Instagram account.
A few hours later, Manning's dreams of finally eating a slice of pizza came true.
Pfc. Manning, 29, will remain an active-duty soldier in the U.S. Army, but she won't be paid a salary and it's highly unlikely that she will be called to serve. However, her "excess leave" status will legally entitle her to military medical care, along with commissary privileges.
The Crescent, Oklahoma, native tweeted after being granted clemency that she plans to move to Maryland. Neither she nor her attorneys explained why, but she has an aunt who lives there.
Manning, a former intelligence analyst in Iraq, is still appealing her conviction in a case that could take years. The government has yet to respond to the appeal.
"She is looking forward to eating pizza, swimming, playing PlayStation and meeting the many friends who have supported her over the years"
Then known as Bradley Manning, she leaked nearly 750,000 military files and cables to WikiLeaks aged 22. The materials included battlefield video.
Manning said she wanted to expose what she considered to be the U.S. military's disregard of the effects of war on civilians and that she released information that she didn't believe would harm the U.S. No document was classified higher than secret and her defenders say no one was endangered by the leaks.
Critics said the leaks laid bare some of the nation's most-sensitive secrets and endangered information sources, prompting the State Department to help some of those people move to protect their safety. Several ambassadors were recalled, expelled or reassigned because of embarrassing disclosures.
Manning was court-martialed and sentenced in 2013 to 35 years in prison.
In a statement given to NBC's TODAY the day after sentencing, Manning came out as a transgender woman.
Manning said in a statement released by her attorneys last week that she was looking forward to being released from Fort Leavenworth.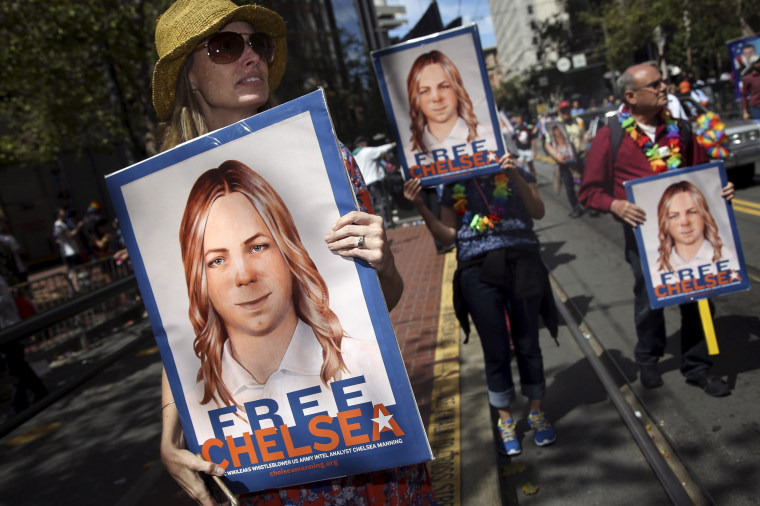 "For the first time, I can see a future for myself as Chelsea," she said. "I can imagine surviving and living as the person who I am and can finally be in the outside world. Freedom used to be something that I dreamed of but never allowed myself to fully imagine."
Manning's ACLU attorney and transgender advocate, Chase Strangio, told NBC News that the current focus is on "building her life" once she steps out of prison.
"She is looking forward to eating pizza, swimming, playing PlayStation and meeting the many friends who have supported her over the years but who were never allowed to visit in person," Strangio said. "Beyond that, she is waiting to experience life outside of prison before declaring any future plans. After so many years of government control over her body and gender, I know she is eager to grow her hair, express her gender and negotiate decisions on her own terms."
Manning attempted suicide twice last year — once in July, another in November — while imprisoned in Kansas. She also began a hunger strike last September over what she says was the lack of treatment she was receiving for her gender dysphoria.
The Department of Defense has repeatedly declined to discuss Manning's treatment in prison.
Two fundraising projects are underway, with supporters raising money to fund Manning's transition from prison back to civilian life. On GoFundMe.com, over $150,000 had been raised by Wednesday to pay for "rent, utilities, health care, clothing, and other living expenses for the first year."
Also on Wednesday, a group of musicians released a benefit album called Hugs For Chelsea. The compilation was created by transgender songwriter Evan Greer, and features high-profile artists from rock, indie, hip-hop, and punk genres. Thurston Moore (Sonic Youth), Graham Nash (Crosby, Stills, Nash & Young), Talib Kweli, Against Me!, Mirah, Amanda Palmer, and others contributed songs to the $25 release, with REM's Michael Stipe posting a short video on Twitter to encourage people to purchase it online.
However, not everyone thinks Manning deserved to be freed.
President Donald Trump, days before being inaugurated, wrote on Twitter that Manning is "TRAITOR ... who should never have been released from prison."
House Speaker Paul Ryan said at the time that Obama's decision was "outrageous."
He added: "Chelsea Manning's treachery put American lives at risk and exposed some of our nation's most sensitive secrets."