Collin Martin, a soccer player for Minnesota United, announced on Twitter Friday that he is gay, becoming the only openly gay male player in any of the major North American sports leagues.
"Tonight my team, @MNUFC , is having their Pride night. It's an important night for me — I'll be announcing that I am an openly gay player in Major League Soccer," the player tweeted.
In an exclusive interview with NBC News, Martin said his teammates already knew that he was gay before he came out publicly. "It was so comfortable for me to then let them know that I wanted to take another step," he said.
"I'm the only one out right now," said Martin, 23, who previously played for DC United. "I think it is important. I think people need to hear that, and I think there are others out there."
Previously out professional athletes, like soccer player Robbie Rogers, basketball player Jason Collins and football player Michael Sam, are no longer active, making Martin distinctive.
"Sports in general, no matter the level — college, youth, professional — people are going to accept you wholeheartedly as long as you are yourself and you're honest with your teammates," Martin said.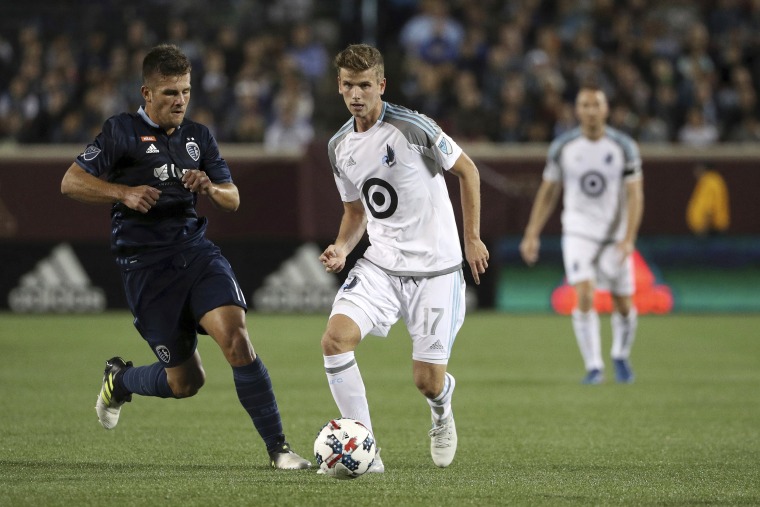 Besides his teammates, Martin was already out to friends and family, so he said it was a decision he made for other people. "I've been thriving on my own, and very comfortable in my own body and in a professional setting for a while now, but I think other people need to hear that," he said.
He credits his teammates' acceptance with making the public coming-out process easier. "I'll tell the guys I am going a on date, and the next day I hope they ask me about my date." They do, he said, "and that makes me feel special."
In an interview with NBC News, Hudson Taylor, the executive director of Athlete Ally, a group that aims to end the homophobia in sports, said Martin joins a select group of male professional athletes who came out publicly. "We can still count the number of current or former openly gay athletes on pretty much two hands," he said.
"Sport teaches a very narrow definition of masculinity and femininity," Taylor said, "and if you don't conform to that very narrow definition, you're gonna be met with a culture that uses a lot of homophobic, sexist language, and as a result is not perceived to be a very accepting space."
Taylor said LGBTQ youth drop out of sports at twice the rate of their straight counterparts, perhaps in part because of the culture he described. "We know there's a dropoff on the collegiate level and the professional level" of gay players, he said.
People are coming out at younger ages now, he said, but many current players are most likely still closeted. "My assumption is there are LGBT athletes on every team, and if they're not on the team this year, they have been in the past two years or five years," he said.
Martin said the timing of his announcement was a conscious choice: Friday night is the team's pride game.
As for that, he said, "I hope we win."