Jhon Restrepo and his colleagues knew the risks when they began organizing the first Pride march in Medellín's Comuna 8. The paramilitary gangs that controlled the impoverished district's mountainside slums had shown little warmth toward the activist group, which had been set up in 2006 to defend the rights of the local LGBTQ population.
"They came in heavy handed while we were decorating the float," Restrepo said. "They told us if we did the march, the streets would be covered in feathers and blood."
"What happened to us went beyond prejudice and homophobia, these were armed groups carrying out a political and economic war in our communities."
Amid tight security, the march passed off peacefully. But that incident, in 2010, was the start of a two-year campaign of intimidation and violence during which members of the 30-strong group were threatened, beaten up and stabbed. The activists, whose spirited, community-based work and broad public support was seen as a challenge to paramilitary hegemonic control, were fast becoming a "military objective." Fearing for their lives, the group disbanded, and its leaders, including Resetrepo, were forced to leave Comuna 8.
"It was a question of survival during those two years," the 30-year-old said.
Despite the risks, the displaced activists refused to back down. Having reformed in 2014, the group –- down to just eight members after others could not be persuaded to return –- began to document their experiences with Colombia's Center for Historical Memory, a public body that gathers information about violations committed during the country's five-decade armed conflict.
The group's bravery and determination paid off earlier this year when they became the first LGBTQ collective to be included on Colombia's war victims register –- an official recognition of their status as victims of the conflict. In an eight-page report, the country's Victims Unit acknowledged a grave violation of the group's collective rights to "security, free association, and organizational autonomy." The report was unequivocal: They were targeted by the paramilitaries because they were LGBTQ activists.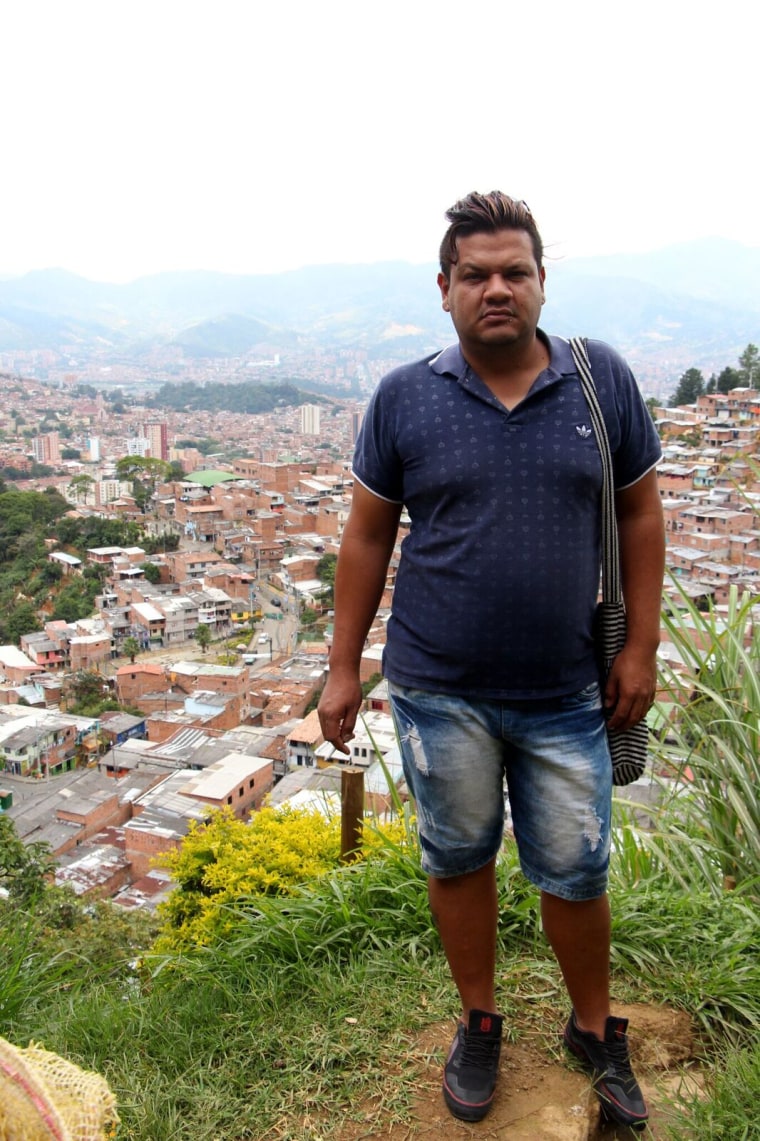 "What happened to us went beyond prejudice and homophobia, these were armed groups carrying out a political and economic war in our communities," said Restrepo, back home in Comuna 8's Esfuerzos de Paz neighborhood. "It was also a moral war that sought to maintain a strict patriarchal order. We were a strong movement that violated their idea of what it meant to be a man or a woman."
With Colombia on the brink of signing off a landmark peace agreement between the government and the country's largest left-wing guerrilla group, the Revolutionary Armed Forces of Colombia (FARC), and the prospect of other armed groups agreeing to lay down their arms, campaigners hope more LGBTQ victims of the fighting will come forward and give detailed testimony of their experiences.
During a conflict that has killed 220,000 people and forced 6.7 million from their homes since 1964, FARC, National Liberation Army (ELN) guerrillas, right-wing paramilitaries and even the armed forces have routinely targeted those with diverse sexual orientations and gender identities.
Of the nearly 8 million individuals listed on the victims register, 1,709 officially identified themselves as LGBTQ. More telling, perhaps, are the 59,135 who chose not to reveal their sexual or gender identity. "Social stigma, prejudice and discrimination, which intensify in a situation of armed conflict, make these communities fearful of admitting their sexuality," the Victims Unit said.
Meanwhile, Colombia's Human Rights Office said a quarter of the reports it received last year of discrimination and violence against LGBTQ people were committed within the context of the hostilities. Most cases were linked to homicides, death threats, forced displacement, sexual abuse and the imposition of gender stereotypes.
"Every day we struggle to survive, and we're tired, we're tired of fighting. But we know if we give up, we allow these situations to continue and to remain invisible."
"Violence against the LGBT community was not invented by illegal groups engaged in the conflict," said Marcela Sánchez, director of Bogotá-based Colombia Diversa. "But we've found that this violence increases in conflict zones. Armed groups that have committed crimes against the LGBT population have shown their personal prejudices through violence."
Sánchez also strikes a cautious note when weighing the potential impact of a definitive peace deal, which Colombians will have the chance to approve in a plebiscite on October 2.
"It's a move in the right direction," she said. "But even if the guerrillas lay down their weapons, it will still not be sufficient to prevent other groups committing abuses. Emerging criminal gangs continue to threaten the lives of LGBT people in different parts of the country."
Gregory García, director at the Medellín-based Sexual and Gender Diversity Centre, is more brutal in his assessment, believing a peace agreement will only change the lives of the LGBTQ population "when society recognizes that all of us are equal regardless of differences in identity and gender."
For his part, Jhon Restrepo describes the peace deal as a "fundamental step" toward reducing violence against minority groups. Apart from the demilitarization of the country's largest insurgency force, a lasting peace could eventually pave the way toward reconciliation with the group's assailants. "But that's a long way off," he said. "And this is still a conflict zone."
As well as reaching out to other LGBTQ groups in Colombia that have suffered similar abuses, a more immediate challenge for the group is access to reparations, a key part of the negotiated settlement between the government and the FARC. Colombia has earmarked billions of dollars to be paid in settlements to victims of the war, although to date just 629,000 individuals have been compensated.
"Reparation has to be something material, but not necessarily in terms of money or infrastructure," said Restrepo. "What we want are guarantees, mechanisms for protection."
"Every day we struggle to survive, and we're tired, we're tired of fighting. But we know if we give up, we allow these situations to continue and to remain invisible."