October 11 is National Coming Out Day in the United States, and it's widely celebrated in America's LGBTQ community as an opportunity to share individual coming-out stories as well as to reflect on social gains.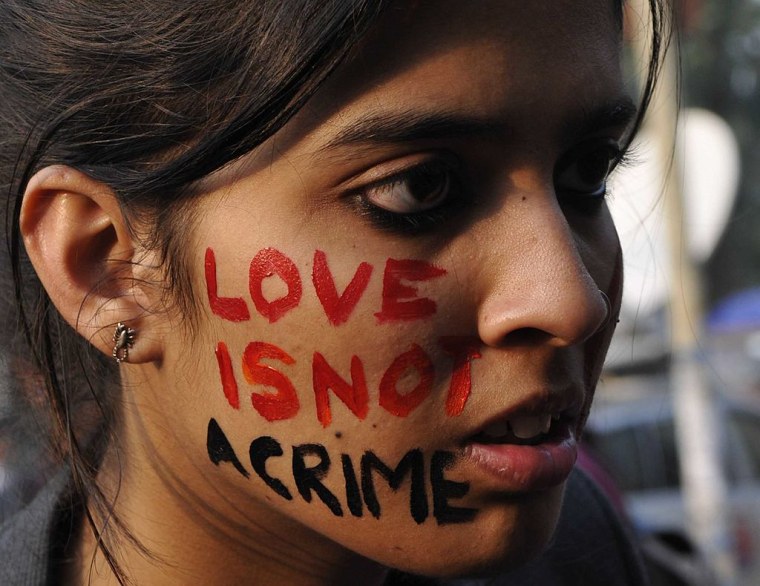 But in more than 70 countries around the world, coming out isn't always worth celebrating (yet). In the nations that criminalize LGBTQ people, coming out—or being forcibly outed—can result in banishment, jail or even death. Téa Braun, Legal Director at the Human Dignity Trust, said Coming Out Day stands as a reminder that there's still a long way to go.
"Coming out is still a life and death question in many places around the world," Braun told NBC OUT. "LGBT people continue to be arrested, prosecuted, lashed, raped, forced or coerced into straight marriages, assaulted and murdered if their identity is known or suspected."
After the 2015 Supreme Court decision that legalized same-sex marriage across the U.S. and a string of federal policy changes that have made schools and healthcare providers more LGBTQ-inclusive, some Americans may feel as if the battle has been won. But in countries like Uganda, the past few years—with increasing LGBTQ visibility and trends toward acceptance worldwide—have been worse than ever.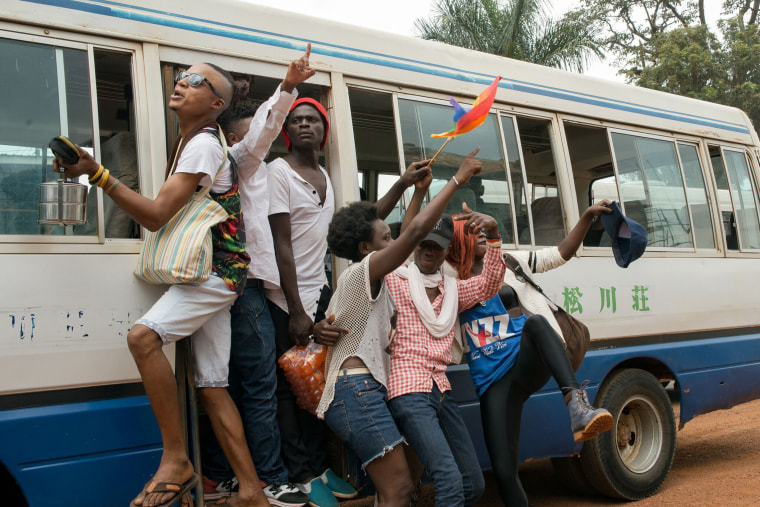 An April 2016 report published by Sexual Minorities Uganda (SMUG) showed that violent crimes and police and government harassment against the LGBTQ community increased after the country passed a vicious Anti-Homosexuality Act in 2014. The law has since been overturned by a court, but its intended consequences (life imprisonment for gay sex) have increased stigmatization of Uganda's LGBTQ community.
Braun said that international policy is trending toward LGBTQ equality, with Belize, Seychelles, Mozambique, Nauru and Palau recently decriminalizing homosexuality. But as a smattering of nations slowly drop laws that send LGBTQ people to jail or death row, the situation remains dire for many elsewhere.
Coming out is particularly risky in Islamic nations in the Middle East, where the majority of countries either have laws on the books that punish homosexuality with the death penalty (whether or not the penalty is enforced), or where executions frequently occur despite no specific law mandating them. According to the International Lesbian and Gay Association's (ILGA) 2016 report State-Sponsored Homophobia, those nations include Iran, Saudi Arabia, Yemen, Qatar, Afghanistan, Pakistan, Iraq, United Arab Emirates and Daesh/the Islamic State (which is not recognized as a country).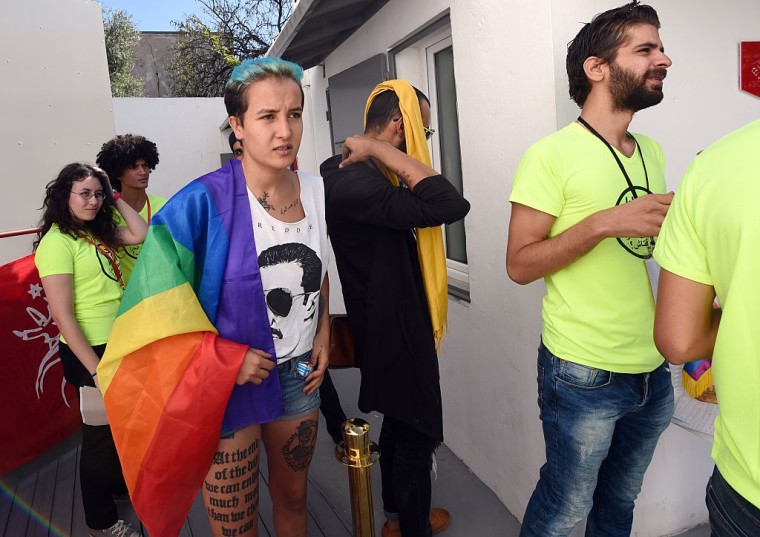 There's a certain Catch-22, though, to visibility and coming out in countries that criminalize LGBTQ populations.
"Visibility is key for the advancement of LGBTI human rights," ILGA Executive Director Renato Sabbadini told NBC OUT via email. "Most people are more likely to understand the discrimination LGBTI people face and empathise with them if they realize that the LGBTI acronym is used not to refer to an empty abstraction—but to identify a set of real people, including their children, relatives, friends or colleagues."
Sabbadini was referring specifically to the findings of ILGA's Global Attitudes Survey on LGBTI People, conducted in partnership with the television network LOGO. The 2016 survey found that 34 percent of respondents had become more accepting of LGBTQ people in the past five years, reporting that their favorable attitude shifts were a direct result of knowing an LGBTQ person. The numbers show that just by being out, an LGBTQ person can instigate social change starting with their own communities.
"Coming out is still a life and death question in many places around the world ... LGBT people continue to be arrested, prosecuted, lashed, raped, forced or coerced into straight marriages, assaulted and murdered if their identity is known or suspected."
But even when being LGBTQ isn't punishable by death or life imprisonment at the hands of your government, it's not always safe to be out. Stan Ibrahim is a Kuwaiti transgender man who publishes the world's only Arabic-language transgender magazine. He shared his own coming-out story with NBC OUT, explaining that while being LGBTQ can get you sent to jail in Kuwait, "at least you won't be killed or beheaded."
"I thought that being a transsexual is to have a mental illness that will go away after going to a psychologist," Ibrahim wrote in English in a direct Twitter message on Tuesday. He said he started to come out as transgender at age 14, and his parents were shocked—insisting that it is a phase that will end by the time he graduates college later this year.
In the U.S., the transgender community struggled for years to not be seen as mentally ill. The removal of Gender Identity Disorder from the American Psychiatric Association's Diagnostic and Statistical Manual of Mental Disorders in 2013 was celebrated as a step toward destigmatizing the community. But in Kuwait, as in many Middle Eastern countries, transgender people are struggling to have gender difference accepted as a mental health status—because then, at least, it might be treated as a fixed human condition rather than as a depraved choice.
Kuwait currently criminalizes transgender people under a 2007 law that bans "imitating the opposite sex." Ironically, the law makes no provision for Gender Identity Disorder—a medical condition recognized by the country's Ministry of Health. As a result, according to Human Rights Watch, transgender women in particular are arrested and abused by police on a regular basis.
Apart from the frequent arrests, Ibrahim said that being LGBTQ in Kuwait is marked by constant bullying, harassment, and mockery from family and peers.
"[My father is] driving me to college every day, and every day he mocks my hair and my dress," Ibrahim said. "So he is my number one bully."
"Religious families take their LGBT children to a cleric or sheikh. And of course they'll be punished, they'll face a lot of physical violence," Ibrahim explained. "Parents won't let their daughters and sons become your friend. And if anyone saw you hanging out as queer or LGBT, they have the right to litigate you. And the law stands by them."
Despite the hardships, though, Ibrahim told NBC OUT he's glad he came out—even if it meant potentially risking his family, friends and even his life.
"Staying closeted is worse," Ibrahim said. "You'll hate yourself and you'll be ashamed of who you are. I don't accept being marginalized."