Sloane is 38 days old today. I know this because I mark each day with a victorious pen stroke in my journal: one more day we've kept our very own human Tamagotchi alive! My husband and I roll out of bed in fugue states, down double Nespressos and enter Sloane's nursery to begin a routine that hasn't deviated much since we brought her home from Colorado, her birthplace via surrogacy.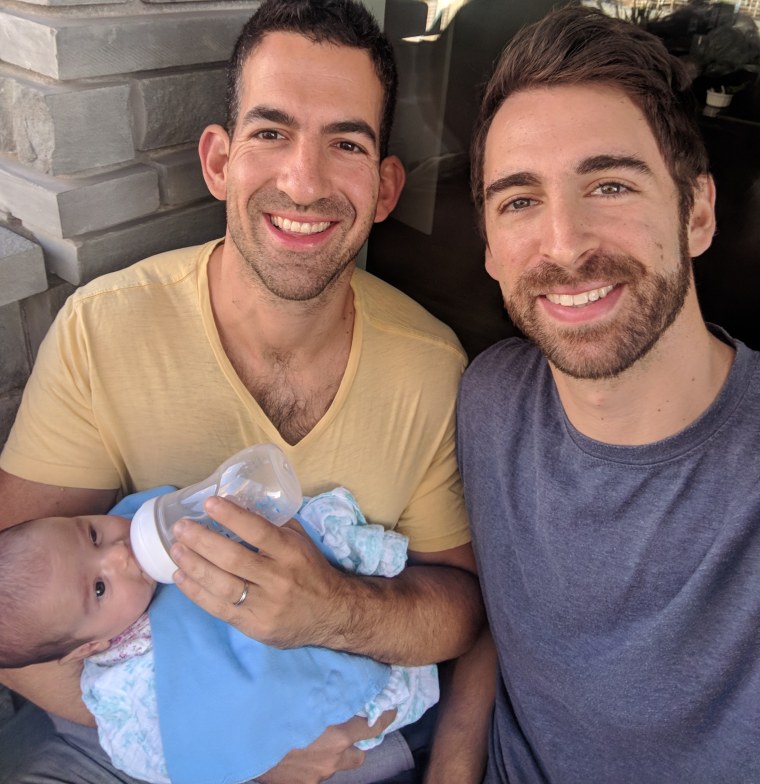 They call these the "longest-shortest" days: We creepily huddle by Sloane's bassinet until she wakes up, feed Sloane, swaddle Sloane, change Sloane's diaper, re-swaddle Sloane, stroller Sloane while walking our puggle Sofia, change Sloane's diaper, feed Sloane, change Sloane's diaper, forage for food… and repeat that three-hour cycle over and over again. Sloane World knows no circadian rhythms. Sloane World has swallowed the earth.
A key omitted detail: We are prioritizing getting out a bit. Initially, Sloane World was confined to our apartment — the outside environment relegated to an ephemeral construct — but we quickly realized this was a surefire way of driving us both to the brink of insanity. Yesterday, we shuttled Sloane uptown to Central Park and spent a lovely half-hour pushing her through the rambles before she launched into an epic meltdown. We've been investigating stroller tours at the Whitney and other museums in the city. And we've been taking her out to eat with us when the timing works between feedings. She's still a little too small for the carrier we have, so we've been force-feeding her extra milk like a foie-gras duck so that she'll gain those few more pounds and we can finally strap her to our chests.
If I'm being brutally honest, Raising Sloane is already a huge challenge for me. Old Dave is impatient, maybe a little selfish, loves being busy, craves intellectual stimulation. Old Dave is that guy who nudges people out of the way to make a subway train right as its doors are closing. Old Dave secretly enjoys having a Google Calendar chockful of meetings even though he'll complain he doesn't have enough free time to get his actual work done.
But suddenly there's this New Dave who's expected to have the disposition of a Buddha, who resorts to Jedi mind-tricks in order to calmly change the fourth poopy diaper in an hour (Sloane currently has a stomach ache and it's been a literal Poo-maggedon around these parts). New Dave waits for the traffic light to change even when the streets are empty before crossing with his stroller. And New Dave only smiles beatifically when Sloane throws up sour milk on his freshly laundered shirt, only for her do it all over again after he's put on a new one.
It's not like I didn't go into this with both eyes wide open. My friends who have kids — predominantly heterosexual — warned me about the intense sleep-deprivation, the hour-long feedings, the manner in which my entire existence would be subjugated by the will of an eight-pound creature who only communicates by whimpering like a small forest animal caught in a trap. My husband and I spent over two years devoted to Sloane's conception, a long enough stretch of time to affirm and reaffirm our desire to be parents. But of course, it's one thing to know this stuff intellectually and a very different thing to experience it firsthand.
As you can gauge from reading this, Old Dave is still the dominant persona. When he's at the helm, Raising Sloane can be mind-numbingly infuriating. Old Dave scrolls through Instagram now more than ever, feeling pangs of jealousy at sun-drenched posts of Mykonos and Fire Island. But New Dave is slowly emerging (with my husband's coaxing), and when Sloane looks up at me with those constantly shifting expressions of hers, her body twitching like crazy because she's so alive and keen to absorb a constant stream of new stimuli, my heart feels like it's bursting. Not just a flowery metaphor: At times it really does feel like my body can't contain anything else, like the love I feel for my daughter has swelled beyond my heart's physical limitations.
Sloane World is lonely and isolated. But Sloane World is also the most amazing, most beautiful microcosm I have ever experienced. This duality is hard to pin down in language, and yet I'm sure it's what almost every new parent, gay or straight, goes through. The highs and the lows, the utter bewilderment — Sloane is really our freaking DAUGHTER! — existing alongside the profound boredom.
As I'm typing this, Sloane is shrieking in my lap, pee dribbling out her diaper onto the gym shorts I haven't used for working out in weeks. But I can say this truthfully with every fiber of my being: I wouldn't change Sloane World for a thing.
David Bledin, with his husband Bart, recently launched the YouTube channel Two Men and a Baby to help those looking to start their families via surrogacy.