LGBTQ activists from Washington, D.C., to Los Angeles took to the streets last week to raise awareness about the lack of national gun control legislation. With more events planned for the coming months, is the issue of gun control becoming the next queer cause? And if so, what does this mean in the run-up to the November election?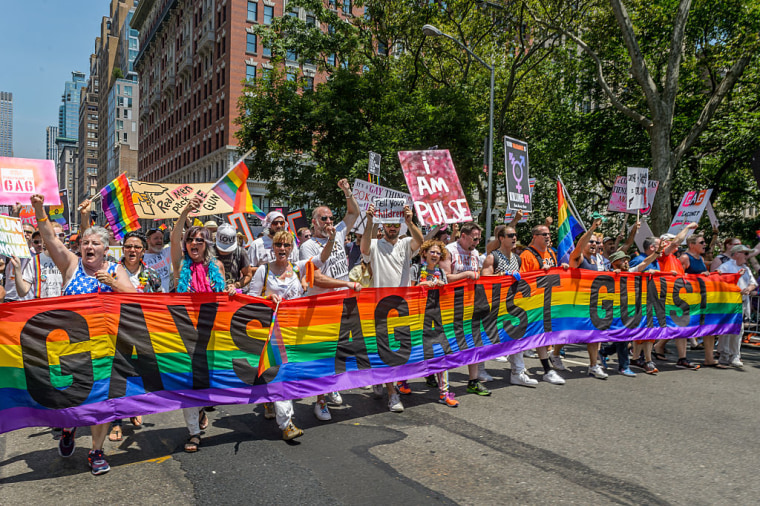 From Orlando to November
For many of the organizers behind recent demonstrations, the shooting at the Orlando nightclub Pulse catalyzed their interest in gun control and their determination to make change. Kevin Herzog started the group Gays against Guns (GAG) in New York City in the wake of the Orlando massacre, and since then, chapters have sprung up in across the country.
RELATED: 'Gays Against Guns' Stages Die-Ins and NYC Pride March
While activists welcomed the increased public interest in the issue after the Orlando shooting, the LGBTQ community has been affected by gun violence for some time.
"It was very tragic that we lost 49 lives [in Orlando]. The disturbing thing is that when those lives were black and [transgender], there was not this much support," Ashlee Marie Preston, a diversity speaker and media advocate, lamented. Preston is currently taking a cross-country road trip to film "Disarm Hate: The Documentary."
"When you look at gun violence, it's a multi-pronged problem. No single court case or legislative action will resolve the issue. There is no single solution."
It is also significant that 2016 is an election year. Abe Gurko, founder of the LA chapter of Gays Against Guns, called this an advantage and sees an opportunity to exert pressure locally.
"The election in November is not only about the president," he said, stressing the need to look down ballot nationally as well. "What we're up against is people in the House and the Senate who refuse to vote on sensible gun laws."
Election or not, reforming gun laws is a daunting task. In June of this year, Jason Lindsay founded Pride Fund, a political action committee aimed at raising money for pro-LGBTQ candidates who support gun reform.
"There are so many policy problems at play here, it's not going to go away in one election cycle, not in two. This is not a campaign that ends with the election," Lindsay said.
The election means politicians may shy away from the issue because so many rely on campaign contributions from the National Rifle Association (NRA). Election season also increases the chances that the issue will become politicized in a way that stigmatizes certain communities.
According to Preston, gun violence has become a "campaigning tool" for some politicians who have "made it about ISIS."
"Now there are Muslim Americans that are being profiled," she added. "It happened in 9/11 and it's happening again."
More Than Just Guns
For Lindsay, gun control is the logical extension of the LGBTQ movement's recent legal victories, including marriage equality. However, he does not see it falling into the trap of single-issue politics the same way marriage advocacy did.
"When you look at gun violence, it's a multi-pronged problem," he said. "No single court case or legislative action will resolve the issue. There is no single solution."
Indeed, gun violence is an intersectional issue, meaning that those most affected are likely to experience racism, sexism and transphobia simultaneously.
"As a black trans woman, I'm three times more likely to become a victim of gun violence," Preston said. "There needs to be more conversation around those who are more likely to be impacted by [gun violence]."
RELATED: LGBTQ Community Most at Risk for Hate Crime Victimization
Activists insist that the primary obstacle to achieving gun reform is not the Second Amendment -- but the role of money in American politics.
"No one is saying we want to take all the guns, what we are saying is that there should be sensible, logical regulation around firearms and what guns we allow civilians to have," explained Preston. The real issue, she added, is the "shiny price tag dangling from our elected officials' neck."
RELATED: Gays Against Guns Call for Gun Lobbyists to 'Come Out'
GAG advocates for an assault-weapons ban and stricter background checks, but more importantly the group seeks to raise public consciousness about the tit-for-tat relationship between politicians, the NRA and gun manufacturers.
"That's the machine we want to pull the curtain back on and expose," said Herzog.
Advocacy on this issue has the potential to make the LGBTQ movement even more relevant to national politics and to win over allies outside the community. Achieving gun control legislation would constitute, for Preston, a "contribution to benefit our society as a whole and give us the recognition and respect we deserve."