The best place to watch "RuPaul's Drag Race" is at your nearest gay bar. For one, it's a chance to support local queens working their circuit. For two, the crowd takes on an orchestral function. When something truly legendary happens, you will know it by the screams.
At Crews and Tangos in Toronto, a bar in the city's gay village, these elements were on full display. The season finale of "Drag Race" kicked off Pride weekend, which meant wall-to-wall attendance in the community staple that features live drag shows both inside and outside the venue.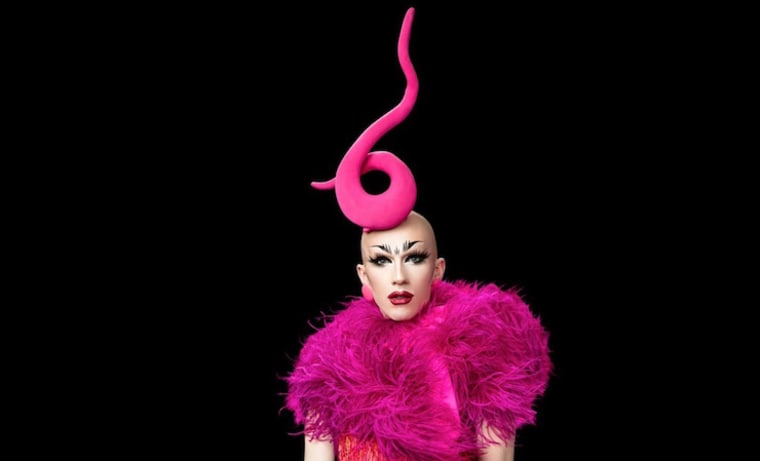 Finalist and Brooklyn-based drag queen Sasha Velour had performed in the city just the day before. "Who's rooting for Sasha?" asked a queen from the stage. From the applause, it was clear expectations were high. Velour was the only finalist who had not had to "lip sync for her life" during the season, and this year, the finale format was changed to be a lip sync battle royale between the top four.
Competitors Peppermint, Trinity Taylor and Shea Couleé had all had a chance to show off their considerable chops when they landed in the bottom two. But for those unfamiliar with Velour's work before the show, it was a big question mark as to what she would deliver.
"The real instigator for my performance style is mourning and sadness ... People need to see heartbreak transformed into beauty."
She did not disappoint. In two lip sync performances, one to Whitney Houston's "So Emotional" against her friend Shea Couleé, and another to Houston's "It's Not Right But It's Okay" against Peppermint for the crown, Velour emerged victorious. In a season that was seriously lacking in competitive lip syncs, the queens turned it out. But it was a moment during Velour's lip sync to "So Emotional" that truly stuck out.
At a crucial crescendo in the song, Velour removed her wig, releasing a cascade of rose petals over her naked head. It would have been a gag-worthy stunt from any queen, but it worked particularly well for Velour. In her case, the wig reveal — a risky move that Peppermint also used to auspicious effect — doubled as a triumphant reversion: The bald queen rejected her wig, releasing the beauty within. The crowd at Crews and Tangos went absolutely nuts. Legendary.
It was the kind of cerebral gig that Velour brought to her performance on season 9, where she made smarts her shtick. "Sasha Velour relies on brains," she quipped in her verse on "Category Is," a RuPaul song that the queens were challenged to collaborate on. "Beauty be damned, let monsters reign!"
Results, while they skewed positive, were hit and miss. Velour's decision to impersonate Marlene Dietrich during one of the challenges was initially met with skepticism for its obscurity, for example, but landed her at the top of the pack. On the other hand, a joke about white flight in New Jersey during a comedy roast of judge Michelle Visage didn't land with an audience who, understandably, was more in the mood for gonorrhea jokes.
It arguably wasn't until the finale, when Velour was given the room to perform on her own terms, that her lofty themes truly found purchase and assembled themselves into something transcendent. Wearing bright red lipstick and an infectious smile, Sasha Velour lit up, and the result was a tour de force that surged her all the way to the crown.
Related: Catch Up With the Eliminated Queens of 'Drag Race' Season 9
"I felt that RuPaul, maybe for the first time, understood where I was coming from," Velour said of the finale in an interview with NBC Out. "That made such a huge impact on me. I felt like a winner already."
In our interview, I asked Velour about those lip syncs, which, in the environment where I had seen them, elicited jubilant shouts and YAAASes galore from the crowd. I was surprised when, in her response, she immediately referenced sadness as their inspiration.
"The real instigator for my performance style is mourning and sadness," Velour said. "The loss of my mom really inspired me to go to a place with my performances that were emotionally honest, and I found that audiences really responded to that. People need to see heartbreak transformed into beauty."
In her season, Velour played the role of queer historian, often in times when a fellow contestant shared an instance where they had experienced oppression. "They say that if you look into a mirror and talk about sad things, I appear behind you to give you a queer history lesson," she joked with RuPaul at the finale.
But as her own backstory came out on the show, it became clear that Velour draws deep from her sadness to make her art. She is a bald queen to honor her mother's battle with cancer, for example.
"There's so many more themes of drag than just fierceness," Velour said. "To really be community-focused and attentive to where we are politically right now, we have to go to those edges of sadness and joy. It's not just about glamour and power."
Velour seems to agree with the crowd at Crews and Tango: The wig reveal with the rose petals during "So Emotional" was a pivotal moment for her.
"I'd never done an effect like that before," she said. "The rose petals were sad and romantic and joyful. It was what the song is about. It was about emotions transforming into something that is both messy and beautiful. I thought littering the stage with rose petals would be both sorrowful and romantic."
Her interest in navigating, and at times obliterating, binaries informs her views on the current state of drag, which she says must simultaneously look to the past and to what lies ahead.
"The inspiration of my drag is the history of drag, the long tradition of drag queens being at the forefront of queer activism," Velour said. "That informs my drag style, and in a sense that is the direction we need to go in the future."
Her answer encapsulates the modern dilemma facing drag. Drag culture, or at least the version "RuPaul's Drag Race" presents of it, is sitting at a precipice. The show has more fans than ever, they are younger than ever, and not all of them are LGBTQ. The mainstreaming of queer art introduces difficult questions for the LGBTQ community, particularly the community of color who in large part created underground drag culture in response to marginalization in dominant society.
Related: 'Drag Race' Star Valentina Is Bringing Mexican Culture to Runway
For its part, the show has its answer. It will take drag as far as it possibly can into the mainstream. Though "Drag Race" embraces its countercultural roots, it has always posed this question to its queens: What is the future of drag, and how do you plan to take it there?
These are the kind of existential questions that seem to excite Sasha Velour, who has her own ideas for what the future of drag should look like and what the role of its past should be.
"Drag should push the limits of what is considered fashionable or beautiful," Velour said. "At the end of the day, I hope to continue that."
What ultimately happens to drag as a result of "Drag Race," of course, remains to be seen. But one thing that's certain is that, for a singular moment in packed gay bars around the world, it centered on something that has always been its pith: an artist trying to turn her pain into joy.