As the U.S. — and many other parts of the world — celebrates the 50th anniversary of the 1969 Stonewall uprising, rainbow flags and LGBTQ-inclusive ad campaigns appear to be omnipresent, especially in big cities. The ubiquity of these Pride campaigns make it easy to forget that this was not always the case. While many point to corporate America's embrace of LGBTQ inclusivity as a major sign of progress, others believe corporations are coopting the movement.
Advertisements geared toward gay and lesbian consumers began to appear in earnest in the 1970s, inspired in part by the energy of the Stonewall uprising, which is widely considered the spark that fueled the modern LGBTQ movement.
So-called "sin" products, like alcohol and tobacco, were the first marketed to gays. These companies had little or nothing to lose from a potential boycott by the religious right, according to Katherine Sender, a communications professor at Cornell University and author of "Business, Not Politics: The Making of the Gay Market."
"Now, getting a gay boycott is a much worse thing than getting a boycott from the religious right."
Professor Katherine Sender
Absolut vodka was the first brand to build itself with an eye toward the gay market, featuring full-page ads in gay outlets, such as The Advocate. Other alcohol brands like Boodles Gin ran ads in gay publications, but most ad revenue came from local gay bars and businesses.
However, with the exception of Absolut, much of the advertising aimed explicitly at gays came to a halt in the 1980s because of the HIV/AIDS crisis and the stigma surrounding the disease.
Things changed in the 1990s. Marketing surveys, namely the 1988 Simmons Market and the 1990 Overlooked Opinions survey, presented an image of gays and lesbians as an affluent, untapped market. Marketers estimated the total annual income of the gay community at over $500 billion. The surveys, however, were not representative and helped to start what researchers have since described as the "myth of gay affluence."
In 1994, Ikea launched the first television ad to feature a gay couple. In the commercial, the two men tease each other about their taste in furniture.
"I remember it extremely well, because it was radical," said Bob Witeck, president of Witeck Communications, a firm specializing in LGBTQ marketing. The couple "behaved in every sense like a married couple, and it was radical because it was normal and natural," he said.
Not everyone loved the ad. In fact, the backlash was swift and strong. The American Family Association staged a boycott, and an Ikea store in New York received a bomb threat.
That same year, AT&T launched a direct-marketing mail campaign, making them the first US phone company to openly target lesbian and gay customers (MCI ran an earlier campaign, but used suggestive statements and imagery rather than a direct appeal).
"They got a big pushback from the religious right," Sender said.
Companies remained more focused on gay men, though a notable exception was Subaru. In the late '90s, Subaru undertook a very successful lesbian-focused marketing campaign after research revealed its sturdy, practical cars appealed to this demographic. "It's not a choice, it's the way we're built," a 2000 print ad boasted.
This new interest in the "pink dollar" coincided with a massive increase in gay and lesbian visibility in the media. Ellen came out on TV in 1997, which Sender called "a massive deal." Shows like "The L Word," "Queer as Folk" and "Queer Eye for the Straight Guy" ushered images and information about gays and lesbians into homes across the country.
Despite the increased visibility and a number of successful ad campaigns, even into the early 2000s mainstream companies still risked a backlash for gay and lesbian inclusivity, according to Sender. Many companies were still afraid to be labeled as selling a "gay product." Representation of transgender people was almost always negative, relying on transphobic tropes of deceit or mistaken identity, according to Sender's research.
FROM THE GAY MARKET TO THE LGBTQ MARKET
Rich Ferraro, chief communications officer at GLAAD, a national LGBTQ media advocacy organization, has been consulting on LGBTQ images in advertising since 2008. He sees a very different media landscape today.
"The backlash that once occurred if a brand had LGBTQ marketing campaigns is no longer," Ferraro wrote in an email. "For instance, fringe organizations like Family Research Council, National Organization for Marriage and One Million Moms would start petitions (which never really reached large numbers), but now they do not."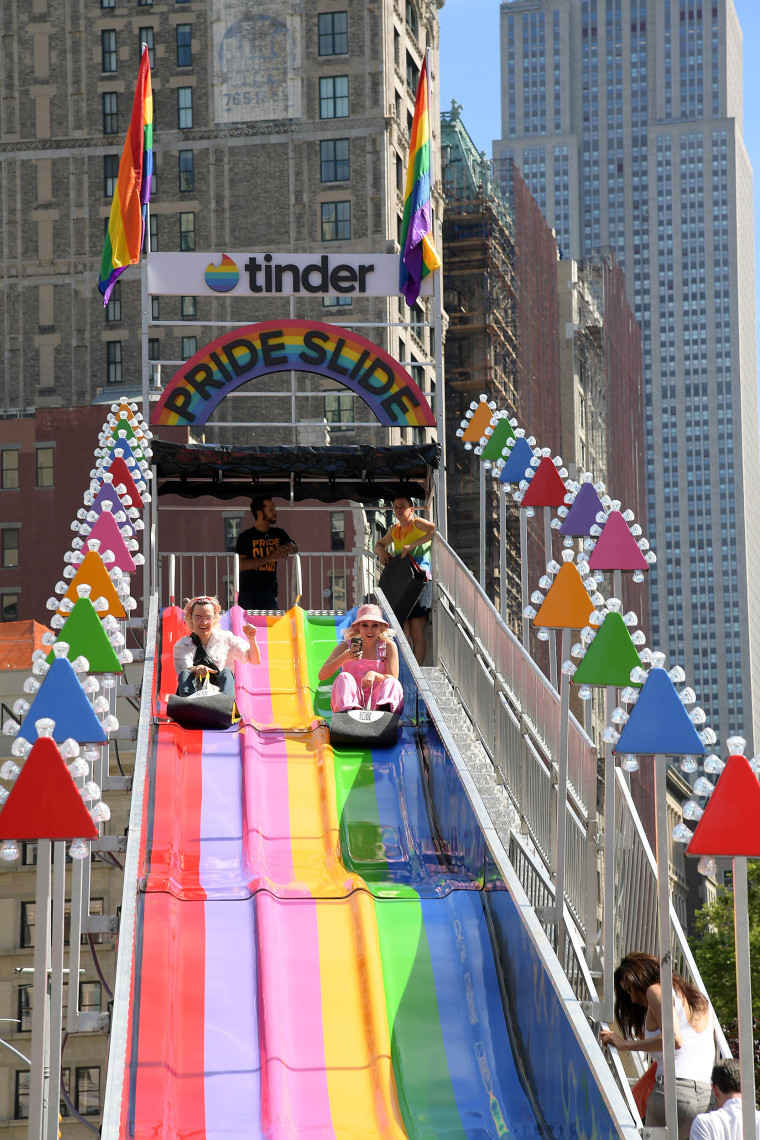 Sender agreed, saying, "Now, getting a gay boycott is a much worse thing than getting a boycott from the religious right."
More and more companies are engaging in LGBTQ-inclusive advertising, Ferraro said. "Categories have exploded — spirits and travel were typically leaders in LGBTQ-inclusive campaigns, but now it's retail, cars, banking and financial services, food and beverages, youth-oriented brands," he explained.
Witeck said "there is probably no more efficient way to say we are a contemporary brand" than to make your ad campaigns LGBTQ-inclusive.
For legacy brands, like Coca Cola, they must always be refreshed and made relevant, Witeck added. "LGBTQ marketing is an effective way to say, 'We get it. We look and talk and act like we are in the 21st century.'"
However, Sender said that LGBTQ consumers are not only looking for inclusion in campaigns, but are holding companies accountable in their employment and production practices.
"Now, people are asking more questions, particularly around transgender polices and health care," she said.
"What constitutes the responsibility of the advertising companies is expanding in ways that are really quite powerful," Sender added, noting that consumers are asking questions like, "Are they buying products or services or in countries that have extremely bad policies and legal enforcement around LGBTQ people?"
Because of their resources, companies are also in a position to exert powerful political influence if they want to. Witeck mentioned the corporate boycotts of North Carolina after the passage of HB2 (the so-called "bathroom bill) that helped to precipitate its repeal and major companies' outspoken support for transgender equality.
While historically there has been much less representation of transgender and gender-nonconforming individuals, this year examples of such campaigns abound: Raquel Willis for Express on a Times Square billboard, Gillette's commercial featuring a young trans man and his dad, and Uber running a campaign featuring trans, genderqueer and bisexual pride flags.
"Traditionally, one or two campaigns are inclusive of transgender people, now it is a norm," Ferraro said.
GAY INC.
Kristin Comeforo, associate professor of communications at the University of Hartford, worries that advertisers often take a "check-the-box approach" to the inclusion of gender and racial diversity, rather than a genuine engagement with intersectional experiences.
She also worries that corporate sponsorship can silence the voices of LGBTQ people who face intersectional marginalization.
Sender agreed, noting that "the 50th anniversary of Stonewall is such a big deal everyone wants a piece of that." As a result, she added, Pride marches have become "a party for everybody."
"What gets left behind are the very real struggles of LGBTQ people in this country — trans people in particular and people of color facing multiple layers of discrimination," she added. "This 'party' suggests that being gay is just an excuse to have a lovely time, but there is still a long way to go."