In the wake of the Orlando massacre, which left 49 people dead and many others injured, Rep. Alan Grayson, D-Fla., is introducing a bill that would create a grant program to give money to blood banks.
The funds would be used to conduct thorough testing of donated blood and could help combat a Food and Drug Administration (FDA) policy that recommends restricting blood donations from men who have had sex with men in the past year.
Grayson said after his state endured the deadliest mass shooting in U.S. history earlier this month, giving blood was a way to show "solidarity and concern for the victims."
RELATED: Senators Urge FDA to End 'Discriminatory' Blood Donation Policy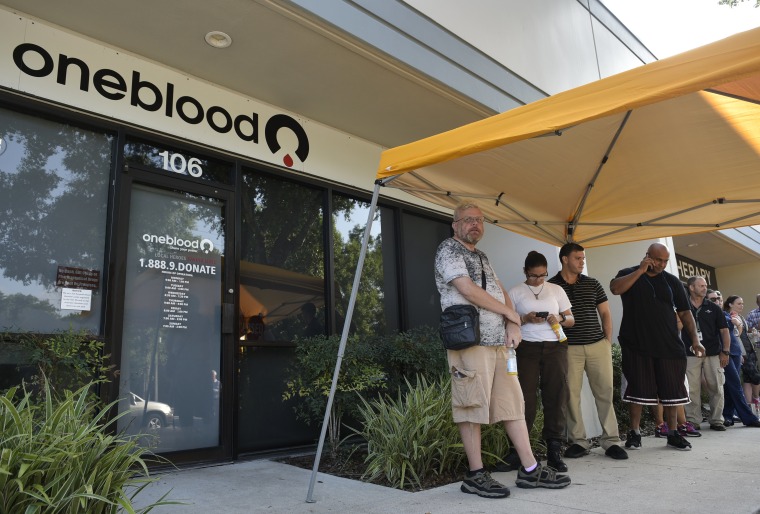 But despite an urgent need for donations, many gay men were turned away. Since then, more than 130 members of Congress have signed onto letters calling for an end to the FDA's policy.
"We can't say that we have first class citizens and second class citizens," Grayson explained. "We can't say some people can give blood and other people can't based upon their sexual orientation or anything like that."
RELATED: Florida Man Feels 'Helpless' After Failed Blood Donation Attempt
Rep. Jared Polis, D-Colo., the first openly gay parent in Congress, joined Grayson on a call with reporters Tuesday morning to urge the FDA to lift the yearlong ban.
"The gender of one's partner has nothing to do with whether one is engaged in 'risky behavior' or not," said Polis. "It's high time for this outdated and discriminatory policy to end."
Polis said with the outpouring of support on the issue from the American people and congressmen, he was confident the FDA would "look at the science that shows that in fact there is nothing inherently different about the blood of gay or bisexual Americans."