As an undergraduate student, Conrad Ricamora decided to take a theatre class as an elective. During the class, the psychology major was tasked with reciting a monologue from "Lemon Sky," and it changed his life forever.
"I didn't feel like I had to act; I just had this electricity running through me. After that I was hooked," Ricamora told NBC OUT.
Upon graduation, the California native got his start in community theatre and has spent the last 15 years working on the stage. But when Ricamora landed a recurring role on ABC's "How to Get Away With Murder," the actor's career went to the next level.
"How to Get Away with Murder" is a drama created by Pete Nowalk that centers on law professor Annalise Keating, played by Viola Davis, her employees and a group of her students. Viewers met Ricamora's character, I.T. specialist Oliver Hampton, in the pilot as a way for Connor Walsh, one of Annalise's students (played by Jack Falahee) to get information to help their first case. Oliver is "kind of a shy guy who still struggles with his self-esteem, but he also has a drive to succeed." Ricamora said.
The two characters hit it off and began a relationship during the first season –- one that has endured all of the chaos thrown their way. The authenticity of their relationship comes form what Ricamora and Falahee bring to their roles.
"The chemistry that we have we never really have to think about," Ricamora said. "Over the last two years our friendship has grown so much, and it is really great to have someone that is close to you that knows a similar journey to your own."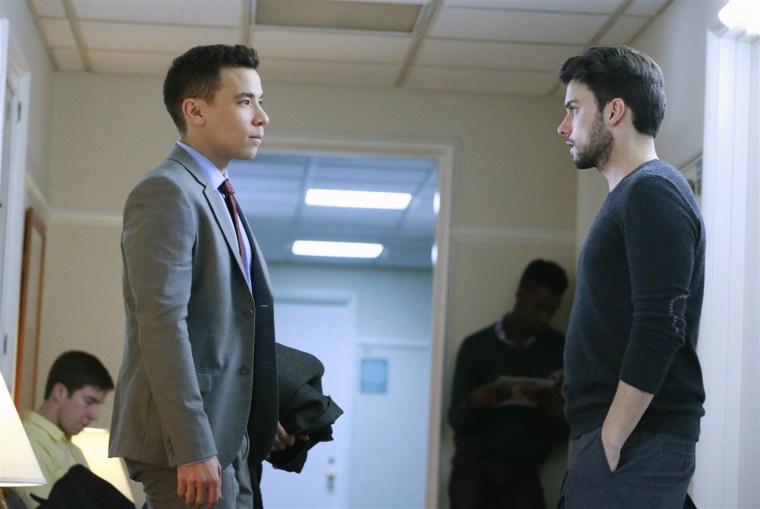 Their relationship is a nice contrast to the dangers, lies and death the characters regularly face on the hit drama. While Ricamora admits Oliver and Connor do keep secrets from one another, he noted, "They have a sweetness that sometimes balances the show."
"It feels like our characters provide refuge from a lot of the shocking things happening on the show," he added.
Oliver is an interesting and multi-dimensional LGBTQ person of color –- a great role for the actor but also great visibility for the Asian-American and LGBTQ communities. In addition, his character was revealed to be HIV-positive during the first season finale, making Oliver one of the few characters on television living with HIV. While the show addressed Oliver's HIV, it was only addressed when it pertains to the events of the series –- "the way it would in life," according to the actor.
RELATED: HIV Is Still an Issue...Just Not on Television
Since the show began in 2014, Ricamora has received positive feedback for his portrayal of Oliver. The LGBTQ community and people of color have been "so appreciative and thankful that there is somebody that looks like them and has a sex the way they have sex," Ricamora said. "And people who are HIV-positive have reached out to me and said they were happy to be represented."
As an openly gay actor, Ricamora is enjoying playing a character in which he can see himself. "To be able to play something that speaks to my experience is amazing."
While the actor is clear he does not speak for any larger group, Ricamora believes his character's representation of marginalized groups is important and an aspect of his character he is proud of.
"Just seeing somebody that has your characteristics on a television show that is seen worldwide just lets you know there's a place for you in the world," he said. "What visibility does in a very subtle way is let people know that they have a seat at the table."
Luckily for Ricamora, he is getting a larger seat at the table this fall. The actor has been upgraded to a regular on the series, which means viewers will see more of Oliver in the third season, which premieres September 22.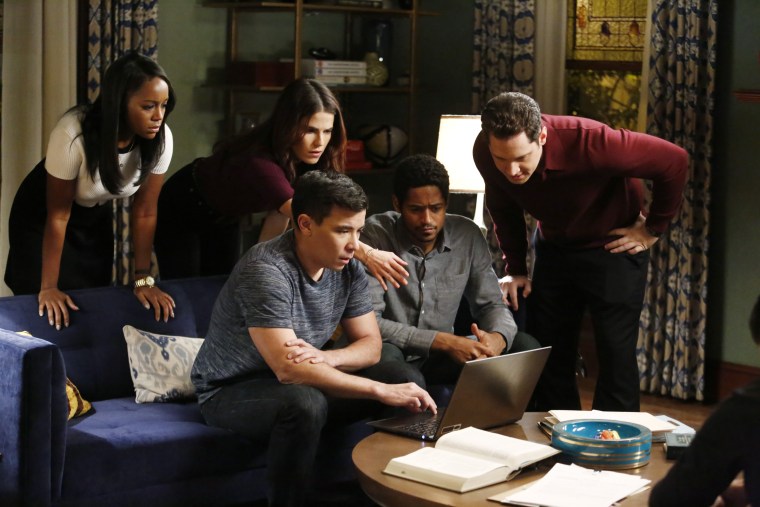 Finding his way closer to the action, Oliver will be "playing with his dark side" this season. According to the actor, Oliver will be making his way further into Annalise's orbit while trying to continue to be a good person. "He's still trying to hold on to his innocence, honesty and sweetness."
"I am really excited to work with the others more, Oliver exploring and being more fleshed out and creating more of a layered character. I will be part of the storyline a lot more, which is exciting," he added.
Ricamora's increased presence will make his character Oliver the third LGBTQ series regular on "How to Get Away With Murder."
"That's what I like about our show, [it] shows it consistently enough that it becomes a non-issue. We break down these fears and prejudices, so people can love whoever they want to love and have sex with whoever they want to have sex with," Ricamora said.
Mainly, the actor is simply savoring his first television gig.
"Every since that theatre class, I wanted to work with great writers and directors."