Just a few days before Black Friday discounts kick off the holiday shopping season, a conservative "watchdog for corporate activism" has called for a boycott against Target for the remainder of the year.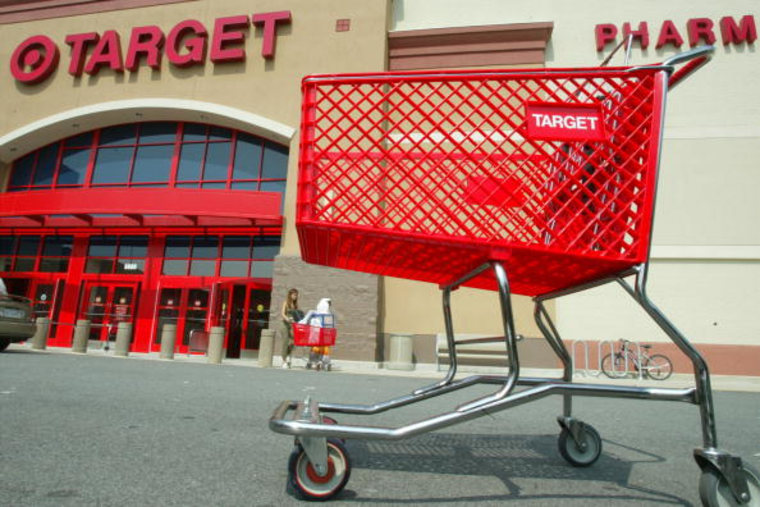 It's the latest in a year-long rolling series of boycotts and backlash directed at the retail chain. The scuffle started over a single sentence included in the company's April 19 press release that clarified its stance on LGBTQ equality: "We welcome transgender team members and guests to use the restroom or fitting room facility that corresponds with their gender identity."
Now, conservative watchdog group 2nd Vote is asking people to shop #AnywhereButTarget. The group released a petition along with a social media campaign and a video in which Executive Director Lance Wray accuses Target of "putting its radical politics above common sense or safety."
"We don't want to pay for Target's liberal agenda," Wray asserts in the video. "So that's why, this Christmas season, we're shopping anywhere but Target."
A statement posted alongside the petition added: "There are consequences for supporting a radical movement that is determined to redefine marriage, gender, and, ultimately, the 1st Amendment.
As the hashtag campaign began to trend on social media Tuesday, many people responded with a reaction that 2nd Vote may not have foreseen: They promised to shop at Target in order to support the company in light of the boycott.
Some Twitter users even applauded the boycott—joking that it would make shopping at the store over the holidays a "bigot-free" experience.
Shoppers have cause for concern about encountering conservative protesters in stores. In April and May, shortly after the corporation announced that it would adhere to a transgender-friendly restroom policy, street preachers began invading Target stores around the country and ranting in the aisles about hellfire and brimstone. One such protester at an Illinois store exhibited such disturbing behavior, employees called in an active shooter threat that resulted in the protester's arrest. Police later declared that he was unarmed.
The ongoing conservative boycotts reached such a fever pitch, Target announced in August that it would spend $20 million to add single-stall bathrooms to all of its stores—in order to assuage fears among some customers that they might have to share a multi-stall restroom with a transgender person.
Even before the Target boycotts began, people in the transgender community attempted to point out how anti-transgender bathroom policies would backfire for the people they intend to shield. In a viral series of selfies with the hashtag #WeJustNeedToPee, trans men illustrated how uncomfortable women might be if they entered women's restrooms—and trans women showed how much they would stand out in the men's room.
NBC OUT emailed 2nd Vote to ask how many signatures the petition had gathered by Wednesday and whether Target had responded to the group, but did not receive an immediate response.
Target did not issue a press release or public response to the 2nd Vote boycott, but did announce on its website that stores would open to Black Friday shoppers at 6 p.m. on Thanksgiving night.